Choral Arranging, Classical Piano, Composition, Contemporary Composition,
Ear Training, Lyric Writing, Music Theory, Musical Theatre, Noteflight, Piano, Piano Composition, Pop Piano, Pop Voice, Sibelius, Songwriting, Songwriting Arrangement, Songwriting Form, Songwriting Harmony, Vocal Arranging, Voice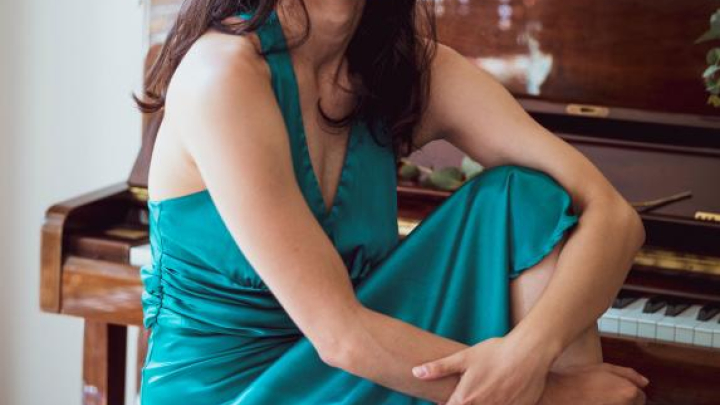 About
Hana is an award winning singer-songwriter, composer and pianist based in Melbourne, Australia. Her works have been performed locally and worldwide. Hana has also composed and conducted for organisations such as the Australian National Academy of Music, The Australian Children's Choir, Creativity Australia, The Chamber Strings of Melbourne and The Ballarat Symphony Orchestra. 
Hana has been teaching voice, piano, songwriting and composition for over a decade; and has worked extensively as a music director and arranger for vocal ensembles and musical theatre. Hana also has an extensive body of original work and regularly releases original, including her latest album, Black Balloons. 
Hana brings her real world, industry experience from all of these areas to hear teaching and is dedicated to helping others develop their skills. 
Skills and attributes
Bright, interactive personality
Highly intuitive and sensitive 
Proven excellent leadership and collaborative abilities
Dedicated learner and committed to continued personal and professional growth
Career history and accomplishments
Private voice and piano teacher (2010- present)
Teach privately from a home studio- preparing students for VCE and AMEB exams.
Run the local children's choir 
Freelance as an accompanist, performer, composer and conductor
Music direct for all female a capella octet, The Rubies. (January 2011-present)
Choose songs and arrange all repertoire for performance
Run rehearsals and work collaboratively with the members
Organise recordings and performances
Organise external artists for workshops
Performer for Ethno New Zealand and Ethno Australia (Flute, voice 2017-present)
Learn and teach culturally diverse repertoire within intensive 5-7 day workshops
Work within a team of musicians from all over the world
Perform the repertoire learnt during local festivals (Mullumbimby, Bellingen, Auckland) 
Professional Achievements
Awarded a 'Live July,' artist development grant through Nillumbik Arts (July 2020)
Awarded a creative arts grant through Whittlesea Creative Communities Fund (July 2020)
Awarded funding from JMI and sent as the Australian representative for Ethno New Zealand 2020 (January 2020)
Awarded funding through Hurstbridge Town to record an original song with children from the local community for a community Christmas CD. (December 2019)
Awarded the Esther Rofe Scholarship for a female student who shows promise in the Field of Composition, (2012)
Awarded the Ballarat 'Creative Young Star' Award (2013)
Letters From Home, a commissioned concert from the Ballarat Art Gallery Women's Association to commemorate the ANZAC Centenary. (2015)
Premier of my piano concerto at the Ballarat Arts Centre, performed by the Ballarat Symphony Orchestra (2014)
'Levitas' for brass ensemble performed by musicians of the Australian National Academy of Music at Deakin edge, Federation Square. (2013)
Inclusion of 'Mother' on Rock Industry's Album, Hua Abut; raising funds for a woman's natal support centre in East Timor. (Including songs by artists such as Vicka and Linda Bull and Stella Savy)
Song writer and performer for the 2008 World Youth Day celebrations in Sydney
Chamber Strings Of Melbourne Young Composer of the Year Award for my string orchestra piece, As Evening Falls. (2006)
Tertiary
Bachelor of Music (Composition)                                                                                 March 2010-December 2012
Melbourne University 
Cert III Music Performance (Voice)                                                                                            February- December 2009
VCE               
Music Performance                                                                                                        February- December 2009
VET music performance
Religion through music
Loreto College, Ballarat
Music
ANZCA Grade 8 (Piano)                                                                                                    October 2008
ANZCA Music Theory grade 5                                                                                         March 2008 
I draw on a range of teaching methods based on my own experiences as a musician. I like to tailor my approach to the individual student, but as a basic framework I follow the Australian Music Examination Board and ANZCA Musical Examinations grade levels for both their 'Piano For Leasure' and 'Classical Pianoforte' streams. (These are both Australian examination bodies.) 
For voice, I aim to build a strong foundation and understanding of musical theory, sight singing and aural skills in my students, and help them become well rounded musicians. For foundational technical skills I use Anne Peckham's 'The Contemporary Singer' and 'The Greatest Ever Improve Your Singing Book for Contemporary Vocalists' by Linda George and Steve Vertigan, as well as other sight singing excercises and recourses. I make song suggestions to students based around the examination board syllabus levels, but usually allow students to choose their own songs and we work on techniques within them. 
I also enjoy working with students 
Recommended Student Texts: Voice
 - The Contemporary Singer by AnnePeckham
-  The Greatest Ever Improve Your Singing Book for Contemporary Vocalists by Linda George and Steve Vertigan
- Successful Sight Singing by Nancy Telfer 
Piano:Piano books are suggested by level. 
Composition: Behind Bars by Elaine Gould