Acoustic Guitar, Audio Ear Training, Bass Guitar, Blues Guitar,
Classical Guitar, DADGAD Guitar, Electric Guitar, Fingerstyle Guitar, Flamenco Guitar, Guitar, Jazz Guitar, Lap Steel Guitar, Lead Guitar, Metal Guitar, Music Theory, Neo Soul Guitar, Pedal Steel Guitar, Reggae Guitar, Rhythm Training, Rock Guitar, Sibelius, Slide Guitar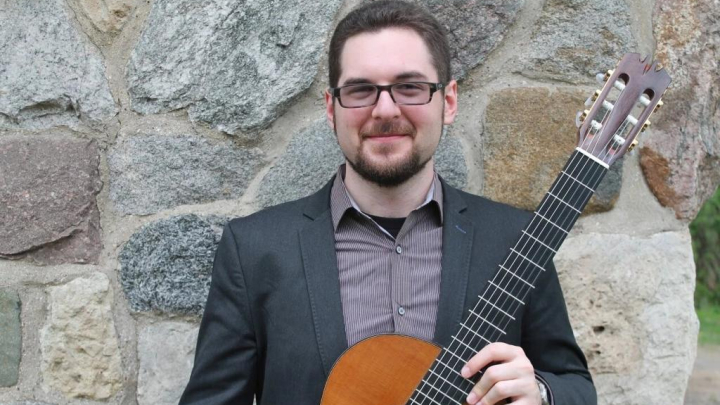 About
Hector Vazquez Gil is a native of the beautiful Caribbean island of Puerto Rico. He began  guitar studies at the Preparatory School of the Conservatory of Music of Puerto Rico, where he studied with Renaldo Guadalupe, Ángel del Rio and Julio Reyes. He was later admitted to  the Bachelor Music in Guitar Performance at the Conservatory where he studied for three years with Ivan Rijos.  Later, he  transferred to the University of Wisconsin Milwaukee where he completed  his undergraduate degree in Classical Guitar Performance under the tutelage of Rene Izquierdo as well as Flamenco with Peter Baime. He later studied for a year with renowned professor Bruce Holzman at Florida State University, where he was a Teaching Assistant. He finished his master's degree with Ivan Rijos at the Conservatory of Music in Puerto Rico in May 2017. Héctor currently is faculty in the Conservatory of Music in Puerto Rico at the undergraduate level as well as the  preparatory school. He is also the head teacher of guitar in Fundación Música y País. He has been teaching for over 10 years to all different levels and ages. Hector is a Suzuki Certified Teacher and has a great success rate for preparing students for auditions.
​
Hector has placed as a finalist and semi-finalist in prestigious guitar competitions such as: Memphis Guitar Competition, Wilson Center Guitar Competition, Columbus Guitar Competition.
​
Hector has concertized and played in various venues throughout the island of Puerto Rico, Spain and various states in the US like: Wisconsin, North Carolina, Florida, New York and Tennesee and a few others. He has studied  and played master classes for reknowned guitarists such as: Manuel Barrueco, Alvaro Pierri, Scott Tennant,  Judicael Perroy, Pablo Garibay, Jorge Caballero, Xu-Fei Yang, Rovshan Mamedkuliev, Jeffrey McFadden, Dale Kavanagh among many  others. He is also an experienced teacher, having taught students of different ages and levels in Puerto Rico, Florida and Milwaukee. 
My teaching style focuses first and foremost on communication with the student. In every instrument there are basics every player of every genre must know. Afterwards, each student will branch out into their own interests. It is very important to me that the student feels that they can face these challenges confidently and that they have the tools.
I will focus my lessons around meeting these needs for the students and constantly challenging them to be better than they were yesterday. Setting goals is very important in the long and short term, it is also a tool that will be worked on during the lesson.
Affiliated with:
Conservatorio de Música de Puerto Rico
Fundación Música y Pais
Milwaukee Guitar Society
Puerto Rico Guitar Project
Suzuki Association of the Americas
All lessons are suited to the student's needs and goals with the instrument. It's important we choose a path in music because a lifetime isn't enough to learn it all. My methodology focuses on giving the students the best tools they can get so they will be able to play any style of music they want.  The first lessons will be focused on creating a plan according to the student's level of playing and level of interest. Each subsequent lesson will help the student to find their path in their instrument so they can succeed in their goals.
Suzuki Guitar
Mel Bay Classical Guitar Method
Matteo Carcassi Guitar Method
Troy Stetina Metal Rhythm/ Lead Guitar Method