Drum Rudiments, Drums, Percussion, Snare Drum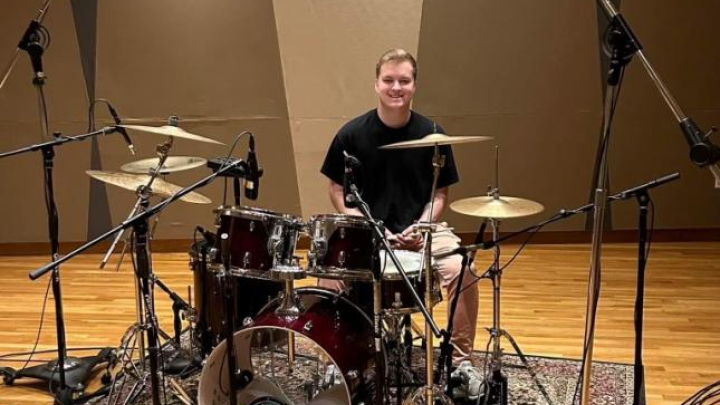 Lesson Fees
Promotions Available
Subscriptions discounted up to 13% off
About
When Ian was about 5 years old, his Dad sat him down and played him a DVD called "Rush in Rio". It was a live recording of the rock band Rush playing a concert in Rio de Janeiro, and the rest is history... Ian developed an extreme passion and desire to learn the craft of Drumming. His parents bought him his first drum kit at 7 years old, and he immediately knew this was what he wanted to do for the rest of his life. He jumped at the first chance he got to begin playing drums at Byron Nelson High School. It was immediately apparent that he was blessed with certain gifts that allowed him to make the Varsity Snareline as a Freshman, which is extremely rare. What he discovered during this time, was just how much he enjoyed helping others achieve success on the Drumline. He decided to take his love and passion for helping people learn the skill of Drumming, and make it his career. He would be honored to have the opportunity to help you or someone you know discover the amazing skill and excitement of becoming a proficient Drummer! He can teach anyone from young children all the way to elderly folks, as long as you really want to learn, he can definitely help!
My teaching style is a very hands on, fun, and patient approach. I will cater to the level you are at, and make a personalized blueprint just for you to get you where you want to be. I am very good at finding methods that will help things click for people no matter what level you are at! I will always be open to as many questions as you may possibly have, there is no such thing as a bad question. Asking questions are what truly make things make sense in your head however you need it to. I will always be encouraging your success, because I want to see you reach your goals! I want to build a truly great relationship with all of my students, because I love talking and getting to know people and hear about their experiences, and aspirations in life!
Below are a few of my Drumming Accomplishments & Awards:
-Self taught myself over 50 Rush songs, and hundreds of other Rock songs on Drumset
-Varsity Snare Drummer @ Byron Nelson High School 2016-2017-2018-2019
-Drumline Section Leader @ Byron Nelson High School 2018 and 2019
-Best Snareline @ Plano Drumline Competition 2016
-Best Snareline @ Plano Drumline Competition 2018
-1st Place @ Plano Drumline Competition 2018
-Best Snareline @ Lonestar Drumline Competition 2018 (advanced division)
-Best Snareline @ Plano Drumline Competition 2019
-Best Snareline @ Lonestar Drumline Competition 2019 (advanced division)
-Outstanding snare drummer award @ UNT marching percussion camp
-Over 20 "superior" ratings in solo and ensemble contests
WHAT I TEACH:
FUNDAMENTALS OF DRUMMING
More for beginners, I will help you build a solid foundation so you can start experimenting on your own. Things like how to hold a Drumstick, how to strike the Drum correctly, etc...
BUILDING RHYTHM
This will focus on being able to play rhythms/grooves in-time with a metronome, helping you build an internal since of time as a drummer. This is super important for playing in bands and any other situation where you have to hold it down for the group.
DIFFERENT STYLES
For people who want to dive in and play certain styles of music. I can teach you the basics of Rock, Jazz, Country, Pop, Funk, Reggae drumming and more!
SONGS
I will help you learn whatever song or songs you desire to play! We will go step by step, dissect the song, and then apply what we hear onto the Drums.
READING
I will explain how music notation works, by showing examples and giving you the best ways to practice. We will slowly get into more advanced topics as you start to understand things as we go!
ADVANCED CHOPS
More for Intermediate players who want to up their game, and play faster/more advanced chops, grooves or fills to really bring your Drumming to the next level!