Conducting, Music Theory, Trombone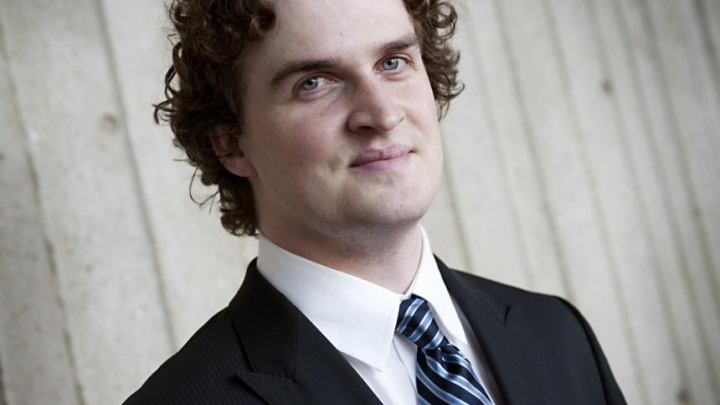 Lesson Fees
Promotions Available
Book 5+ lessons for 5% off
Book 10+ lessons for 10% off
Book 20+ lessons for 20% off
About
In the fall of 2022, Jamie Reeves begins his inaugural season as Music Director and Conductor of the Montgomery Symphony Orchestra. This appointment follows guest appearances with the MSO in the 2020-2021 season, and a season as Interim Conductor in 2021-2022. A Montgomery native, Jamie leads the MSO in series of four classical concerts, three pops concerts including Jurassic Park in Concert and the annual Holiday Pops concert joined by the Montgomery Chorale, and an education concert for Montgomery area students, "Link Up: The Orchestra Sings," a national collaboration with Carnegie Hall's Weil Music Institute.
In recent seasons, Jamie appeared in conducting masterclasses and competitions where he has conducted orchestras including the Baltimore Symphony Orchestra, the Cabrillo Festival Orchestra, Festival Strings Lucerne, Filharmonia Śląska, the Fort Worth Symphony Orchestra, L'Orchestre Victor Hugo Franche-Comté, and the Richmond Symphony. Jamie is the recipient of the Peabody Career Development Grant from Johns Hopkins University, and the Thelma A. Robinson Award given by the International Conductors Guild and the National Federation of Music Clubs. As a steadfast advocate for music education, Jamie is a frequent guest clinician for youth orchestras throughout the United States including the Baltimore Symphony Youth Orchestra, Chesapeake Youth Symphony Orchestras, Southern Maryland Youth Orchestra, and the Stamford Young Artists Philharmonic. This past January, Jamie conducted the first All-Region honor orchestra presented by the Alabama Orchestra Association. In May, Jamie concluded a two-year appointment as Director of Orchestral Studies at The University of Alabama, where in he conducted the Huxford Symphony Orchestra, and in March of 2022 conducted Tobias Picker's Thérèse Raquin with the University of Alabama Opera Theater.
Jamie studied conducting at Indiana University's Jacobs School of Music and the Johns Hopkins University Peabody Conservatory. His primary conducting teachers were Marin Alsop, David Effron, Arthur Fagen, John Ratledge, and Joseph Young.
My teaching philosophy centers around inspiring student musicians to pursue artistic goals of the highest standards, while equipping each student with the tools necessary to confidently perform beyond their realized potential. Whether working as an ensemble conductor or as a teacher and mentor of conductors, my goal is to leave my students fully prepared continue their studies in a graduate program or to enter the work force as a professional musician.
When conducting a student orchestra, I rehearse in a way that teaches the fundamental orchestral playing techniques that are used by major professional orchestras. These fundamental techniques involve a chamber-music style of ensemble playing in which all musicians in the ensemble are encouraged to proactively participate in the rehearsal process. The conductor, section players, principal players, and soloists are all involved in working towards a cohesive interpretation of the repertoire. Great attention is given to the details of articulation, bow-stroke, intonation, and phrasing. I tailor the rehearsal process to accommodate the student orchestra environment allowing time for the musicians to be fully prepared for a professional level performance. Each rehearsal cycle consists of a combination of sectional and full orchestra rehearsals, allowing for the ensemble to work efficiently on the challenges specific to each section. I also collaborate with my faculty colleagues to coach sectionals and sit in on rehearsals to share their expertise with orchestra students. Not only is the information from the applied faculty invaluable to the students, this kind of collaboration can contribute towards a positive culture across the department for both students and faculty.
As a teacher and mentor of student conductors, I use a combination of group and individual instruction which gives a small studio of conductors the opportunity to develop and practice their own skills, and to learn by observing their colleagues. Weekly group sessions in musicianship, conducting technique, and rehearsal planning are effective in developing the skillset each young conductor will need to be successful in the profession. I also allow time for individual lessons with each conducting student, whether they are beginners or more advanced graduate students, which allows me to tailor my teaching to each student's individual needs. Lastly, I facilitate a number of supervised conducting opportunities, followed by video review sessions to further support my students as they proceed with the task of rehearsing and conducting their own rehearsals and performances.
Doctor of Musical Arts in Conducting- Johns Hopkins University Peabody Conservatory
Master of Music- Indiana University Jacobs School of Music
Bachelor of Music- The University of Alabama
Conducting: Beethoven Symphonies, Barenreiter; Brahms Symphonies, Dover; Debussy Orchestral Works, Dover
Trombone: Melodious Etudes, Bordoni/Rochut; Advanced Meathod, Arban; Clef Studies, Blazhevich