Audio Recording and Music Production, Audition Prep from Juilliard Alumni,
Commercial Music, Electronic Music Arrangement, Electronic Music Composition, Electronic Music Production, Entrepreneurship for Musicians, Music Direction, Music Practice Personal Training, Music Theory, Music Theory for Producers, Singing, Trailer Music, Viola, Violin, Yoga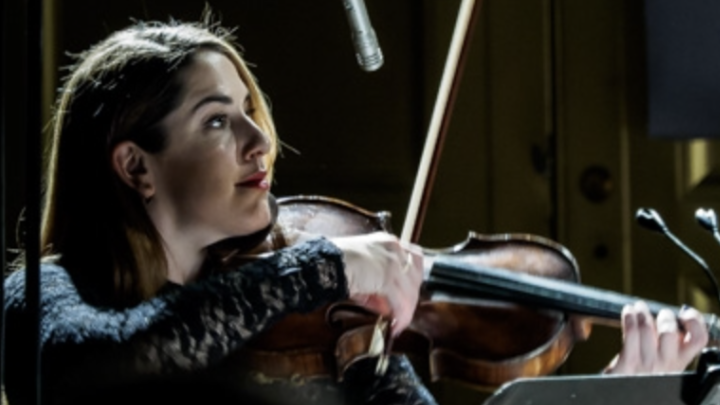 Lesson Fees
Promotions Available
Book 10+ lessons for 10% off
About
Jeanann Dara is a force in modern creation, collaboration and performance. She has developed her own sound with modern viola performance, improvisation and composition. Engaging sounds and manipulating the instrument with extended techniques, she pulls from her strong classical training and invites the listener to participate in the dynamic range from silence to noise and the anticipation in between. Jeanann received her undergraduate degree from The Juilliard School where she held the position as teaching assistant and continued her education at New York University where she received her Masters degree in Multimedia Composition and New Media.
Jeanann has been a techer of all ages and levels for over 15 years and enjoys teaching not only instrumental music but the joy of composing, improvising and producing music. 
Jeanann is a sought after violist playing the works of numerous artists including work done for and with Jonny Greenwood of (Radiohead), MONO, Max Richter at The Sydney Opera House, Australia, Nora Jones, Joanna Newsom, Jon Brion, and joined Bjork on stage in support of her New York City multi show residency. She is also a violist in multiple performance ensembles including The Wordless Music Orchestra and Soloists, SEM Ensemble, Anthony Braxton's Tri Centric Orchestra, , Anti Social Music and Manhattan Camerata.
In the summer of 2016 she created a live musical score to the Impossible Hour directed by Jorgen Leth with Simone and Amedeo Pace of Blonde Redhead premiered at San Damiano Mission.The same summer she was chosen to be a participant in electro acoustic research with the University of Padova as apart of the ECCOL project and was a chosen fellow to do interactive music and video research and performance with the Future Music Lab apart of Atlantic Music Festival in Waterville Maine, under the expertise of Mari Kimura. The Future Music Lab is a 4-week fellowship program with official collaboration with IRCAM (Institut de Recherche et Coordination Acoustique/Musique) Paris.
I love to teach. I love the combination of body, mind, soul, discipline, and practice. 
Every person is different and requires different approaches to violin, viola performance as well as composition and production. 
As an instrumentalist, I was trained using the Suzuki Method. I use this method in combination with other forms of practice to create a perfect curriculum for students. This of course is for students who are just starting out and needing a beginners approach. 
Other forms of instruction are formed to the student and the students needs. I can help prepare for auditions, write a film score, or produce a song. It all depends on what you need. As a well rounded music and performing arts entrepreneur, I can also guide you through the process of the music business. 
I am also a certified yoga teacher and like to incorporate some body techniques and mental philosophies to my teachings. 
Because I have expertise in so many areas of the music and arts business feel free to come up with your own ideas of what you might need support. There are so many moving parts it is difficult when you feel stuck or unable to visualize the outcome. I can help clear those pathways and see the bigger picture. 
The Juilliard School - Teaching Assistant - Violin/Viola Performance
New York University - Multimedia and Film Scoring Composition
TISCH School of the Arts - Performance Studies
I am currently working on my own music philosophy guide, but in the meantime please use this list of books to start the wheels turning. 
How Music Works by David Byrne. 
How Music Works is David Byrne's incisive and enthusiastic look at the musical art form, from its very inceptions to the influences that shape it, whether acoustical, economic, social or technological. Utilizing his incomparable career and inspired collaborations with Talking Heads, Brian Eno, and many others, Byrne taps deeply into his lifetime of knowledge to explore the panoptic elements of music, how it shapes the human experience, and reveals the impetus behind how we create, consume, distribute, and enjoy the songs, symphonies, and rhythms that provide the backbeat of life. Byrne's magnum opus uncovers ever-new and thrilling realizations about the redemptive liberation that music brings us all.
Amazon Link: https://a.co/d/huM3ztR
The Art of Practicing by Madeline Bruser
This landmark book enlightens amateur and professional musicians about a way of practicing that transforms a sometimes frustrating, monotonous, and overly strenuous labor into an exhilarating and rewarding experience. Acclaimed pianist and teacher Madeline Bruser combines physiological and meditative principles to help musicians release physical and mental tension and unleash their innate musical talent.
Amazon Link: https://a.co/d/hz2NxVD
Major Labels by Kelefa Sanneh
In Major Labels, Sanneh distills a career's worth of knowledge about music and musicians into a brilliant and omnivorous reckoning with popular music-as an art form (actually, a bunch of art forms), as a cultural and economic force, and as a tool that we use to build our identities. He explains the history of slow jams, the genius of Shania Twain, and why rappers are always getting in trouble.
Sanneh shows how these genres have been defined by the tension between mainstream and outsider, between authenticity and phoniness, between good and bad, right and wrong. Throughout, race is a powerful touchstone: just as there have always been Black audiences and white audiences, with more or less overlap depending on the moment, there has been Black music and white music, constantly mixing and separating. Sanneh debunks cherished myths, reappraises beloved heroes, and upends familiar ideas of musical greatness, arguing that sometimes, the best popular music isn't transcendent. Songs express our grudges as well as our hopes, and they are motivated by greed as well as idealism; music is a powerful tool for human connection, but also for human antagonism. This is a book about the music everyone loves, the music everyone hates, and the decades-long argument over which is which. The opposite of a modest proposal, Major Labels pays in full.
Amazon Link: https://www.amazon.com/Major-Labels-History-Popular-Genres