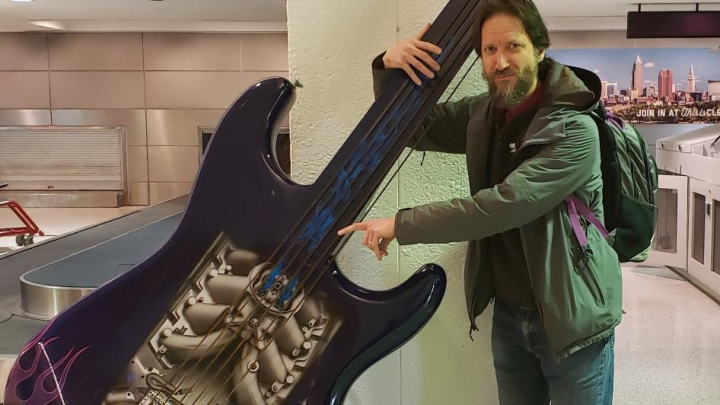 Lesson Fees
Promotions Available
Free 15 minute trial lessons
Book 10+ lessons for 10% off
About
BASS and GUITAR LESSONS as well as THEORY and AUDITION PREP
Primarily a bassist (upright and electric 50/50) Jesse has been a full-time performer and teacher since 1991. Jesse also has been teaching guitar since 1991 and ocassionally performs or records on the 6 string..
Band membership: 10x GRAMMY nominees The North Mississippi Allstars, Al Kooper (Bob Dylan, Lynyrd Skynyrd, Rolling Stones, Blood Sweat & Tears), Duke Robillard (Grammy-nominated guitarist with Bob Dylan, The Fabulous Thunderbirds, Tom Waits), Johnny A (The Yardbirds, AAA #1 hit artist), and others.
Tracks:    Spotify Playlist
Jesse has been teaching 30 years privately and at Berklee Victor Wooten Bass Camp & Summer Programs, Milton Academy, Phillips Academy, University of Massachusetts.
Appearances backing (R&R hall-of-famer) Jay Geils, Susan Tedeschi, Maria Muldaur, Ronnie Earl, Bucky Pizzarelli, Charles Neville, Ruth Brown, John Hammond, Johnnie Johnson, Elan Trottman, Jimmy Vivino, John Blackwell, Mike Smith, John Sebastian, Rodney Crowell, Brandy Clark, Jay McShann, Charlie Musslewhite, Henry Butler, and many others. 
International touring on over 10,000 shows! 
I believe I am an inspiring teacher. I love learning  and connecting with students and those things turn into spirited engagement. With endless info online you can find whatever you're looking for without a teacher. BUT nothing can replace having someone with vast experience giving you feedback and guidance. Individual lessons are collaborative in some respects, and the interaction that takes place is an inspiration for me. You get my best because I love what I do!
My style is both flexible enough to be in tune with each individual student as well as experienced enough to know how to push students to learn and accomplish their best! I lead by example, with a vast background in almost every style of music and most kinds of students (all ages and levels; pro to beginner).
Bachelor's from Berklee Bass Performance Member BMI
Member of Grammy-nominated North Mississippi Allstars
Former member Al Kooper, Duke Robillard, Johnny A
Endorsing artist: Genzler Amps, Source Audio pedals, Fishman Transducers, Thomastik-Infeld strings, K. Yairi guitars
Get your hands together first. Rhythm, ear, concept, various styles, reading, theory....all of the important elements!
Groove/time - quickly learn the most important rhythmic vocabulary. Master deep groove playing in any style. by LISTENING to the greats from all eras, and PLAYING along with the right tracks. Groove is what get's us hired!
Theory - I have very accessible theory lessons. I teach theory as it applies to songs and common chord and scale construction.
Ear power - We get paid to hear fast not play fast! I teach proven methods for learning to hear intervals and chord progressions. All geared to help you play with others and quick;ly hear the changes to a song, and also play develop your inner hearing of more complex melodic phrases.
Technique - I'm all about efficiency. I have studied and taught principals that physical therapists and coaches use.
Reading - there are various types of reading skills. There's sight reading classical music but what we encounter most of the time is more road maps and chord charts, or lead sheets. Using a bit of visual short cuts and theory I can help you learn traditional notation, tab, Nashville number charts, and make your own cheat sheets.
Style survey - I have performed most every common style of music, with masters. From trad to modern, I've played soul, rock, funk, reggae, folk, classical, jazz, swing, neo soul, pop, R&B, blues, New Orleans trad, metal, speed neo classical, fusion, avant garde, free jazz..
Favorite Apps: Drum Genius, IRealPro, Amazing Slow Downer, Wheelhouse Beats
Reviews of lessons with Jesse Williams