Ableton Live, Contemporary Composition, Electronic Music Composition,
Electronic Music Production, Finale, New Age Piano, Orchestration, Piano, Piano Composition, Trombone, Trumpet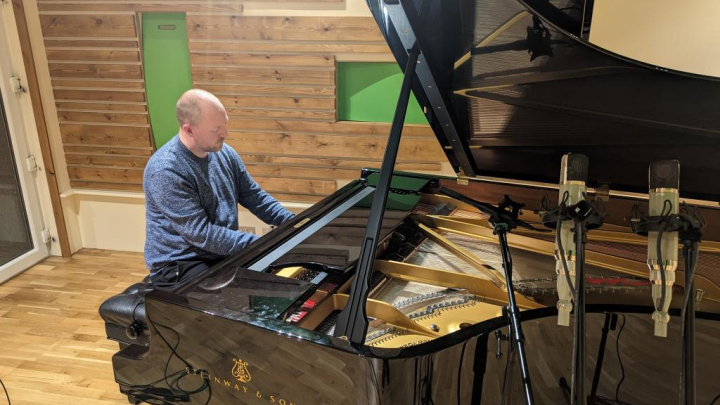 Lesson Fees
Promotions Available
Book 5+ lessons for 5% off
Annual Booking - 39 Lessons (20% Discount)
Termly Booking - 13 Lessons (10% Discount)
About
QUALIFICATIONS
I hold a BA in composition and a DipABRSM level 4 performance diploma in piano. I am currently enrolled on a MFA in composition and orchestration for media.
MUSICAL BACKGROUND
I have 20 years' industry experience with 60+ credits as a composer, pianist, producer, and recording engineer, as well as credits in audio post-production for film. Projects include award-winning films, video games, dance and theatre productions, radio programs, and podcasts.
My latest album, Change, received over two million streams and was playlisted by HDSounDI, with a book of sheet music published by Editons Musica Ferrum. Other pieces have been playlisted by Whisperings Solo Piano Radio.
I am two time winner of the Southend Music Festival piano section, scoring first place in a range of classes, including classical sections, concerto, and composition. I now sit on the piano committee for the festival.
I am currently enrolled in a Master of Fine Arts degree in Video Game Composition and Orchestration.
I offer a variety of lessons in music and audio from my studio in Great Wakering (Southend-On-Sea / Rochford). Online lessons are also available.
I have a flexible and personalised approach to teaching, which caters for each student's individual needs and ambitions without ever losing sight of what is required to achieve technical proficiency and sound musical understanding.
Students are encouraged from the outset to learn pieces by themselves to the best of their ability, in order to cultivate self-reliance and strong sight-reading skills. Students are guided and taught practice strategies and good technique, while being encouraged to work out the notes and rhythms themselves. My job as a teacher is to make myself unnecessary so that students can teach themselves the music they love at any point in their life, whether they are having lessons or not. I work towards this goal from the very first lesson.
I have a wide ranging experience of musical styles and am happy teaching all genres up to Grade 8. However, my specialist areas are classical music, contemporary classical, film and video game soundtracks, and electronic music.
Gradings are entirely optional, and students can take as many or as few grades as they would like. I have taught ABRSM, Trinity, and MBT syllabuses, and have a 100% pass rate.