Acoustic Guitar, Arranging, Classical Composition, Classical Guitar,
Classical Piano, Composition, Fingerstyle Guitar, Music Theory, Orchestration, Piano, Piano Composition, Songwriting, Ukulele, Violin, Voice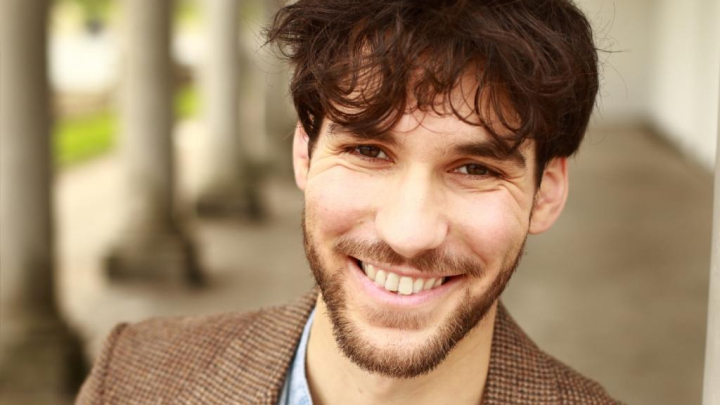 Lesson Fees
Promotions Available
Free 15 minute trial lessons
Book 5+ lessons for 5% off
Book 10+ lessons for 10% off
Discounted price for subscriptions
About
Karim Bedda is an experienced teacher of guitar, ukulele, piano, violin, voice, and composition/songwriting/music theory. After graduating from the Royal Welsh College of Music and Drama in 2013, in addition to teaching privately and in several schools, he has worked as a composer on a number of projects and performed internationally, including being cast in a variety of theatrical shows as an actor-musician and hand doubling as a violinist and pianist for some major TV and film projects. He is currently in the process of writing and preparing a collection of music educational materials and books to launch a new music education based publishing company.
Originally from West Sussex, Karim began studying music at the age of 12, taking part in numerous concerts, festivals, and masterclasses, and was awarded a scholarship to attend the 2008 West Dean International Guitar Festival. From 2009, Karim studied at the Royal Welsh Music of Drama, where he was awarded the Mervyn Burtch composition prize on leaving. During his time at the RWCMD, he studied classical guitar with John Mills and Eleftheria Kotzia as well as piano with Fazliddin Husanov and composition with Lynne Plowmann, Robert Spearing, John Hardy, and Peter Reynolds. Karim has participated in several masterclasses with renowned international performers and composers including Leo Brouwer, Kai Nieminen and Harrison Birtwistle, as well as having his music played by ensembles such as the Lunar Saxophone Quartet, the MidWest ensemble and the BBC National Orchestra of Wales.
As a conservatoire-trained performer and composer, with several years of teaching experience, I am passionate about music and sharing my knowledge with others. Being experienced in writing music, I like to bring this into lessons, encouraging students to understand not only how to play their instrument, but help them to really understand both what it is they are playing and how to create their own songs and pieces. 
I teach a variety of ages and abilities, and tailor lessons individually based on the student's particular needs and requirements. Using a laid back and friendly approach, I like to create an environment in which students can feel comfortable to learn, make mistakes, and get past any nerves they might have playing music in front of another person. For those who are able to dedicate more time and energy into learning, I always make sure to provide an appropriate level of challenge, whilst giving support and encouragement to enable them to maximise their potential. With all my students, my approach to teaching focuses on imparting the tools to solve problems for themselves, enabling my students to become more and more self-reliant and better equipped to tackle more difficult challenges as they develop through their lessons.
Whilst my students always have the choice of whether or not grade exams are appropriate for them, those that I have prepared for exams have achieved a 100% pass rate (including exams through ABRSM, Trinity Guildhall, and Rockschool).
Credentials:
- Bachelor's in music from the Royal Welsh College of Music and Drama (2013)
- Awarded the RWCMD Mervyn Burtch Composition Prize (2013)
- ABRSM Instrumental Teaching Diploma (2014)
Grade Certificates:
- Classical guitar - Grade 8 (Trinity)
- Piano - Grade 8 (Trinity Guildhall)
- Violin - Grade 8 (Trinity Guildhall)
- Music Theory - Grade 8 (ABRSM)
Other:
- NSPCC Child Protection Awareness Certificate (2013)