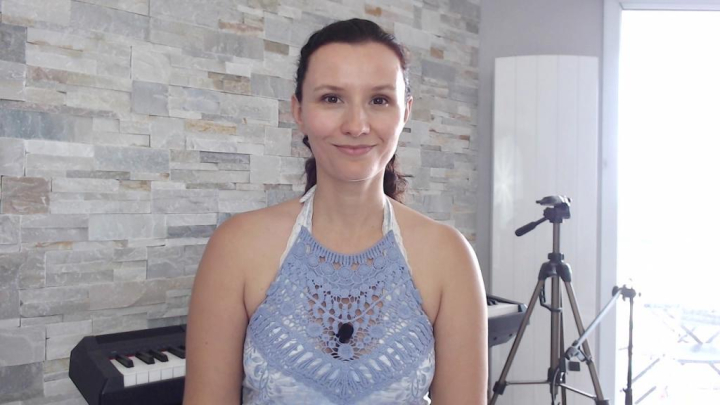 Lesson Fees
Promotions Available
Free 15 minute trial lessons
Book 5+ lessons for 5% off
Book 10+ lessons for 10% off
Book 20+ lessons for 20% off
Subscriptions discounted up to 25% off
About
I am a singing coach who is passionate about creating vocal breakthroughs for students, leading them to discover their potential and sing how and what they want, as quickly and easily as possible, all in a fun and friendly environment.  I have a BMus Honors degree from Middlesex University in London and have trained with reputable vocal coaches in London, New York, Los Angeles and Australia. I have spent over 15 years refining and implementing modern vocal techniques that offer my students real change and development in their singing in every lesson.  I have been giving singing lessons privately since 2012 and have helped many singers of all ages and abilities all over the world to free their voice and breakthrough limitations to reach their singing goals. 
I have had a talent and interest in music from an early age, but while some performers teach as a side income, it became apparent to me during my university studies that my real passion was not in being on stage but finding the answers to questions like:
Why do some students progress well with singing exercises and some get stuck? 
How does the human body learn, develop and change? How can learning and development happen as fast and easily as possible?
How can we best optimise the performance and co-ordination of our bodies and minds to make singing effortless, enjoyable and healthy?
Here's what some current and past students say about lessons with me:
"It wasn't so much a difference in my voice as a discovery because I sang in a way that I never had done and felt I wasn't able to. Kasia will ask you to sing, then after you've done an exercise, to sing the same thing again. That's when you'll get your first wow moment, that will be the first of many, and that's only lesson one!" - Darren Coaten, singer/songwriter
"Kasia's joyful and powerful energy engenders confidence in the process, in one's singing, and in oneself. She has such an astounding knowledge of the voice and its intricacies yet translate complex ideas and adjustments into clear, actionable changes that make an immediate impact on your singing. I'm a professional performer and voice and acting teacher with a lot of experience and training. Even so, Kasia very quickly zeroed in on some challenges I'd long accepted as my vocal fate. For example, I'd been using some workarounds for a few tricky vowels in my break. Kasia got underneath that to explode the problem, fast. She transformed the way I sing the song, giving new life to a song I've sung for a long time. Thank you, Kasia!" - Wes Webb, professional actor and singer
"After only 4 sessions, Kasia has helped me improve my singing, range, projection and my confidence, exponentially. The sessions are fun, dynamic and completely tailored to my needs. I'm so impressed by her ability to hone in on improvement areas and deliver the best tool to develop those vulnerable elements. This is a safe space that gives me the time to explore my craft with an incredible guide."  - Sophie Dewsnap, amateur singer
The lessons use contemporary, breakthrough methods in a relaxed and friendly environment for you to free and find your voice, rapidly develop your skills and abilities and grow confidence in your singing and yourself!
We focus on singing songs of your choice and each lesson you will learn simple but powerful techniques to experience immediate improvements and transformations in your singing.
You'll learn what you can do with your voice and body for your singing to be the best possible with strategies developed to your unique goals and challenges.
Some typical results that students experience in a lesson are:
- Singing overall becoming noticeably freer and easier
- Previously strained or unattainable high notes becoming easy and powerful
- Increased power/projection in the voice with less effort
- More depth, richness, clarity and resonance in tone
- Being able to easily sing in the style of choice
- Breaks and strain in the voice disappearing
- Increased confidence and enjoyment in singing
Reviews of lessons with Kasia Komosa