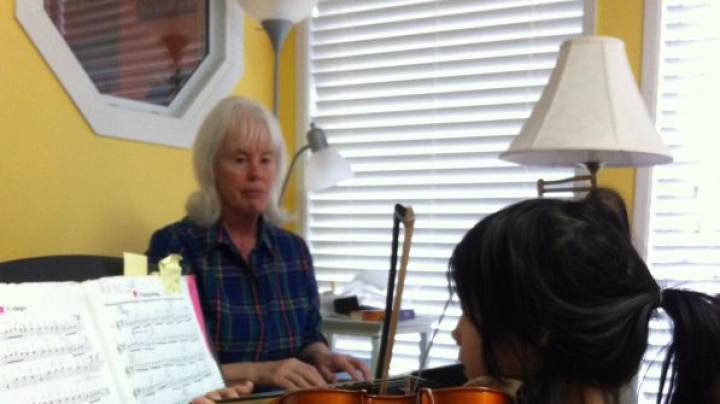 Lesson Fees
Promotions Available
Free 15 minute trial lessons
Book 5+ lessons for 5% off
Book 10+ lessons for 10% off
Subscriptions discounted up to 24% off
Book 20+ lessons for 20% off
About
Music teaching has been my passion for 50 years. I love seeing students develop in their confidence, skill, and problem-solving ability. Since retiring from playing violin in professional orchestras, music teaching has been my focus, with students age 4 to 84. My past training includes seven levels of pedagogy in the Suzuki Method, used for both violin and piano, along with traditional methods. I grew up in Cincinnati Ohio in a musical family of 12 children, where Sigmund Effron (Concertmaster of the Cincinnati Symphony Orchestra) taught me violin for 16 years. My summers were spent as a violin student at Tanglewood and String Congress. I fell in love with singing while at the Cincinnati conservatory and began voice studies with William Seale.  During my college years, I played violin in the Cincinnati Ballet Orchestra, and other regional orchestras in Ohio. In 1975, I emigrated to Canada, playing violin in the Thunder Bay Symphony for seven years. We moved to Calgary, Alberta in 1982, where I played violin in the Calgary Philharmonic Orchestra for three decades. Highlights of my symphony career include playing Schumann's Second Symphony in Carnegie Hall to a standing ovation, and playing in the Saint-Saens Organ Symphony for the Queen of England when she visited Calgary. It was wonderful learning from great conductors such as Mario Bernardi, Hans Graf, and Roberto Minczuk, great performers such as Itzhak Perlman, and playing with the world-class virtuoso members of the Calgary Philharmonic.  I continued to study singing, eventually earning my Singing Performance degree from the Royal Conservatory of Music of Toronto. So I certainly understand what it is like to learn music as an adult. I have taught group violin and singing classes at Eastside Christian Academy for 20 years.  My husband of 42 years, Arthur, also teaches music. We savor every occasion that we get to be with our six grown children and our many delightful grandchildren. All my solo singing and violin videos can be found on my Brighteon channel ("Kathryn Anne Baker Lapp") at https://www.brighteon.com/channels/kalapp.
---
Preludio in E Major by J S Bach for violin, played by Kathryn Anne Baker Lapp
---
Deh vieni non tardar by W. A. Mozart, sung by Kathryn Anne Baker Lapp
---
.My teaching style is collaborative. I want to see where the student is, and then go from there, being sensitive to the student's learning style and pace.  I want students to have the same joy in accomplishment, confidence, and problem-solving that music has given me. No matter what the student's talent or ability is to begin with, every student has potential. It is my job to find it and to nurture it. I have had the thrill of playing Mozart's Jupiter Symphony, the drama of a Verdi opera, the fun of a Beethoven scherzo, the perfect union of orchestra and choir in the Hallelujah Chorus, the excitement of singing a solo with a live orchestra, the flush of receiving a standing ovation after a Carnegie Hall performance, the satisfaction of passing a music exam. I would love others to feel these things too. Maybe it's not performing professionally as the goal. For some, just playing a simple hymn on the piano can bring overwhelming joy! I want to help you to achieve whatever your musical goal is.  Listening to specific music pieces plays a big role in my teaching style, and there will be listening assignments every week. I use the Suzuki Method plus traditional note-reading methods for a well-rounded approach, making use of auditory, visual, and kinesthetic learning. Students will be invited to participate in my virtual recitals online. For students age ten and younger, parents will be invited to attend the lesson and help where needed.
Violinist in Calgary Philharmonic Orchestra 1982 - 2015; Violinist in Thunder Bay Symphony 1975 - 1982; Suzuki Violin Pegagogy certification levels 1A, 1B, 2, 3, 4, 7, Early Childhood; ARCT Singing Performance degree, RCM (Toronto) 2005; Bachelor of Arts with Honors in Music Violin Major, CCM University of Cincinnati 1975; Grade 8 Piano certificate, RCM (Toronto) 2009; Suzuki Association of the Americas (SAA) past member (30 years); National Association of Teachers of Singing (NATS) current member; Alberta Registered Music Teachers Association (ARMTA) current member.
Violin: Suzuki Violin Books, A Tune a Day (pink book), Royal Conservatory Violin Series 2013 edition  (RCM & Fred. Harris)
Singing: Royal Conservatory Voice Repertoire 2019 (RCM & Fred. Harris) https://shop.rcmusic.com
Piano: Leila Fletcher Piano Course, Royal Conservatory Celebration Series  for Piano, and Suzuki Piano School books and recordings
Theory: Royal Conservatory Celebrate Theory (RCM & Carnegie), Ultimate Music Theory Rudiments by St. Germaine
Reviews of lessons with Kathryn Lapp