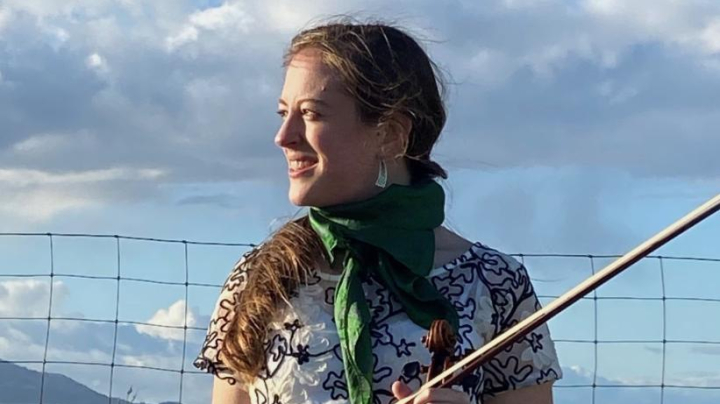 Lesson Fees
Promotions Available
Free 15 minute trial lessons
Book 5+ lessons for 5% off
Book 10+ lessons for 10% off
About
Welcome! My goal is to help you build (or enhance) a solid musical foundation while having fun and always finding the joy in music and learning! I have been teaching violin and voice privately for the last 8+ years alongside other parts of my career as a performer, educator, and creative aging specialist.
Although I come from a classical, conservatory-trained background, having graduated with a Bachelor of Music in Vocal Performance from Lawrence University, my focus has broadened in the past 7 years to multiple genres. I have been singing professionally in the San Francisco Bay Area with groups like Volti, The Benedict 16, and Temple Emanu-El, while also playing and singing Celtic, Jazz, Musical Theater for recording projects, in small venues, weddings, and events.
Violin has been a part of my life since I was 5 years old. Coming from a musical family, I was performing professionally by age 13 for various local gigs with my sister on harp and mother on flute, and continued training and playing through Conservatory. You might still find me collaborating with my family for various chamber music concerts and collaborations in the Bay Area and Los Angeles.
As mentioned, my focus especially on violin during the last few years has been Irish and Scottish fiddle music. I continue to seek out 'trad sessions' in every city I visit, learning and playing tunes, performing Irish songs, and joining in the wonderful community tradition that continues in almost every part of the world!
As a teacher, my goal is to help students progress musically in a way that is fun, engaging, and rewarding. I believe in finding the right speed of lesson and goals that resonate for each student. On violin, I like to take time at the beginning to make sure your foundation is set up well in order to have solid base that can take you through advanced levels. I focus especially on a flexible, light bow grip that can help with fluidity and beauty of sound.
With voice lessons, my focus is on building a healthy, core sound and developing practice skills with a focus on body awareness and movement. I am happy to work with students wanting to learn all styles and I encourage a broad range of repertoire, but my background is from a classical perspective and developing well-rounded musicians. 
I teach all ages and believe that ANYONE can learn something new with dedication, practice, and the right encouragement!
I come from a classical background and focus on developing a solid basic technique first, but I teach classical and traditional Irish (and some other celtic styles) fiddling. I enjoy other genres and am happy to work on repertoire from musical theater, jazz, folk, and pop styles.
Voice:
- I like to start from a place of body awareness - our body is our instrument, and having the right balance, flexibility, and freedom allows for comfort and control in the long run!
- Having established this freedom, my musical approach stems from proper learning and practice techniques, and I take time to go through these methods in learning new songs, together, looking first at the text, then the rhythm, harmony and melody, then the diction, phrase by phrase.
- I find that comfort and improvisation are a huge part of successful learning. I always take time to help students feel comfortable and validated, and often use methods related to improvisation to encourage creativity and that same freedom in our bodies that is so integral to singing any time of music!
- Although my background is in classical music, I teach many styles, including folk, musical theater, and jazz standards. 
- Materials and texts: since my lessons are very personalized, I recommend texts based upon each student. I have favorite vocalise and repertoire books I like to use, but depending on the student's desired focus, this will vary.
Violin:
- From my two most influential violin teachers, Catherine Van Hoesen and Samantha George, I again start from a place of body awareness. The correct and comfortable violin position and bow hold are so important. I specialize in using a flexible bow grip that can help beginners keep a sustainable position as they progress.
- Materials and texts: like with voice, because my lessons are very personalized, I recommend methods depending on each student. I have preferred scale, method, and repertoire books I use, but I firmly believe in teaching in a flexible way rather than rigidly staying with one text.
Reviews of lessons with Katrina Zosseder