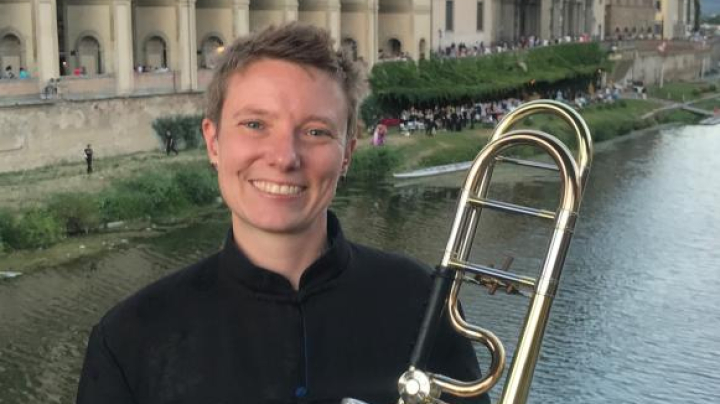 Lesson Fees
Promotions Available
Book 5+ lessons for 5% off
Book 10+ lessons for 10% off
Book 20+ lessons for 20% off
Buy 10 get 1 Free: buy 10 get 1 free
Subscriptions discounted up to 10% off
About
Kellyn has been delighting audiences worldwide with her musicality and stage presence for over twenty years on trombone, euphonium, and tuba. She is a versatile performer; she enjoys performing in various styles, from baroque and renaissance to classical and Avant guard and jazz to rock. Kellyn has performed in Carnegie Hall with the Moscow Chamber Orchestra, Pacific Northwest Ballet, Rome Festival Orchestra, Eugene Symphony, and San Marino New Music Ensemble and shared the stage with such greats as Natalie Cole, Debbie Reynolds, Alice in Chains, Sutton Foster, Jared Spector, and many more. She has been a featured soloist with the Northwest Philharmonic, Evergreen Brass Ensemble, and on stages across Europe. Kellyn teaches all brass instruments, beginning piano, the ancient healing art of Qigong, and is a certified ESL instructor
She was trained classically by some of the best trombonists in the world like John Swallow, Scott Hartmann, John Kenny, Alain Trudell, Michael Bequet, Abbie Conant, and Joe Alessi. Kellyn received her Master of Music from Yale, Bachelor of Music from the University of Denver, a diploma in performance from the Rossini Conservatory in Pesaro, Italy. She completed her Doctor of Musical Arts Studies at the University of Oregon. As an educator for more than 20 years: she has taught private lessons, served on the Shedd Institute of Music faculty, taught adjunct trombone at Shoreline Community College and Highline College, coached numerous youth orchestras, and held master classes and clinics across the Pacific Northwest.
Kellyn spent the greater part of a decade as Music Director onboard luxury cruise ships. In this role, she performed on trombone and tuba, led the showband, and managed all live music onboard. While onboard, Kellyn taught Qigong, Italian, and ASL to cruise guests. While pursuing her dreams of nightly performance in a variety of genres, Kellyn visited over 100 countries across all seven continents.
When not performing and teaching music while traveling the world, Kellyn practices martial arts. She holds the rank of black belt in Kajukenbo, is a women's self-defense instructor and teaches the ancient Chinese healing art known as Qigong. Kellyn also enjoys quality time with her family, her cat, the outdoors (but not necessarily all at once) and is pursuing a Master's in Library and Information Sciences focusing on archives and digital humanities.
Kellyn focuses on a wholesome approach to her lessons, ensuring that students focus on more than just the notes on the page. Developing a strong foundation of fundamentals and understanding the mechanics and the approach of trombone are central to each lesson, but also encouraging the student to bring themselves to the instrument through music, interpretation, and diverse expression.
---
Doctorate of Musical Arts in Trombone Performance, University of Oregon Master of Music in Trombone Performance, with honors, Yale School of Music: Bachelor of Music in Trombone Performance, Summa Cum Laude, University of Denver Performers Diploma in Trombone Performance, Rosinni Conservatory of Music in Pesaro Italy: Black Belt Instructor of Kajukenbo: Certified Qigong Instructor: Ofqual certified TEFOL Instructor:
I enjoy making fundamentals fun and engaging. Each individual lesson is tailored to the goals of the individual student in ways that enhance their strengths and better all aspects of their playing. I encourage each student to bring their whole self to their music and let their music enhance their lives. I am known for my patience, kindness, compassion, and humor.
As a language teacher, I focus on the goals of each student. I have advanced certification in ESL.
Reviews of lessons with Kellyn Haley