Neo Soul Guitar, Acoustic Guitar, ABRSM Exam Prep, Spanish, Electric Guitar,
Improvisation, Composition, Music Theory, Guitar, Bass Guitar, Rock Guitar, Audio Recording and Music Production, Classical Guitar, Blues Guitar, English, Fingerstyle Guitar, Jazz Guitar, Lead Guitar
200+ lessons
booked on Lessonface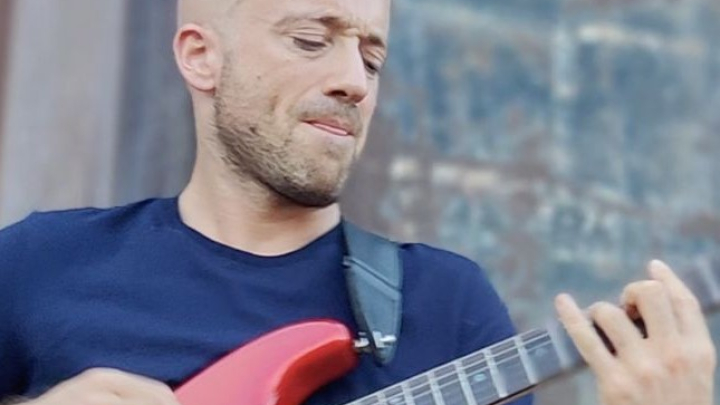 Lesson Fees
Promotions Available
Free 15 minute trial lessons
Book 5+ lessons for 5% off
Book 10+ lessons for 10% off
About
I am a professional guitarist and qualified music teacher with extensive experience as a soloist, accompanist, and band member across various genres including Rock, Soul, Funk, Folk, Latin, Reggae, Gypsy Jazz, Classical, and more. I play Lead Guitar for the band El Misti and we're about to release our 3rd album in 2023.
I have a Degree in Music Education from the international contemporary music awarding body, Rockschool, as well as Grade 8 Electric Guitar (Rockschool) and Grade 8 Classical Guitar (ABRSM), and an Audio Engineering Diploma (SAE Institute International).
I have travelled the world extensively researching world music genres, especially in Latin America. During a 2.5yr journey through Latin America, I attended the School of Mariachi in Guadalajara, Mexico and performed with Cuban street band, Los Jubilados del Caribe, in Santiago de Cuba.
I am originally from the musical city of Liverpool, UK, however in September 2020, I relocated to Mexico where I am continuing my research into Latin American music genres and sharing my knowledge with my students.
Permanent access to custom courses for a wide range of songs and techniques on a state-of-the-art interactive guitar notation app, allowing you to follow tab interactively, slow it down and loop.
I have the original individual instrument multitracks for dozens of hit songs with full transcriptions so that we can learn directly from some of the best guitar and bass performances ever put to tape, as if you were in the control room listening to them. Including artists such as: David Bowie, The Doors, The Eagles, Nirvana, The Rolling Stones, Red Hot Chili Peppers, Stevie Wonder, The Clash, The Beatles, Bob Marley, Marvin Gaye, Lynyrd Skynyrd, The Police,  REM, Queen, Creedence, Dire Straits, The White Stripes, Blue Oyster Cult, Deep Purple, Muse...
▶︎ Backing Tracks  & Neck Diagrams
High-quality custom backing tracks and neck diagrams to help you visualise and internalise.
▶︎ Direct High-Quality Audio into Zoom
I plug directly into Zoom via a Helix Floor Multi-FX pedal and a Shure microphone to ensure that you get nothing but the best quality audio experience.
So whether you're a beginner looking to take your first steps in learning guitar or an experienced guitarist looking to improve in particular areas, my approach is to build the lessons around your individual goals and interests. I can teach you a range of styles on Acoustic, Classical and Electric Guitar, and Bass.
My aim is to give you the tools you need to be able teach yourself by helping you hone the essential skills a musician needs: listening and reading skills, technical & improvisation skills, a varied rhythmic, melodic and harmonic palette, composition, audio workstation and recording literacy.
We can work towards an exam board syllabus such as Rockschool, ABRSM or Trinity. If you'd like to perform your own choice of repertoire for exam pieces, sheet music and backing tracks can be created once the tracks have been authorised by the exam board.
I also work with songwriters who are looking to develop their songs and/or record demos. I can help with arrangement, creating rhythm section tracks, backing vocals, and mixing and mastering options.
In our first free trial session, we can discuss your goals and work out how we can go about achieving them, so get in touch to arrange a time.
I look forward to meeting you.
Degree in Music Teaching from Rockschool ▪︎ Grade 8 Electric Guitar from Rockschool ▪︎ Grade 8 Classical Guitar from ABRSM ▪︎ Diploma in Audio Engineering from SAE Institute ▪︎ Cambridge CELTA English Teaching Certificate
Some of the key disciplines I cover include:
Triads ▶︎ Learn how to play all Major, Minor, Diminished and Augmented triads across all string-sets in 12 positions on the neck. We also look at how they are specifically used and combined in a range of hit songs in a multiple genres.
Modes ▶︎ Learn how to play all the modes of the major scale in one-octave cells across all string-sets. Again, this is always reinforced by studying the practical application of them across a wide repertoire.
Skill Drills ▶︎ Improve and refine your execution of a range of techniques such as Hammer-Ons, Pull-Offs, Alternate Picking, Hybrid Picking, Sweep Picking, with short, tempo-laddered drills with your progress measured and tracked week-by-week.
All lesson material is customised to the student's tastes, requirements and goals.
Here's an example of one of my custom-designed Fretboard Diagrams which I use as a visual aid:
Reviews of lessons with Kieran Gilchrist