Flute, Piccolo, Recorder
100+ lessons
booked on Lessonface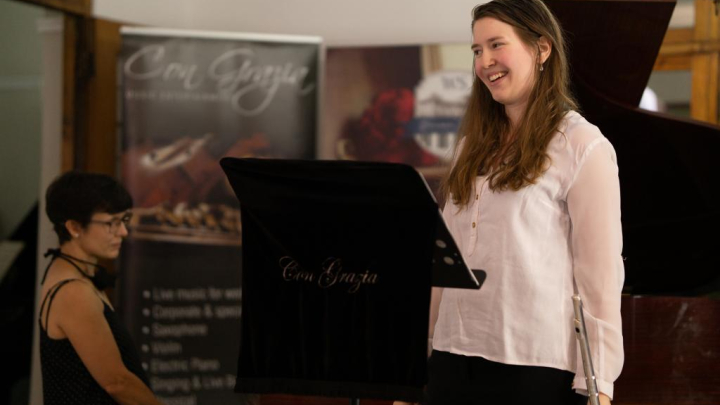 Lesson Fees
Promotions Available
Free 15 minute trial lessons
Book 5+ lessons for 5% off
Book 10+ lessons for 10% off
Book 20+ lessons for 20% off
About
Hi there, my name is Kirsten Marquardt I have been playing flute for 17 years and teaching flute for 5 years. I also teach and play piccolo as well as teach recorder. I am easy-going, kind-hearted, full of energy, and love to teach others my passion. I studied at the University of Pretoria where I took "music first instrument" as one of my major subjects. I have received my diploma in flute performance from ABRSM (the Associated Board of the Royal Schools of Music)  and I continue to play and advance my own skills and hope to gain further certification in the near future.  I have received several masterclasses on flute from prestigious flutists from around the world. I continue to play in recitals every year, such as the Pretoria Eisteddfod, and competitions, such as the Philip H. Moore music competition and the online talent showcase hosted by Con Grazia, all in South Africa. Furthermore, I have played in both orchestras and wind bands across South Africa such as the South African National Youth Orchestra, the University of Pretoria Symphony Orchestra and wind band and, Gauteng Philharmonic Orchestra. Teaching music is currently my full-time career. I teach flute across four private schools in Johannesburg one of which is St. Peters College, pre-instrumental instruction (Colourstrings) at two nursery schools, as well as 16 large music group classes of 20+ students (grade 3-6) at HeronBridge College on the basics of music theory and rhythm, listening, and music appreciation. I also have my own private flute studio where I teach flute to students of all ages both in person and online. 
Please feel free to email me if you have any further queries or require an additional lesson time and I will be more than happy to help where I can! 
I encourage my students to set goals and as such structure my lessons around achieving those goals so lessons are always focused on the student.  I don't believe in a "one size fits all" approach. As such, each lesson is personalized to the learner. I believe in the Kodaly philosophy of teaching music and love to work with this teaching methodology where possible. I like to focus on technique in lessons for students to reach their fullest potential and this includes technical exercises and tone work.  I like to focus on technique so students can play to the best of their ability and therefore become more aware of what they are doing and how they do it, therefore becoming conscious and competent players.