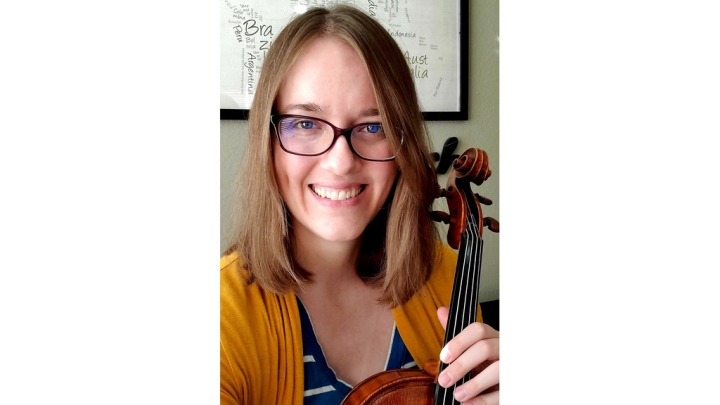 Lesson Fees
Promotions Available
Free 15 minute trial lessons
Book 5+ lessons for 5% off
Subscriptions discounted up to 5% off
New Student Package: buy 5 get 1 free
About
Lessonface's 'Viola Teacher of the Year' for 4 Years in a row! I have almost 20 years of teaching experience, and gear my teaching to the student's style. Try out lessons with a package of 5 lessons, and you'll get 1 free lesson! All ages and skill levels welcome!
Lisa has a Bachelor's of Viola Performance from Brigham Young University, where she studied primarily with Dr. Claudine Bigelow, Dr. LeeAnn Morgan, and Scott Lewis of the Utah Symphony. The influence of BYU's Primrose International Viola Archive, the world's largest collection of viola music and memorabilia, allowed her to expand her repertoire to include little known music such as the Primrose scale method. Lisa has had numerous performance opportunities across the country, including at Carnegie Hall and especially loves viola solo, quartet, and chamber music. She has been a student of the piano for 30 years--competing, performing, and ultimately instructing youth of all ages. She was a Regionals and All-State vocalist, and continued choral education to the University, where she had the opportunity to solo with the BYU Women's Chorus.
I have been teaching private music lessons for almost 20 years, beginning with the co-founding of a non-profit program at my  local high school teaching small group lessons to low-income elementary students, and co-managing a free piano class for ESL students at a local church.  My experience spans students of all ages and levels in viola, violin, piano, voice, and more. I am well-versed in multiple methods, and am constantly studying new teaching styles to help my students meet their goals.
I gear my instruction to the needs of the student. Although teaching primarily classical style, many students like to supplement with more modern music, and I work very hard to choose appropriate solos and exercises to support techniques in any genre. I believe music lessons should be fun and try to help students feel at ease and  gain confidence in their abilities.
I usually combine several teaching methods, geared to the student, but for most beginner violists (and violinists) I start in the Suzuki method books for solo repertoire. For beginner classes, I teach from Essential Elements 2000 book 1. Later students will progress to Etude books such as Wohlfahrt, Schradieck, Bruni, Sevcik, Kreutzer, and Campagnoli in addition to solos I help select based on level, but which the student ultimately gets to choose.
For pianists, I generally begin in Faber method books for younger students, and Alfred method books for adult learners. Eventually I transition to Bastien, Applause, and Snell in later books, depending on level, which I determine during the trial lesson. These books have a wide variety of solo material in many styles, but we may also supplement with Broadway, movie, or popular music depending on the student's preferences and goals.
Vocalists will usually purchase books depending on the style they wish to study, but I have used books such as 26 Italian Songs and Arias, The First Book of Soprano Solos[Mezzo-Soprano/Alto, etc], Folk Songs for Solo Singers, The Singers Musical Theatre Anthology, as well as  Solos for Young Singers and The Teen's Musical Theater Collection. Often the song you wish to learn is more modern, so if a copy cannot be found, we can learn by ear!
If you have already purchased different books, don't worry! I have worked with multiple systems on all these instruments (and more--I do not have a guitar or cello at my current studio and this is the only reason I do not offer lessons in either). I try to utilize the books you already have as much as possible, so don't worry!
Reviews of lessons with Lisa Williams