Guitar, Jazz Improvisation, Music Theory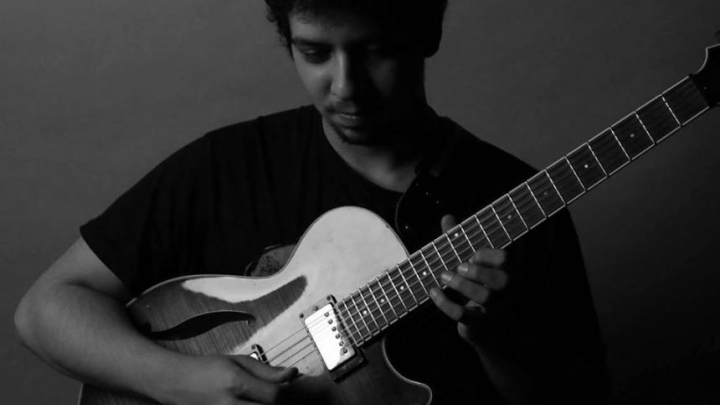 Lesson Fees
Promotions Available
Book 5+ lessons for 5% off
Book 10+ lessons for 10% off
Book 20+ lessons for 20% off
About
     Lucas Santos is a guitarist, music teacher and composer born in Rio de Janeiro, Brazil. He started his studies with some local teachers in his city who guided him to the path of Jazz and Popular Music.
       In 2014 he went to a Berklee summer program where after experiencing a summer devoted solely to music and studying with great teachers like Rick Peckham, Allan Chase and others, he decided to pursue a path to becoming a professional musician.
      In 2015, Lucas met his teacher Garry Dial, responsible for the famous courses at Charlie Banacos, and began studying by correspondence. That same year, he moved to New York to begin his personal studies with Garry and Hal Crook.
         In 2016, Lucas moved to Boston to graduate from Berklee College Of Music. During his time at Berklee, Lucas had the opportunity to study guitar guru Mick Goodrick every semester and play with excellent musicians. During that time, he also won the "John La Porta Award" by the Berklee College of Music. In 2019, Lucas graduated from Berklee College of Music in Performance and majored in Jazz Theory and Popular Music Theory.
       After graduating from Berklee, Lucas moved to New York to pursue a Masters in Jazz Studies at the recommendation of his longtime mentor Garry with whom he continues his studies. During his time in NY, Lucas had opportunities to play in different places, use and participate in Jam Sessions with high level musicians.
      Currently in 2021 Lucas lives in Rio de Janeiro, Brazil. He runs online and private classes for people from around the world. In addition to also being playing shows and preparing for the release of his first album as a leader.
          My teaching style changes to accommodate each student needs. On the first lesson we will decide what is the path we are going to take with the lessons based on the student goals. We could work on technique, Improvisation, Repertoire, Ear Training, Sight Reading, Composition, Music Theory and many other topics. The lessons are presented with assignments that work like building blocks that will be tested every lesson to check the student progression.  My main goal is to make the student a proficiency musician who can play, understand, improvise, compose and work on any song or music situation that he or she will encounter.
         I was fortunate to study with some of the best music teachers in the world like Mick Goodrick, Garry Dial and Hal Crook .  My lessons are inspired in how I was taught by then because I know it works. It is not only fun but will also make you the best musician you can be.
       The material from the lessons are send to the student or student parents in PDF and audio file via e-mail after each lesson. It also includes a list of everything the student needs to work for the next lesson.  I'm also available via e-mail to answer any questions that may come up regarding the lesson material assigned to the student.
B.A Berklee College of Music in Performance with Minor in Jazz and Popular Music Theory
M.A New Jersey City College in Jazz Studies
Private Studies with Mick Goodrick, Garry Dial, Hal Crook, Edna Golandsky and Sophie Till
"John La Porta" Award from Berklee College of Music in 2018
     I don't believe in Methods since each student is unique. The only material used in the lesson is the one I will create uniquely for each student.