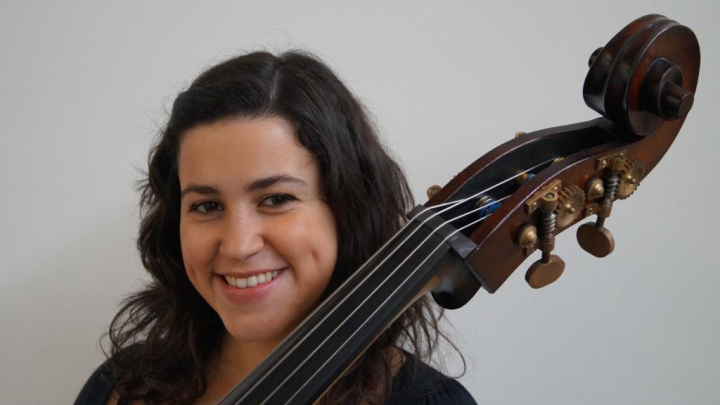 Lesson Fees
Promotions Available
Free 15 minute trial lessons
Book 5+ lessons for 5% off
Book 10+ lessons for 10% off
Book 20+ lessons for 20% off
About
Hello! I am portuguese double bass player currently working at Brussels Philharmonic, in Belgium (Central European Time Zone - CET). 
I have a Bachelor in Music and a Master in Music Teaching (ESML, Lisbon), a Master in Musik (HfMT, Hamburg) and I was an Akademist in the NDR Elbphilharmonie Orchester (2015-2017).
Freelancer with orchestras such as: NDR Elbphilharmonie Orchester, Nederlands Philharmonisch Orkest, Brussels Philharmonic, Royal Scottish National Orchestra, Orquestra Gulbenkian, Orquesta Sinfonica de Galicia, Hamburger Symphoniker, Dresden Philharmonie, European Philharmonic of Switzerland, Orquestra Filarmónica Portuguesa, etc
Teaching Experience:
03/2022 Conducted Masterclass in Escola Superior de Música de Lisboa
10/2019 Conducted Masterclasses in "The Bavarian Bassdays" in Mühldorf, DE
2019-2020 Double bass Professor at Gymansium Lerchenfeld, Hamburg
2017-2020 Private lessons in Hamburg
2012-2014 Double bass Professor with Orfeão de Leiria
2012-2014 Double bass Professor with Conservatório de Música de Alhandra, Portugal
2009-2010 Escola de Música dos Amigos da Branca
Since 2009 - Private Lessons in Portugal (E-bass and Double Bass) 
If you'd like to learn the double bass or improve your skills just write me and we can schedule an online lesson :) 
I teach since 2009 and I already had students from 6 to 68 years old and all levels.
I adapt my Teaching Style to every student depending on what their goals are. 
I played in bands both with Double bass and Electric Bass in the styles of Jazz, Pop, Soul, Bossa Nova and World Music but I have more experience teaching Classical Double Bass. I can however help you practice those styles and give you technical exercises. 
For Upright Bass: all levels and ages welcome!!!! 
For Bass Guitar I can teach Beginners how to read in Bass clef, how to explore the bass, how to play in a band. I cannot teach improvisation, slap and tapping. (for very beginners only) 
Reviews of lessons with Luzia Vieira