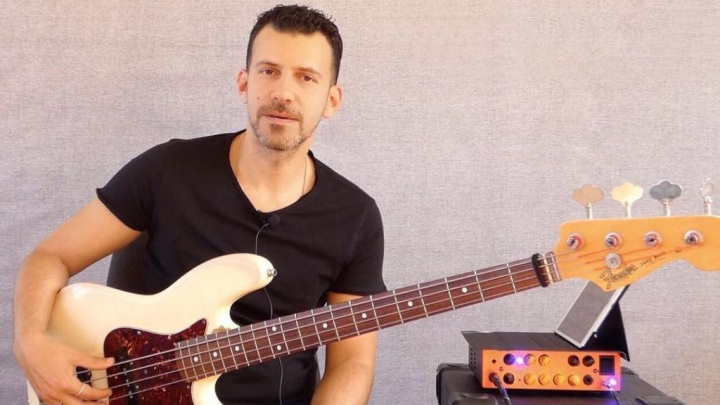 Lesson Fees
Promotions Available
Free 15 minute trial lessons
About
Welcome! I'm a professional bass player with a passion for teaching and sharing bass content. With slots available for new students, I offer comprehensive lessons in a variety of styles, including Rock, Blues, Funk, R&B and Jazz. Whether you're looking to improve your fretboard skills, technique, harmony, improvisation, groove or fills, I've got you covered.
My Background
I've honed my craft through years of live performances and studio recording sessions. My educational journey includes studying Jazz at the Guildhall (Mmus) and Popular Music at the Bass Institute (Bmus) in London. I bring both the theoretical knowledge and real world experience necessary to help you as a bassist.
Teaching Experience
I've been teaching bass since 2006. I've worked as a full time Bass Tutor in various schools and in 2019, I transitioned to online teaching. Over the years, I've had the privilege of instructing over 1000 students. My teaching approach is effective whether your goals include pursuing academic qualifications, becoming a session bass player or simply playing great.
My Musical Journey
My musical journey began in local pubs, inspired by legends like Jamerson and Jaco. From those beginnings, I've had the pleasure of performing in venues of all sizes, rocking out at festivals, making appearances on TV and radio and recording with a variety of exciting projects and bands. My bass has taken me to stages in England, Scotland, Malaysia, France and Italy.
Join Me
I'm excited to share my studies and help you achieve your bass playing goals. Whether you're a beginner or looking to refine your skills, my lessons are tailored to meet your needs. 
Book your free 15min chat today and let's start making some bass magic!
My teaching style is rooted in hard work, dedication and a genuine passion for bass. Everything I know about bass has been acquired through study, research and hands on application.
Years of Experience
With many years of experience as a bass tutor, I've had the privilege of teaching in various schools and online platforms, imparting knowledge to well over 1000 students. My extensive teaching background has allowed me to gain insights into what students want and, more importantly, what they need. I've faced the same questions and challenges during my own studies, giving me a unique perspective on how to address them effectively.
Customised Lessons
My bass lessons are tailored to your specific goals and interests. Whether you have a particular topic in mind that you're eager to explore or prefer to follow structured courses, I've got you covered. My courses span various styles, including Rock, Blues, Funk, R&B and Jazz, with advanced courses exploring topics such as Harmony and Improvisation.
Comprehensive Resources
To support your studies, my lessons come complete with a wealth of resources. You'll have access to backing tracks, PDFs, transcriptions and valuable tips to boost your practice and study between sessions. I'm committed to providing you with the tools and materials you need to excel.
Get Started Today
If you're ready to start your bass playing adventure or want to discuss a customised study plan feel free to email me. I'm here to help you achieve your bass playing goals and guide you on a path of continuous improvement. 
If you wish to know more about me and teaching style please visit: BassAdvice
15 Minutes FREE Consultation, get in touch to discuss what you need or what's the best course for you.
-- More Reviews from Bass Advice --
David - "Marco is an AWESOME instructor!! He's very knowledgeable, he makes the lessons simple to understand, and shows you how to apply the lesson/technique to your playing. I've had a few lessons with him now and I've been applying what I've learned from him. If you are looking for Bass Guitar Lessons, look no further Marco is the best!"
Indigo Pearce  - "Instead of searching aimlessly for YouTube lessons I actually have a plan to improve now thanks to Marco's straight forward teaching. I'm also practicing more than ever before as harmony is no longer a scary topic, I'd highly recommend Marco!"
Mark Michaels  - Had 3 lessons with Marco and worth every penny. Started off with 30 minutes for the first lesson, but I continued for an hour. Time flies. Chilled out, knowledgeable teacher. Great sense of humor. Got homework assignments prepped specifically for me and my level – I can already read music so we worked on transitions and exercises. He even wrote out some grooves on the spot when he saw I had a couple of kinks to work out. Cheers Marco. See you again soon brother man!
• Education - Master of Music, Performance in Jazz Studies, Guildhall School of Music, London - IMW Diploma, Music Technology, City & Islington College -Bachelor of Music, Popular Music Performance, University of West London • Online Teaching, Online Bass Tutor, BassAdvice.com - 2019/Current - Strategic and creative thinking abilities, content creator (Video Lessons, Ebooks, Social Media) Lessons straight to the point, teaching style that makes the difference in your playing. • Instrumental Teacher, Bass Tutor (London) 2006/2019 - Planning lessons and time tables, teaching, training, preparing the students for GCSE music exams and live performances, maintain current professional development • Live, Tours, TV and Radio - Professional live and studio service for Artists, Songwriters and Record Labels, contribution writing arrangements, assist sound engineer and producer with recording, high level of attention to details, team player.
Available Courses
Bass Mentorship Programs, Rock Bass, Blues Bass, Funk Bass, R&B Bass, Jazz Bass, Applied Harmony & Improvisation, Fret Training, Tech Lab & Rhythm Studies. 
Full breakdown available in pdf, get in touch for your free copy.
With each Style I usually cover: Fretboard Skills, Technique, Rhythm Studies, Harmony, Improvisation, Sight Reading, In the Style Of, Songs Related.
*Scheduling and Cancellation policy - Lessons canceled only within  24 hours notice will be rescheduled or refunded. 
Reviews of lessons with Marco Panzarella