Apple Logic Pro, Pop Piano, Ableton Live, Accordion, Arranging,
Audio Recording and Music Production, Composition, General Mixing and Mastering, Improvisation, Jazz Improvisation, Keyboard, Music Theory, Organ, Piano, Rock Piano, Synthesizer Programming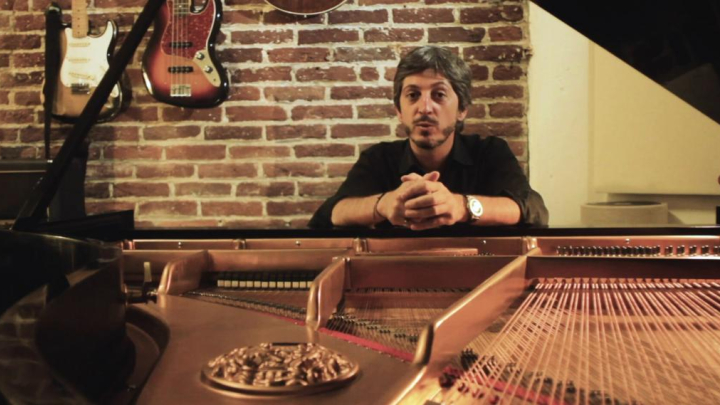 Lesson Fees
Promotions Available
Free 15 minute trial lessons
Book 10+ lessons for 10% off
About
I am a professional musician and teacher with more than 20 years of live and studio experience as a pianist / keyboard player, accordion player, bass player, producer and arranger. I have been teaching for several years, both individual and group lessons, in private and public schools, wrote projects and held workshops.

I experienced music in various projects and live performances including Rock, Blues, Jazz, Folk bands, theater performances, radio broadcasts, short film and ads scoring.
SPECIFIC GENRES jazz, mediterranean music, blues, alternative rock, film scoring.
CV - STUDIES

Multimedia Technologies - Master at APM School in Saluzzo (Italy)

Film Score Composition - Master (with Oscar Prize Winner M° Luis Bacalov) at Pesaro National Conservatory

Arcevia Jazz Feast - Workshop 2014 (winner of a 3 days composing stage with UNIT + collective)

Jazz - Internship at South African College of Music, Cape Town - SA).

Film Music Composition - Workshop with composer Teho Teardo
PRIZES

'Music Riot Award' - Lovers Film Festival 2019 (Torino - IT) for the soundtrack of 'Pussy', a short film directed by Renata Gasiorowska. Performed Pussy's soundtrack at Museo Nazionale del Cinema (Torino - IT) hosted by the 'SOUNDFRAMES' exhibition
WORKS AND COLLABORATIONS

Idb Italian Design Brands, Museo Nazionale del Cinema, Notte della Taranta, Universiadi 2007 Torino, Audionauta Studios, Riccardo Mazza, Gianpaolo Casati, APM Saluzzo, Orchestra Coco', Reinier Voet (NL), Teatro delle Forme, Alberto Cesa, Valentina Chirico, Cirko Vertigo, Valerio Chiovarelli, La Chatte Noire, The Yellow Dust, Mahout, Mr Brown, 20 Strings, Gipsy Accident, Bandakadabra, Karenza, Me&MyMonkey, The Magic Cell, The James Caruso Orkestar, Bruskoj Prala, Stefano Lenci, Paolo Prosperini, Cloroformio, May Be All, The Vulgarettes (NL), Jambalaya 37, The Sweet Life Society, Moondrift, Dusty Jazz Blasters, FOUR, Jeopardizers, 7forMarley, Will Maloney (US), Comfort Arthur (GA-UK), Marco Priotti, The Varovarelli's among others.
The lessons are aimed at anyone, of any level and age group, who wants to deepen her/his musical, technical and expressive knowledge or improve style and language on a specific musical genre.
I have a multi-genre and personalized approach: let's find together the way to develop your musical personality.

After more than one decade of professional experience both in playing and in teaching, I have developed a method that can be very useful not only for beginners, but also for classically trained musicians who want to approach other kinds of music.

Every musician has his own background and a potential to be unlocked, so the lessons will be tailored to each student's needs.
My way of teaching is based on musicality: we start from listening to successful musical examples and from there we'll disclose the fundamental concepts: rhythm, melody and harmony.  The concepts of music theory and functional harmony are addressed in a simple way, with practical examples taken from the various genres of pop, blues, rock, soul, world and electronic music, and through educational materials that remain available in the chat, as well as summaries, and tutorials.

In addition, the entire recordings of the lessons will be available and downloadable.
The lessons generally last from 30 minutes to one hour and include:
.technique and practice of a language or musical genre on the instrument

.theory / harmony and listening.

.ear training

.arrangement and style

.repertoire