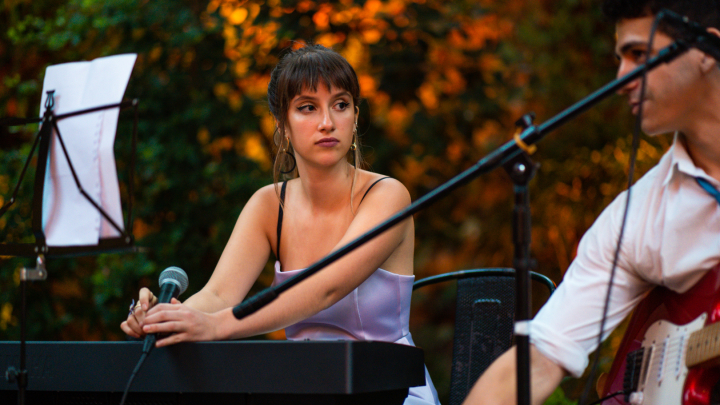 Lesson Fees
Promotions Available
Free 15 minute trial lessons
Book 5+ lessons for 5% off
Book 10+ lessons for 10% off
Book 20+ lessons for 20% off
About
Hello, mi name is María Sonderéguer, I'm 23  years old. I live in Buenos Aires, and I recently finished my studies in Escuela de Música Contemporánea, global partner with Berklee College of Music. 
I've always been passionate about music, I'm a professional singer, but I also play piano since I was 7 years old and guitar since I was 15.
I  play and sing different styles (jazz, pop, soul..)and because I'm from Buenos Aires I also love Argentinian and Latinoamerican music in general (tango, folclore, bossa nova, etc...)
I'm methodic and I like to give some theoric aproach at the same time I teach practical skills.  I'm adaptable to what the student needs/wants, the most important is that the lesson is enjoyable and to have a good time while we learn.
Since i was in High school I was fomented to both sing and play in different stages going from choir, duo, band and soloist format. For the last couple of years I've returned to my high school (Lycee Franco - Argentin Jean Mermoz) to teach french to primary school kids and I also did that at home for private lessons.  I've also been playing live in different local stages in Buenos Aires as a back up and lead singer, sometimes for bands of friends or even jams while at the same time I was called for singing and playing at different graduation concerts and ensemble shows at my college.
I've recently did a live session during the quarantine, where I show some compositions of mine and two covers, both of them tradicional songs of Argentina and Brasil.
I leave the link right above if you want to check it out! :)
Finished my studies at Escuela de musica contemporanea (Berklee global partner) last year receiving the title of Proffesional music with focus in singing. Now im about to start at the UNA (conservatory), also known as superior institute for a carreer in conducting.
For singing, piano and guitar lessons the aproachs are  different.  The lessons vary according to the needs of the student.
For singing lessons, first of all I do a little bit of relaxing and breathing exercices. Then, we do a vocal warm up and then we sing.
For Piano and Guitar, we can learn chord progressions, arrangements, how to accompany the voice, as well as how to read a classical music sheet. 
Reviews of lessons with María Sonderéguer