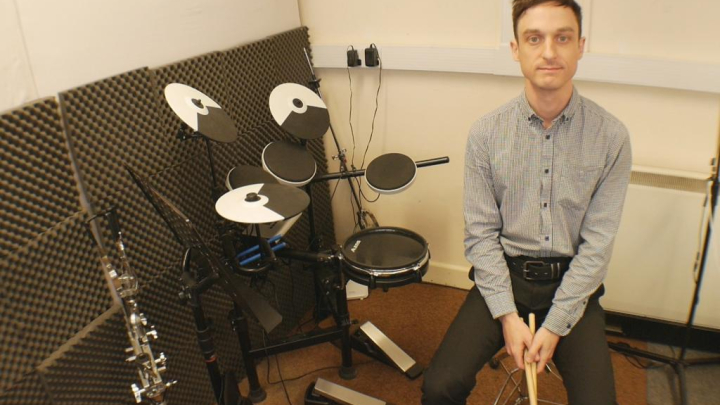 Lesson Fees
Promotions Available
Free 15 minute trial lessons
Book 5+ lessons for 5% off
Book 10+ lessons for 10% off
Book 20+ lessons for 20% off
Subscriptions discounted up to 10% off
About
I have been drumming and learning for 20 years. 
I learned drums with Drummer and Drum Teacher Roger Odell who is the Drummer of the world famous Jazz-Funk band Shakatak. I completed my grades 1-8 with Roger and studied modern drumming styles and techniques with him.
I completed my BA (hons) Music degree at The University of Plymouth and I also have a Foundation Degree in Popular Music from Truro College. I studied drums with Drum Teacher Robbie Brokenshire who is a professional drummer with many years experience as a cruise ship drummer.
For the last 4 years I have been studying the teaching and drumming method of Bob Armstrong who was by far the best Drum Teacher in the UK during his career.
I have been teaching drums for 10 years and have a 100% pass success rate for exams. Grades are not essential but they help many students focus on developing their skills. You can find reviews on my google maps page by searching Martin Everett Drum Teacher or looking at my website and going to the Reviews
I have played for bands and artists including:
Sam Russo
Sivu
Haverhill Silver Band
East Angles Brass Band
and many more cover and function bands around the UK.
Drum lessons, grades 1-8, Zoom/Online lessons. 10 years experience. Trinity, Trinity Rock & Pop and RSL exams.
A professional setup and the best teaching methods used. A free lesson is available too and help with setting up for online lessons.
BA (hons) Music degree
Fda Foundation Degree Popular Music
Grade 8 Drum Kit Trinity College London
Reviews of lessons with Martin Everett