Blues Guitar, Electric Guitar, Guitar, Jazz Guitar, Neo Soul Guitar,
Rock Guitar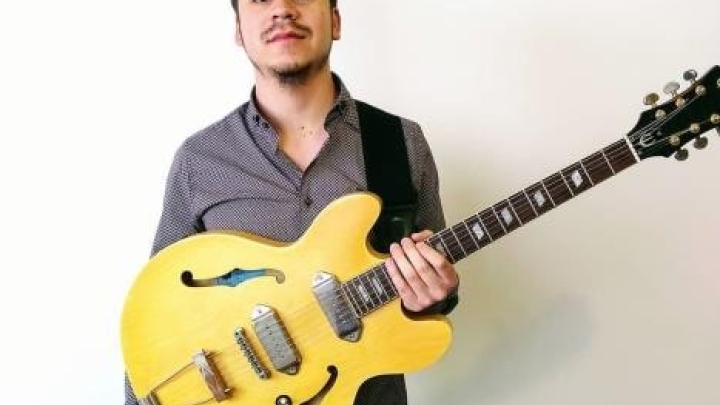 Lesson Fees
Promotions Available
Book 5+ lessons for 5% off
About
Mateo Orozco is from Colombia and I he is currently located at Houston, TX 77080. He has more than 7 years of experience teaching and playing music at various schools and with private students, he comes from a family of musicians and his passion has always been around him. During the quarantine Mateo has been working from home as a music producer and a session guitarist for artists all over the word. He teaches guitar and production lessons to people of various ages and levels, Mateo is the director and producer of the project called Color Nativo, really relevant in the Colombian Scene. Influenced by jazz and Latin music Mateo has studied at various countries mainly, USA, Colombia and Argentina, he says "It has been a great experience to meet diverse people and music". Mateo holds a bachelor's degree in Music performance and an associate's degree in music production. He's teaching philosophy consists on addressing topics that are appealing to the musical taste of the students and focusing on the development of the instrumental technique and the ear of the student.  
I start from the general teaching of the instrument to cover important basic concepts that will serve you as an excellent foundation of your instrument, at the same time I try to always include material that the student is passionate to learn, this can be repertoire or techniques, I also include improvisation and transcription exercises that will help you improve at making music.
Bachelor´s in music performance from University Incca de Colombia and music production degree from Escuela de Musica Y audio Fernando Sor, Avid Certifications Pro tools 101,110,201 and 210. Exchange in Escuela de musica de Buenos Aires for One year, Exhange with Blinn College, TX and FAU for one year. he has performed with artists from such as Aura Castellar, Jose Noel Petro, Gianni Bardaro, Bogota Jazz Big Band and others. He has played at important music Venues in Colombia such as, Biblioteca Luis angel Arango, Parque el Country, Teatro del tolima, Smoking Molly, San cafe jazz club
Texts are recommended in class for the specific needs of the student.