Bass Guitar, Acoustic Guitar, Blues Guitar, Brass, Electric Guitar, Euphonium,
Guitar, Rock Guitar, Trombone, Trumpet, Tuba, Ukulele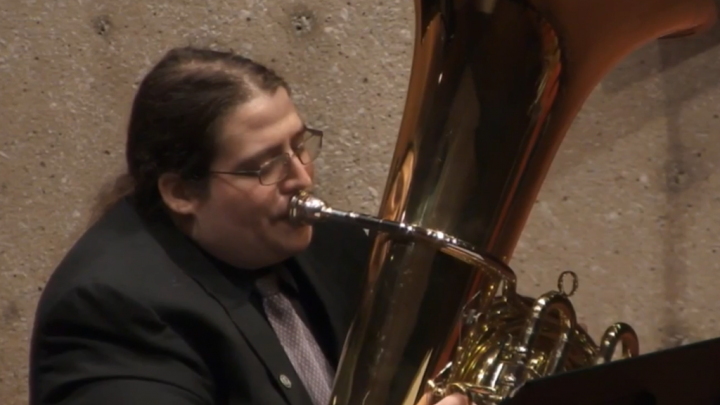 Lesson Fees
Promotions Available
Free 15 minute trial lessons
About
My name is Matt Farias. I'm a musician of over 20 years playing professionally and teaching for about 10 of those years. I was raised on music growing up and encouraged to go into the concert band when I was a kid and decided to pick up the tuba. A decision that changed my life and focus right then and there as tuba came so naturally to me with the encouragement of my family and my band directors to keep going with that instrument all the way to a degree in it from a university. Along side that I decided to double on Trombone/Euphonium as the jazz band was looking for players. This decision opened my eyes to the joys of jazz all the way to playing with top level university jazz bands through my degree path and to playing professionally on all 3 of those instruments. I was also raised on other genres outside of jazz and classical. Rock had a huge influence on me and interested me in picking up both the bass and guitar and I haven't put those down for the 15 years I've been actively learning playing and gigging on those.
I love music and will continue on this path of music the rest of my life. I've inspired so many students over the years and that has been an absolute joy for me to continue to teach lessons to anyone that is willing to take them.
I am always changing up my teaching style to fit every student. There is no one way to enjoy music, so I don't think there should be one way to teach music. When it comes down to it too, every genre has its own unique way to understand it. I learned this when taking a world music class in college, which completely opened my eyes while struggling to understand not just how music is built in other cultures, but unique ways to teach the music in those cultures too.  My focus is always to try and help a student learn what they want to learn while trying to build in all the fundamentals that go into their instrument such as finger techniques for guitar, or slurring studies for trumpet, and then apply those to the music they come to me with that they are interested in.
Northern Illinois University - Bachelor of Music Performance with a focus on Low Brass
My teaching style is unique to everyone so I'm willing to work with everyone on how to play their instrument that makes the most sense to provide growth. Music is supposed to be fun and only taken seriously when you want to take it serious. 
Recommended Texts:
Beginner/Intermediate Brass: Rubank Elementary/Intermediate Method
Advanced Trumpet: J.B. Arban Complete Conservatory Method for Trumpet
Advanced Trombone:  Melodious Etudes for Trombone - Book 1: Nos. 1-60 Joanness Rochut
Advanced Euphonium:  J.B. Arban Complete Conservatory Method for Trombone and Baritone (Bass Clef Version)
Intermediate to Advanced Tuba:  Rubank Advanced Method for Tuba || Blazhevich, Vladislav Studies (70), v.1
Beginner/Intermediate Guitar: 
Hal Lenoard Guitar Method Book 1(Beg) and 2(Int)
Beginner/Intermediate Bass:
Hal Lenoard Bass Method Book 1(Beg) and 2(Int)