Euphonium, Brass, Composition, French Horn, Music Theory, Piano Composition,
Trombone, Trumpet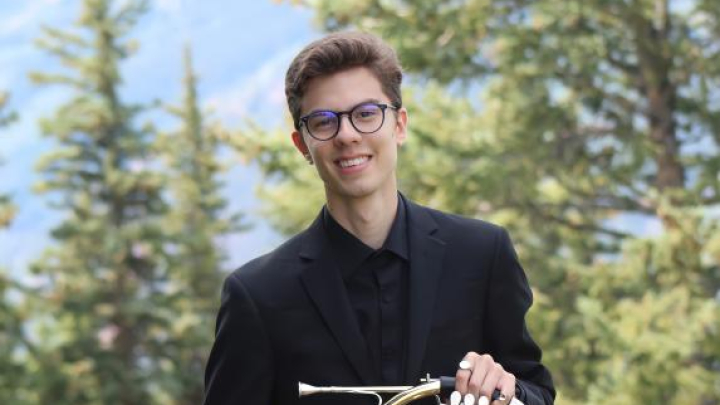 Lesson Fees
Promotions Available
Free 15 minute trial lessons
Subscriptions discounted up to 11% off
Book 5+ lessons for 5% off
Book 10+ lessons for 10% off
About
Hello, my name is Michael Nunes, and I am a composer and horn player from Sherwood Park, Alberta. I am currently a substitute musician with the New World Symphony in Miami as I pursue an MMus degree at The Juilliard School with Erik Ralske of the Metropolitan Opera. Prior to joining Juilliard I was an MMus student with a double major in horn and composition at the Mannes School of Music in New York with Erik Ralske and Lowell Liebermann .In 2022, I completed my Bachelor of Music in Composition at the University of Toronto, studying composition with Gary Kulesha, James Rolfe, and Larysa Kuzmenko, and horn with Gabriel Radford and Nicholas Hartman.
Testimonials:
"Michael made horn issues easy to grasp, allowing me to better implement my learning. Practicing my all state music with him not only gave me a solid foundational understanding of the specific techniques required for the pieces, but also improved my overall ability." - Corey
"Our 9 year old child has been learning from Michael for over 2 years, and he has been an amazingly inspiring teacher! He is extremely passionate about music, and our child looks forward to the lessons every week!" - Chieko
"Michael is an amazing French horn teacher. He is very sweet, knowledgeable, articulate and patient. I learned a lot from him and it was very fun!" - Audrey
As an educator, I have led horn masterclasses at St. Andrew's Middle School and North Toronto Collegiate Institute. Since I began teaching private lessons in 2019, I have taught group and individual lessons in horn, composition, and theory through the Aspen Music Festival's PALS program and through Classic Studios Music Academy, as well as privately. I currently operate the "Mammoth Music Games" at Classic Studios Music Academy, where students between the ages of 6 and 10 can drop in online each week for a variety of music theory-based activities in a game show format. My compositional output includes etudes for brass instruments, counterpoint exercises for my theory students, and a continuing series of commissions for Classic Studios Music Academy's "Giant Steps" beginner piano ensembles.
As a soloist, I have performed Strauss' Horn Concerto No. 1 with the Abreu Chamber Orchestra and my own arrangement of Bozza's En Forêt with the Hannaford Street Silver Band alongside Jens Lindemann. I have performed in festivals such as the Aspen Music Festival, the National Youth Orchestra of Canada, the Brott Music Festival, the Vancouver Symphony Orchestral Institute, Domaine Forget, and Musicfest Canada's Denis Wick Canadian Wind Orchestra, and under conductors such as Marin Alsop, Jane Glover, and Patrick Summers. I am honoured to have been awarded first place in the Hannaford Youth Band's 2021/22 Rising Stars Solo Competition and Young Composers Contest. In 2023, I look forward to premiering and recording Adolphus Hailstork's Symphony No. 4 'Survive' with the Mannes Orchestra in New York City.
As a composer, arranger, and engraver, I have collaborated with organizations including the Edmonton Symphony Orchestra, the Hannaford Street Silver Band, Boris Brott and the National Academy Orchestra of Canada, the Ontario Provincial Honour Band, the Toronto Tuba and Euphonium Symposium, the Parkdale Orchestra, the Northumberland Orchestra, the Opera From Scratch Festival in Halifax, Nova Scotia, and the University of Toronto Symphony Orchestra, Wind Ensemble, and Brass Ensemble. In 2019 I co-founded Green Room Sound Collective, a collective dedicated to providing professional cross-discipline experiences to early-career artists. I have composed for, conducted, and commissioned works for Green Room Sound Collective including an audio-visual virtual art gallery, various choral works, and my own chamber opera.
I am passionate about a holistic approach to music education--finding ways to motivate students to think beyond just the notes on the page. Regardless of my student's age or discipline, I constantly draw parallels between new and learned information to help them build their own network of comprehension instead of simply relying on a teacher or method book. My own musical journey has been an eclectic combination of orchestral horn playing, jazz trombone, tenor horn in British-style brass bands, rock drums, and classical piano, and these experiences have given me the skills to engage with a variety of musical materials with my students. Although I am passionate about teaching the core techniques required for success in both brass and composition/theory, I am happy to help my students perform and compose any music they are inspired to learn.
Affiliations: Member of SOCAN and the Canadian League of Composers. Brass, Composition, Theory, Voice Teacher (Classic Studios Music Academy) Substitute Musician (New World Symphony) Credentials: BMus - Composition Major with Certificate in Music Technology (University of Toronto) Grade 10 Certificate - Horn (Royal Conservatory of Music)
For both composition/theory and brass students, my recommended methods are based on each individual student, and usually include original materials free of charge catered specifically to the student's level and interests.