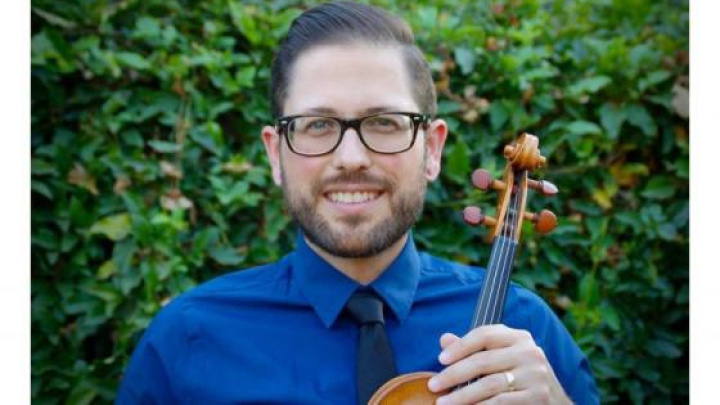 Lesson Fees
Promotions Available
Free 15 minute trial lessons
Subscriptions discounted up to 1% off
About
I have been teaching violin privately for the past 20 years. During this time, my students have progressed and enjoyed their lessons so much that they tend to stick around for years! I've had students accepted into Eastman School of Music, Mannes School of Music, Bard Conservatory, Meadowmount School of Music, Johns Hopkins Peabody Institute, Carnegie Mellon University, and California CODA Honors/All-State Orchestras. These are some of the world's most prestigious and competitive music institutions. My student Julian Hsieh has won 1st place in the 2019 VOCE state competition Senior Ensemble category and performed at the 2019 MTAC convention VOCE recital in Santa Clara, CA (watch his performance here: https://www.youtube.com/watch?v=P6DXM1OSz-o&feature=youtu.be ). Julian was also selected as a participant in one of the prestigious 2020 Lessonface MET Orchestra Musicians Master Classes. My student Jason Hurlbut was chosen to accompany Moscow Ballet Principal Ballerina Anna Radik at Copley Symphony Hall in San Diego in a performance of Saint-Saens "Dying Swan" as part of their 2015 Musical Wunderkind program (watch his performance here: https://www.youtube.com/watch?v=ua3na8f9Hb8&list=ULY9_E29Nfum8&index=177 ) . I am also co-host of the YouTube channel "10 Minute Violin," https://www.youtube.com/c/10MinuteViolin which is dedicated to releasing weekly 10 minute videos with which students can practice along and improve aspects of their playing (scroll past my picture on the top right of this page to watch my latest videos!).
I welcome and enjoy teaching all ages and levels, though my focus has been working with students ages 7-18. In addition, I have also instructed and conducted orchestra at the San Diego Youth Symphony & Conservatory for 8 years, New Youth Orchestra for 6 years, and school orchestras in the San Diego area.
I grew up in a musical family and had began my studies on violin with my father Margarito Ramirez and my brother John Ramirez who had attended the Juilliard School under the tutelage of Dorothy DeLay. I had also studied with Michael and Irina Tseitlin, and Philipp Naegele. I have had the privilege of taking individual classes with my uncle Juan Ramirez (Atlanta Symphony Orchestra), David Chan (Juilliard School, Metropolitan Opera), Mikhail Kopelman (Eastman School of Music), and Oleh Krysa (Eastman School of Music). My performance experience ranges from playing classical music at the Viana do Castelo VIII International Music Festival in Portugal to performing viola alongside rock band Delta Spirit at the El Rey Theatre in Los Angeles.
Parent testimonial: I could not have found a better violin teacher, mentor, role model or friend for my child than I did with Miguel Ramirez.  Kindness and patience embodied, with an extraordinary musical ear, he transformed my son's violin practice from an obligation into a passion.  A gifted teacher with an inspirational love of violin and impressive expertise, Miguel Ramirez nurtured my now aspiring musician from weekly grade school lessons through to acceptance into the prestigious Meadowmount School of Music summer intensives, and ultimately into college at the Eastman School of Music.  Thank you, Miguel… we miss you!!
  - Lori Williamson, Jason Hurlbut's mom
During my lessons, I like to encourage, challenge, and focus. Since learning violin is a long process, I think it is important to first offer words of affirmation to students about when they are on the right track. I will then work together with the student to further refine and reinforce those technical and musical strengths, or perhaps shift over to work on a particular difficulty the student may be encountering. In either case, I try to focus the student on one or two specific tasks that will help improve their playing. I have told students that this work is like adding coins to a piggy bank, each new or corrected motion is like adding a coin, over time it will add up to a beautiful technique. I emphasize a strong technical foundation, and follow the Sassmannshaus tradition of introducing advanced techniques in their basic form, even to beginners and young children.
I support each student in their individual musical goals and will recommend a specific number of minutes to practice each assignment based on those goals. I also give the student practice strategies based on the science of how the brain works to help increase the efficiency of their practice sessions. I highly encourage each student to use a timer and practice sheet to track how many minutes they have practiced each assignment. This not only helps a student stay consistent and feel accomplished, it can also make the practice time feel like it goes by faster as the student is more engaged in what they are doing. During lessons, I make use of a couple devices, a metronome and a drone, which can help students with their rhythmic and pitch accuracy, and encourage students to continue to use those devices regularly in their individual practice time.
Member of American String Teachers Association, participant in the ASTACAP online certificate program.
Reviews of lessons with Miguel Ramirez