Composition, Music, Music Theory, Piano, Piano Composition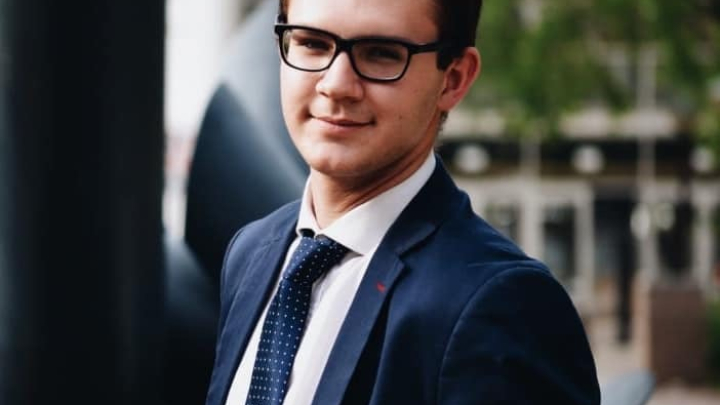 Lesson Fees
Promotions Available
Book 5+ lessons for 5% off
Book 10+ lessons for 10% off
Book 20+ lessons for 20% off
About
Morne van der Westhuyzen is born on the 18th of March 1999 and grew up in a small local town in the northern parts of KwaZulu-Natal: Vryheid. The town did not have many opportunities for him to expand towards specifical music, but he did sports and among other things sing choir. Towards the end of 2013, everything changed when the Drakensberg Boys' choir school came to his primary school: Lucas Meyer Premiere Skool.
Morne is currently working on his final partial requirements of his Bmus (Hons) to move to his Mmus in 2022. He has three main instruments: piano (under the direction of Dr Tessa Rhoodie), organ (under the direction of Prof. Wim Viljoen) and percussion (under the direction of Dr Gerben Grooten). He has theory and composition under the experienced approval assessments of Dr Miles Warrington, Altus Hendriks, and Prof. Alexandre Johnson. He specializes in chamber music, composition, theory, and education. He was the accompanist of the University of Pretoria's School of the Arts: Music Departmental choir (2018-2021). During and so far, he is also involved with the first years of the University of Pretoria. He works under the School of Arts as a tutor of Music education (2019-2020) and aural training (2021).
Being an accompanist is one of many passions that Morne has to offer, he began his musical career at the Drakensberg boys 'choir (2013-14) and after that, he transferred to the Old Boys' choir. He sings and accompanies the Drakensberg Old Boys' choir association, where they toured internationally and nationally.
He now works at a variety of workplaces of different interests. He is the pianist/accompanist of Kempton Park High School and the senior accompanist of Lynnwood Primary School. As a choir singer, he never knew that from this that he would become the choir director and head of the music department at Libertas Akademie.
In his choral career, Drakies had already been named, but after leaving school at the end of 2014, he matriculated in 2017 at Menlopark High School where he sang under Jeanmarie van Papendorp's choir. In 2018-2019, he worked under Dr Michael Joseph Barrett and sang in the University of Pretoria Camerata choir. At that time the World Choir Games took place of which he was chosen to become the senior accompanist of the University Choirs of South Africa.
Among other things, from his composer and arranger workplace, he is a member of the Continuous Development of New Classical Church Music (VONKK). His arrangements and composition (with collaborations of VONKK) have been published, recorded, posted on VONKK's website, and performed throughout Afrikaans churches in South Africa. As an arranger, it is always important not only to be caught up with only Church music but also to expand to other genres. He currently works for String Things as the head and senior arranger for the company's mission of producing exciting and new forms of classical pop music.
The music education landscape has changed dramatically in the last decade. We better understand the needs of the modern classroom and there are more resources available than ever, but rigid school systems take time to adapt to change. In many cases, it is up to music teachers to pave the way for contemporary music education, replacing traditional teaching strategies with innovative ones that focus on inclusion and engagement.
One of the main drawbacks of traditional music teaching methods is that they underuse technology. Today's students are the most technically literate generation to date, far more so than their teachers, and there is a wide range of music teaching technologies that can be an effective method of learning. 
 From creative music theory lessons on YouTube to guided learning through educational apps, music technology has proven to be more engaging in the classroom. Digital Audio Workspaces (DAWs) are a particularly popular resource. Many students have the opportunity to learn production and composition using cloud-based DAW applications such as Soundation and SoundTrap. 
 tools like GarageBand, Logic, Pro Tools, or Ableton Live are also possible, not to mention a host of free music composition applications that are available to students and teachers. 
Inclusion in a contemporary music classroom means engaging students of all learning styles, backgrounds, and skill levels. As an educator, inclusion and versatility go hand in hand. A contemporary music teacher should be able to go from leading a jazz ensemble in the morning to a world music lesson in the afternoon and moving on to leading a rock band after school.
Many music teachers have the extraordinary opportunity to significantly influence their students' musical journey and keep their minds in shape. Music is a gift that the recipient should gladly accept. You cannot force a student to music who does not want to. Tastes vary widely and it can be a daunting task to implement an educational and cohesive curriculum that is engaging and tailored to individual interests.