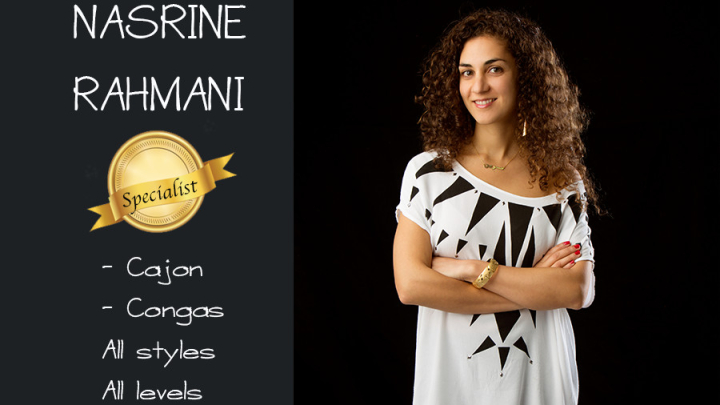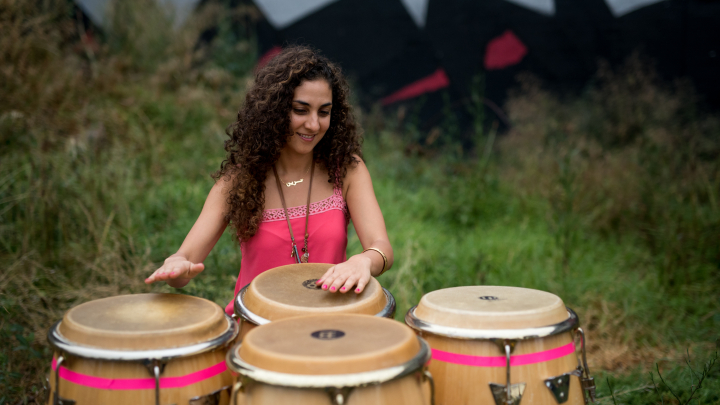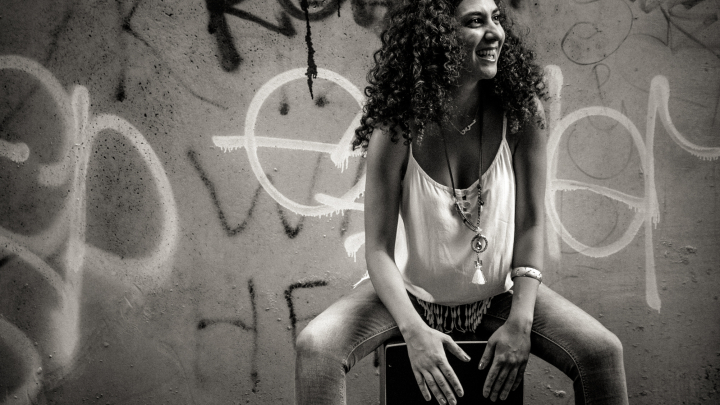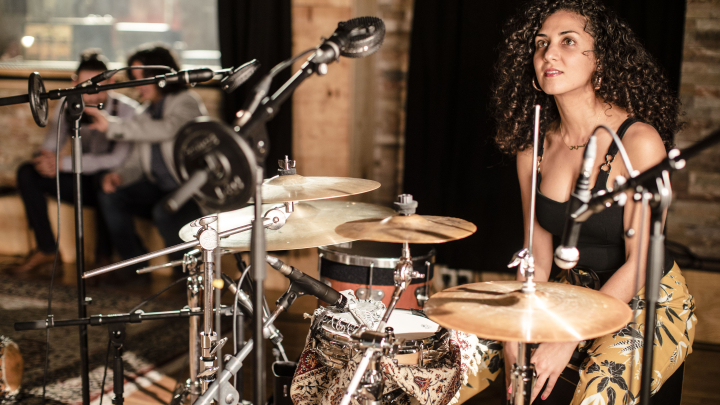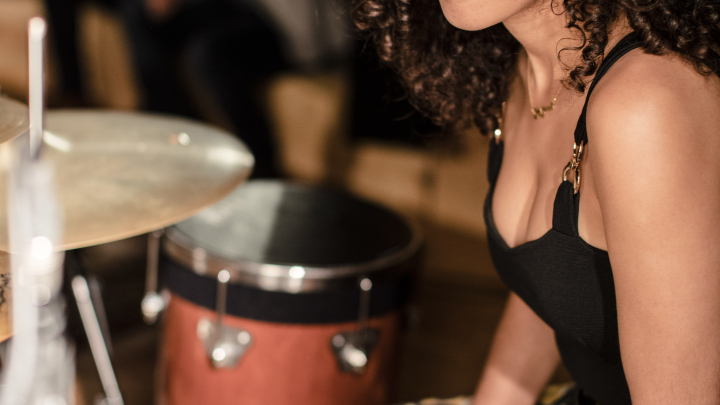 About
Nasrine is a highly experienced professional percussionist with a degree in Music Performance from the Victorian College of the Arts. Her main instruments are Cajon and Congas and she specializes in Flamenco and Latin music. She is recognized as one of the top percussionists in Spain.
She has toured as a professional musician all over with world, playing festivals and theaters with numerous different artists and also regularly giving lessons and masterclasses at different universities, schools and percussion festivals. After 11 years residing in Madrid, she is now one of the top references for Flamenco and Latin Percussion in Spain.
Born in Australia to a Mauritian mother and Iranian father, Nasrine has been a full time professional musician for more than 18 years. Upon completing a Bachelor of Music Performance degree at the prestigious Victorian College of the Arts in Melbourne, she began making numerous study trips to Cuba to continue to fine-tune her skills on congas and timbales. She worked for many years in Melbourne as a percussionist in Latin, Jazz, Pop and World music projects and after meeting local Flamenco musicians she began to investigate the genre. Taking a serious interest in cajon, she began traveling to Spain, eventually choosing to relocate to Madrid. She was attracted to the city´s vibrant percussion scene and its melting pot of Flamenco and latin percussion.  
She has accompanied renowned artists such as Montse Cortes and Jorge Pardo and is the main percussionist for Latin Grammy nominated artist Diego Guerrero and flamenco guitarist Antonia Jimenez. She is also one of the main endorsers for La Rosa Percussion, one of the world´s top manufacturers of Flamenco cajons.
Testimonials from Private Students:
"I am met with a woman who works with the rigor of a Spartan, but also with the sweetness of Cuban sugar. I think it's the first time I have studied flamenco percussion with such seriousness, and in exchange, I'm having a great time and progressing like never before. Thank you, Nasrine. You are a treasure." - Andrés, Barcelona.
"I love studying with Nasrine! Classes go at my own pace. She explains everything with clarity and patience, and I'm learning a lot. She is also super nice as a teacher. I feel like I'm in very good hands and I can see this in how I'm progressing! " - Michelle, USA.
"I've been having classes for a month with Nasrine, and I really couldn't be MORE happy. Her way of teaching is really incredible. I am progressing daily with each class! It is a real luxury to learn from her!" - Carlos Manuel, Ecuador.
I am happy to take on people of all ages and playing levels. I have experience with students from 7 to 77 years old!!
My objective is to share my joy and love for music and percussion with others who are keen to take up an instrument, and to guide them in developing an effective and and healthy practice routine supported by musical references for each rhythm and style we are working on at the time.
The role of a percussionist in a Latin/World Music/Pop/Flamenco setting requires good listening skills and musical intuition. I am able to annotate rhythms for students who already read music and prefer this method, however I choose to emphasize the importance of learning and playing by ear. At the end of each lesson, I will send each student a short video with all the material we have covered in the lesson so they can use that for reference when practicing. I will also send them a link to a song which has a good example of the rhythm we were working on and a playlist with a wide selection of artists in that genre.
NEW: I will now also be offering FLAMENCO COMPÁS lessons for beginner and intermediate Flamenco Guitarists, d¡Dancers and Singers. In these sessions I will help you understand and dominate the rhythmic structures of each Flamenco "Palo" which can be the most difficult element when approaching this wonderful genre of music. We will learn "Palmas", "Nudillos" and all the many ways we can play and subdivide each rhythm. I will also be sharing my Playlists and Loops for listening and practicing each "Palo". No instrument required!
Bachelor of Music Performance (Improvisation) from the Victorian College of the Arts
Winner (World Percussion) Hit Like a Girl competition 2018
Starting with basic technique, correct posture and attention to tone (the quality of the sounds be are producing from the instrument, I like to then go straight into simple exercises for developing  good time, fluidity and speed and then simple rhythms so we can quickly enjoying playing along to music and immersing ourselves in the right cultural context for what we are learning.
For more advanced students with prior experience on a percussion instrument, we will examine the rhythmic subdivisions and types of phrasing unique to this new style of music/instrument. We will quickly progress from basic technique and rhythms to advanced technique and rhythms as well as phrasing and tips for soloing.
Reviews of lessons with Nasrine Rahmani