Russian, Spanish, Viola, Violin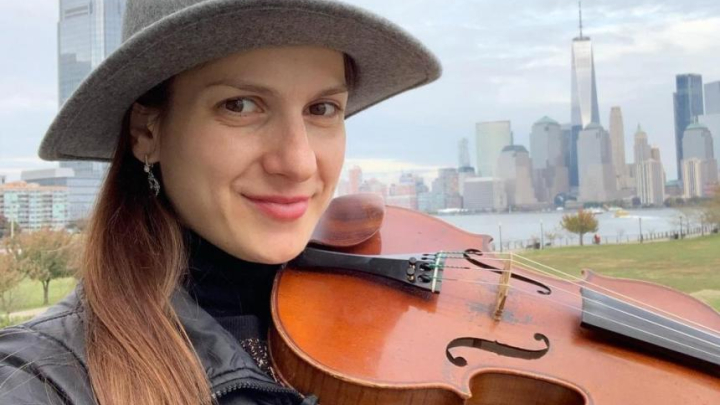 About
Hello friends!
I come from a Russian  musical family. My mother is a pianist and my dad is a bassoonist. I was lucky to grow up in Mexico and speak fluent Spanish, English and Russian.
My musical background is quite extensive; I graduated from the Eastman School of Music and studied there with the unique maestro Mikhail Kopelman, later I completed my Master degree with the renown composer and violinist Albert Markov. During my childhood I was instructed by Natalya Gvozdetskaya, a world recognized teacher specialized in children. My first performance as a soloist with an orchestra was at 12 and after that I continued performing throughout USA, Europe and Latin America both as a soloist and chamber music. I have won the first price at the "Pearl River International Competition" , " Lisma International Competition" "George Gershwin International Competition" "Artists of Tomorrow International Competition".
I started teaching when I was 15. It turns out that my mother is a music teacher so I learned a lot from her. I try to understand each students needs, and depending on the students level I create a program.  The programs vary depending if the student aims to become a professional or learn an instrument as a hobby. My method is Russian School and also I teach Suzuki Program if that is the choice. I have all necessary books and materials for each of my students.  Also I teach Basic and Intermediate music theory for anyone who wants to get a general musical knowledge. 
I am proud to share that most of my students get perfect scores in their NYSMMA Tests but also my very strong students have won Competitions such as "George Gershwin International Competition", "Golden Key Competition" "Music Fest Competition" .
My teaching style varies from student to student depending in the need and goal of the student. 
With children my goal is to make them love music, love violin or viola and make the learning process as stimulating as possible but without forgetting the sense of responsibility and hard work. I cover essential foundation from the beginning such as correct posture, technique development, music understanding , rhythm, sound , and intonation. 
With adults I choose repertoire together with the student to create an enjoyable atmosphere and make learning an instrument fun and interactive.
I offer a trial lesson with no charge for everyone who would like to try a lesson with me.  
Bachelors in Violin Performance from the Eastman School of Music
Masters in Violin Performance
NY Music Entertainment INC Owner