Clarinet, Jazz Piano, Music, Piano, Pop Piano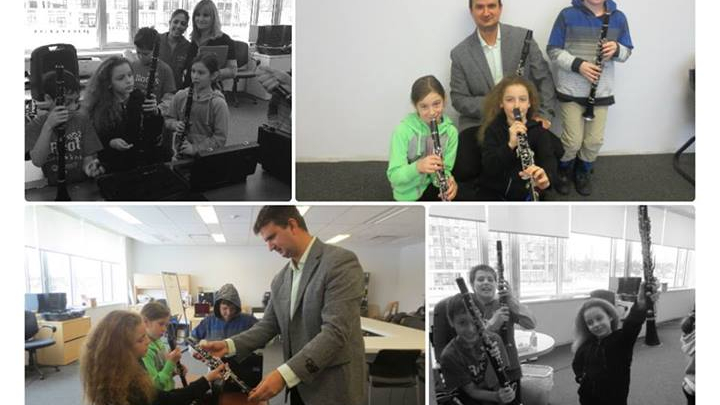 About
Clarinetist, conductor, composer, arranger and piano player holds a Doctorate of Musical Arts in performance from the P. Tchaikovsky Conservatory of Music in Moscow. He is the first-prize winner of the Russian National Competition in clarinet, and obtained a second prize in conducting.
A remarkably versatile musician, Paul commands a vast repertoire spanning the classical, folk, contemporary and jazz styles.  His ten-year concert career has taken him to the foremost venues of Western Europe, Russia, Ukraine, Poland, Canada, and Asia, in performances with renowned symphony orchestras and chamber groups, including the legendary 'The Borodin Quartet'.  As an arranger, Paul has enriched the standard clarinet repertoire through his unique arrangements for clarinet and piano as well as for various ensembles, ranging from the classical masterpieces to the more daring, innovative transcriptions of works by American and Latin composers.  He can be heard on the CD 'Soul of Brazil.', gospel project  'Moment of Renewal'
 Teaching Experience
GUEST ARTIST, Earl Haig Secondary School, Toronto                                                                                     
Provide one-on-one tutoring assistance

Deliver master classes and workshops

Oversee technical improvements for orchestral class

Adapt and edit music repertoire
PIANO, CLARINET AND ENSEMBLE CLASS TEACHER                                                                                              
Schwartz/Reisman JCC, Toronto
Clarinet, piano classes with students individually and with group

Ensemble class
BAND TEACHER                                                                                                                                                                    
St. Gerald Catholic School, Toronto
Worked with the band (conducting) and provided individual tutoring
SOLOIST AND CHAMBER ENSEMBLES PERFORMANCES                                                                                 
Venues: Canada, USA, Mexico, Argentina, Russia, Ukraine, Poland, Korea, Turkey, Spain,
Czech Republic, Switzerland
WORSHIP MINISTRY - GOSPEL/CHRISTIAN MUSIC. Music Director. Experience of 15 years  
SOLOIST PERFORMANCES, Moscow State Academic Philharmonic,  Russia, Europe, Canada, USA                              
Recordings & Publications
CD recording of Latin American clarinet music  'Soul of Brazil.' (Toronto)                                                              
CD recording of gospel contemporary instrumental worship music "Moment of Renewal" (Toronto)        
DVD recording of Brahms Quintet, live performance with "The State Borodin Quartet" (Moscow)                
- RCM Teaching Online Course Certificate
- Practical Apprenticeship Assistant in Clarinet performance Professor's assistance. P. I. Tchaikovsky Conservatory of Music - Moscow
- Master of Music in Clarinet and piano performance and teaching. Pedagogical Academy of Music - Moscow
- Bachelor of Music in Major:Clarinet performance, bandmaster and clarinet teacher. Minor:Piano and Brass band conducting. Gnesin College of Music - Moscow
* First-Prize Clarinet Winner: Russian National Competition for Woodwind and Brass Instrumentalists
* Second-Prize Winner: Russian National Competition for Conductors
* Nominated by Ministry of Culture, Russian Federation for Government Grant
Educational Philosophy:
It is most important that students dedicate themselves to weekly instruction pieces and of course through dedicated practice. Through Paul's unique method of instruction, students will find that their technical abilities will increase significantly through the study of technique, etudes and solo pieces in a short period of time.
Also I have my method of learning chord progression. It very useful for playing the song in easy and simple way PLUS gospel music.