Accordion, Blues Piano, Boogie Woogie Piano, Classical Piano, Flamenco Piano,
Gospel Piano, Jazz Piano, Music History, Music Practice Personal Training, Music Theory, New Age Piano, Piano, Piano Composition, Pop Piano, Rock Piano, World Music Composition, Worship Piano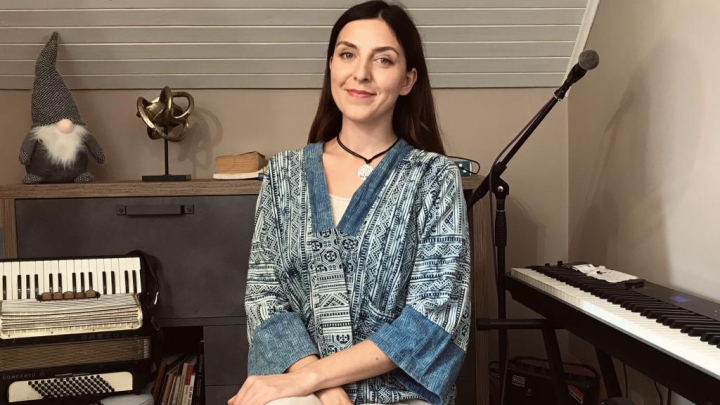 Lesson Fees
Promotions Available
Book 10+ lessons for 10% off
About
Hey there! I'm Paulina. I hold Master's Degree in Music Education and Qualified Teacher Status obtained in England.
I studied piano performance, piano improvisation, composition and music theory.
I have over 10 years of experience as a piano and music teacher in different settings, including public and private music schools, ballet schools, pre-schools, primary and secondary public schools and private tutoring. I also taught band, improvisation and musical theater after school classes. I worked in several different countries including Poland, United Kingdom, Caribbean Islands, Vietnam, Thailand and online, teaching students from around the world.
I am an active performer playing piano and accordion, and singing; performing solo, in duets and in bands. I constantly continue to develop my knowledge and teaching skills by attending masterclasses and courses.
I use a variety of methods, adjusting my approach for each student individually.
I have students playing for fun, preparing for ABRSM exams, returning to playing or starting from zero, so no matter what's your story you can count on my full support and flexible approach.
Please contact me so I can explain in details what I can offer and what would be the most effective method for you or your child.
After years of education and gained experience I use a mixture of different methods. 
With my educational background in classical piano I teach solid playing technique based on Frederick Chopin's teaching method, as he was a passionate teacher himself that developed an array of tools for learners to play the piano in a relaxed, healthy and brilliant manner. 
I also teach strong theory and ear training to support the pianists to have a high level musicianship skills that will enable them to communicate with other musicians clearly and effectively as well as play not only solo but with bands, duets and orchestras, where the main language is listening and accurately responding to other instruments and musicians. 
Being an experienced performer, having played not only classical repertoire and concerts, but also being part of jazz, progressive rock and folk bands I adjust your learning journey to support achieving your goals in the quickest and most effective way, without wasting your time on things that are not in your area of focus at the moment. 
I strongly believe that learning musical language should be approached as learning any language - by practicing speaking it as soon and as much as possible. That's why, when you learn with me, we go straight to the piano playing from the first moment. Using small and consistent steps you will comfortably speak the language of music, in time being able to create longer and longer phrases and sentences and/or read the existing music in more and more efficient and fluent manner. 
I also always encourage students to take on the adventure of improvised music playing. This tool, that I can introduce you to in a super straight forward and comprehendible way, is honestly a door to a fairy land of music. Opening another dimensions, in which, you will be able to play in any given style without having to resolve to reading music or copying recorded music. And that is very freeing for any musician. With that tool you can just sit down at any piano met on travels or join any band and be able to play your part in a original and smart way. 
Most of all my teaching style is about the relationship between me and each individual student, so really it's ever changing and flexible. Just like our goals, dreams and abilities. 
Education:
Master of Arts - Music Education, Composition, Improvisation - Academy of Music in Lodz, Poland (2014)
Bachelor of Arts - Music Education, Composition, Improvisation - Academy of Music in Lodz, Poland (2012)
Experience - Music, Piano and Accordion Teacher:
Secret Garden Music School, Hanoi, Vietnam 
Orbis Schools, Cardiff, UK
Public Music and Ballet Schools, Lodz, Poland
Projects:
Bands: 
International Folk band - Tao Meo
International progressive rock band - La Belle et La Bete's
Contemporary prepared instrument duo with multi-instrumentalist Luna Avem
Electric music duo with guitarist Lurs
Events:
REC TOUR 2022 - the biggest music and art tour in Vietnam, performed in over 17 locations
Dao Xuan Festival
Quest Festival 
K. Przybylski in Memoriam
Days of Dance in Lodz, Poland
Music and instrument teaching methods I am educated in and incorporate in my lessons:
- Frederic Chopin's: Piano Teaching Method
- Emil Jaque-Dalcroze: Music Theory, Composition, Ear Training and Improvisation Teaching Method
- Shinichi Suzuki: Instrument Teaching Method
- Schulwerk Orff : Young Learners Teaching Method