Audio Recording and Music Production, Composition, Concert Band Arranging,
Contemporary Composition, Electronic Music Composition, Film & TV Scoring, Jazz Arranging, Music Theory, Piano, Piano Composition, Reharmonization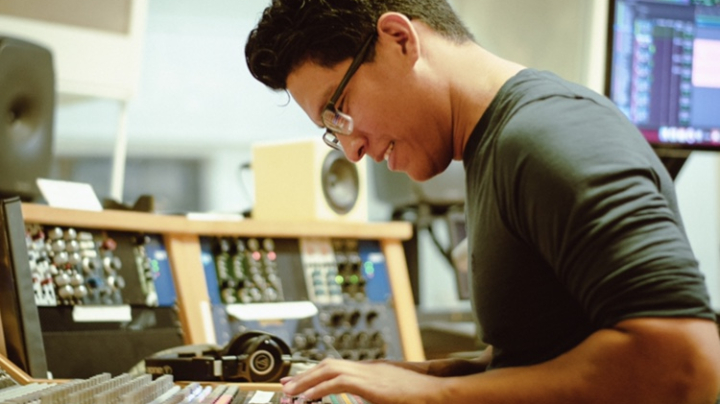 Lesson Fees
Promotions Available
Book 5+ lessons for 5% off
About
Pedro Sanjur was born in the providence of Veraguas, Panama. Sanjur is a Grammy Winner Panamanian producer, composer, educator, and multi-instrumentalist with a focus on multi percussion. His musical journey began at the age of 14 playing in school ensembles and community engagements. In 2012 Sanjur was offered a full scholarship by Danilo Perez through the Danilo Perez Foundation to study music with world-renowned artists within Panama City, embarking on a deeper exploration of music and the industry. In 2014, he was awarded a full scholarship to attend the Berklee College of Music in Boston where he received his Bachelors in both Jazz Composition and Performance in 2019. 
While in Boston Sanjur had the opportunity to perform alongside renowned international artists such as, Danilo Perez, Eguie Castrillo, Ernesto Diaz, Paquito D' Divera, Natalia Lafourcade, Mauro Castillo, Juan Luis Guerra, Tito Puente Jr., Roman Diaz, Marlow Rosado, and Aymee Nuviola. Sanjur spent his summers participating in the Panama Jazz Festival, Festival de Percusión Centroamericano in Betances, the Puerto Rican Festival of Massachusetts, and other major international music festivals.
Sanjur's passion for music production began with his collaboration on the Panamá a Son de Salsa, Vol. 2 album, released in 2018, as producer. From there Sanjur was offered the opportunity to assist on larger projects such as the salsa field-leading productions and recording sessions. Alongside his music production, Sanjur has built up his teaching experience with invitations to teach at the Fundación Danilo Perez, La nota, Berklee Percussion Festival, Universidad Nacional de Panamá, Policía Nacional de Panamá, and Universidad Nacional Pedro Henríquez Ureña en Santo Domingo, República Dominicana. 
In 2020 Sanjur was awarded a scholarship to pursue his Master's in Media Scoring and Production at The University of Miami, Frost School of Music, under the mentorship of Carlos Rivera, Camilo Rodríguez, and Justin Chervony. This opportunity led to his collaborations with Carlitos López, Tainy, Ricardo López, Esperanza Delgado, Camilo Rodríguez, Obie Bermúdez, and Tony Succar. While pursuing his masters, Sanjur worked on major projects such as Marcos Witt album Viviré (23rd Latin Grammy Nominated, Best Christian Album),  the Hallmark movie, South Beach, directed by Damian Romay as the percussionist for the music soundtrack, was assist arranger on the song "Son de la vieja escuela" on Eguie Castrillo's album, Muevete y Baila, and was the lead dialogue audio editor production of a short film, "The Keys, a Cat, and a Black Fish", with Gonzalo Mejia.
Sanjur currently lives in Miami Florida and is working on the production of Browsnville Bred while creating his own record label bringing artists from Latin America reaching international audiences. 
My teaching styles is based on the necesity of every student. I try to improve their technique, and  music appraciation. I prefer to start our jorny with the music they are passionated. I truly believe that every student is special in they way to perform and my goal is that they enjoy their class.