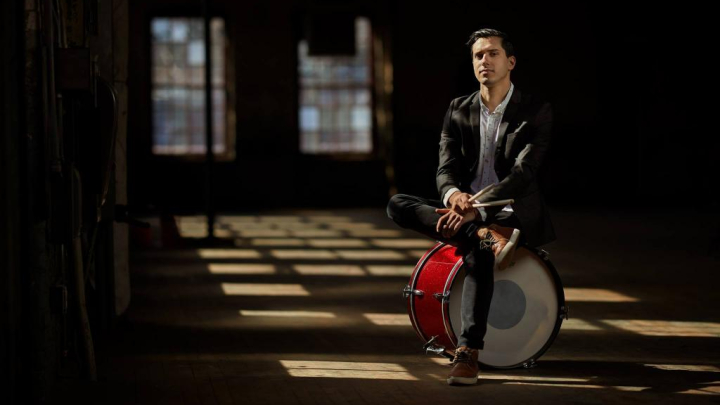 Lesson Fees
Promotions Available
Free 15 minute trial lessons
Book 5+ lessons for 5% off
Book 10+ lessons for 10% off
Book 20+ lessons for 20% off
About
Born in 1991 in Santiago, Chile Pepe Hidalgo began playing drums at the age of 8 when he received his first drum kit. Spotted as an outstanding talent at a young age as he began performing publicly with multiple rock bands, which lead him to be on national TV at age 10. Mentored by the renowned drummer Cristóbal Orozco (Francisca Valenzuela, Augusto Schuster, Myriam Hernandez, DeKiruza, The Voice Chile), Pepe began perfecting his technique and style in a variety of genres including Rock, Pop, Hip Hop, Funk, R&B, Jazz, and many more. With improvement, performance opportunities began rising, such as opening for Dominic Miller (Sting's permanent guitarist) with his own project "La Pepa" at the Nescafe Theater of Arts in Santiago, Chile.
  Awarded with a scholarship for a bachelor degree in Performance, Pepe moved to Boston to study at the renowned Berklee College of Music in 2011. During his time at Berklee, he had the opportunity to take lessons in NYC with his idol, drummer Mark Guiliana (David Bowie, Brad Melhdau, Avishai Cohen). Guiliana served not only as a mentor, but an inspiration for Pepe's ongoing career.
  In an environment that breathes music such as Berklee, opportunities began blooming such as performing in a wide variety of venues and festivals in the Boston area, New York City area, as well with the rest of the East Coast. Pepe's first gig in the USA was with the Alternative Hip Hop band "Underground Mantra" back in 2011 after a month of starting his music career at Berklee College of Music. Pepe started playing with "Underground Mantra" all over the Boston area. He has recorded four albums with them and he's still the drummer for the band after 8 years now. His performances with the trio brought more opportunities such as joining on 2012 the Experimental Hip Hop band "Light Bright" which he was part until mid 2014. His name was growing in the Boston music scene and he was offered to join the Latin Pop band "Café con Piernas". He recorded a few songs with them and started playing in house parties as well as venues that had Latin music in Boston. Between 2011 and 2013 Pepe was also performing with his own Rock project "La Pepa" in Chile and was invited to perform with the leader of "Café con Piernas", Benjamin Furman, in Chile with his Jazz Quartet and Trio in many Jazz Clubs in the city. Pepe's career took off in 2013 and he started getting called to be the drummer of many artists including, Pam Steebler(Brazilian singer based in Brooklyn, NY) which he still works with her at the moment after releasing Pam Steebler debut EP where Pepe played drums, Tamara Usatova(Russian singer based in Manhattan, NY), and Kel Do Nascimiento(Brazilian singer based on Brazil), which he did radio performances, as well with Festivals such as Outside The Box in the Boston Commons(Boston, MA), and many venues such as The Bitter End (New York City) in 2013. Pepe also got call to tour with the blind blues guitar player Conrad Oberg from Jacksonville, FL. Pepe did his first East Coast tour in the states with him, and the tour included opening for the famous Jam Band "Lettuce". In 2013 he also joined the Rock band "Stone Giant" that became his priority for many years. Pepe started playing many big venues and festivals in the East Coast with them such as CMJ Marathon Music Festival 2013 in New York City, Outside the Box 2013 and Hempfest 2014 at the Boston Commons in Boston, MA, and College Fest 2014 at Fenway Park, Green Fest 2014 at the Boston Music Hall, and many famous and renowned venues all across the east coast such as The Fillmore in Washington DC, and Charlotte, NC, also Hard Rock Café, and Brighton Music Hall in Boston, MA. Pepe also got to performed with Stone Giant at the 2014 Berklee College of Music Commencement Concert where Jimmy Page, Valerie Simpson and Geri Allen where the Honorary Doctorate that year. They did a tribute to Led Zeppelin by performing "The Ocean" at the Boston University Agganis Arena in front of 8,000 people. After recording their first album in Hoboken, NJ with the Grammy Award Winning engineer Fernando Lodeiro (Esperanza Spalding, Paul McCartney, Arctic Monkeys), they began touring for the first time all throughout the East Coast. As a sign that Stone Giant´s career was continuing to take off, they were invited to perform at the famous Lollapalooza Music Festival in both Argentina and Chile in March 2016. 
In 2014 and 2015 he also did many session work at the studio, which resulted to bring him even more gigs with the artist he recorded. He appears on many recordings such as the first album of the Boston based band "The Frotations", the Swedish singer "Hana Oceans", The international R&B band "Foreign Hues", the Brazilian singer Marina Maiztegui(Brooklyn, NY), and the Argentinian producer David Molho(Miami, FL). Through he entire career at Berklee College of Music he also worked with many artist such as Amy and the Engine(Brooklyn, NY), Johnny Fury(Austin, TX), Gretchen Schadebrodt(New Jersey, NJ), Dongkyum Kim(South Korea), Olivia Perez Collerlmir(Boston, MA), Josh Ballard(Baltimore, MD), and Muntalpa(Mexico City). In 2015 he also put together a new Chilean project "Hace Mucho Trio" with Chileans Berklee Alumni Benjamin Furman and Diego Ibarra, which they performed together many times in different famous jazz clubs in Chile and also in NYC including the Rockwood Music Hall and Shapeshifter Lab in Brooklyn. 
  After graduating from Berklee College of Music in 2015, Pepe moved to NYC to expand his musical career. There he was invited to be the main drummer for the rising band "Magic Man" signed by Neon Gold/Columbia Records. With such band, he was presented with the opportunity to go on his first North American tour. After 34 shows with them all across the United States and Canada he gained his place in the band. 
Pepe spent almost four years in NYC where he performed and recorded with many high level artists and bands including opening for Metronome with Gordi at the Brooklyn Steele in Brooklyn for a sold out show, also he opened for Australian singer Alex Lahey with the Brooklyn based artists Pronoun in NYC & DC. He also recorded for many projects while in NYC including Stone Giant's last EP 'Nasty Creatures', Pam Steebler debut EP, Zepet debut EP and following EP 'Other Versions of Me'. Underground Mantra's debut album 'Electric Aswell'. 
French Horn Rebellion noticed Pepe was on the radar of professional drummers in the NYC area and decided to call him to be part of the group. They toured all over the USA including NYC, Los Angeles, Dallas, Austin, Chicago and Milwaukee. They sold out the Mercury Lounge many times, with the famous YouTooCanWoo parties organized and produce by the band and band's label YouTooCanWoo. This open many opportunities for Pepe and he got to work with many artists from all across the USA, including Janelle Kroll, Glassio, Demoda, Abby Diamond, Rae Isla, Tiff Ortiz & Chris Connors, Austin Mendenhall, Pretty Sister, Prom, MRY, Shareef Keyes, Gibbs, Little Anchor, Grabielle Macafee, Zeshan B and many more. Also, thanks to members of FHR Pepe was also asked to join a couple of artists from the YouTooCanWoo label including, Zeshan B, Deirde & the Dark and Pink Flamingo Rhythm Revue's project with who played in many cities and venues including LA, NYC, Chicago, just to name a few. Pepe was also asked to record a few singles for PFRR which are currently being mixed & mastered and soon to be released under YouTooCanWoo's label. 
After working for 4 years in NYC as a drummer, doing everything from teaching, to corporate events, Pepe Hidalgo decided to expand his horizons and moved to the west coast as he had been in the east coast for around 7 years already. Since moving to Los Angeles, Pepe quickly started working with many new artists, Matthew Chaim, Toulouse, Myla Hardie, Tyler Hutton, Bluhauz, Andrew Benjamin, Fuscia, Mary Beth Abella and Natalie Ford Brown.
Pepe already recorded drums for 9 albums this year so far, including Tyler Hutton, Bluhauz, Fucsia, Urdaneta, Zepet, Sweet Wednesday, Underground Mantra, Lucas Tadini and Pepe Hidalgo's new project Xucrut with his longtime music partner and also berklee alumni Rodolfo Otero. 
Pepe and Rodolfo go way back since Alter Ego, their first Metal Progressive project together back in 2006. After that came La Pepa, and after years without collaborating, they finally decided to start making music together again, the project is called Xucrut, and it's a lo-fi all live instruments, HipHop band featuring Berklee Alumni Carmine Mattia from NYC.  His debut EP has been very welcoming between their peers and the public.
I started teaching private lessons in 2007 when I was 16 years old. A couple of years later I had around 10 students when I graduated from high school. While I was studying Composition in a Jazz institute in Chile I started working as a drum instructor at Dragonworks Studio a music institute in 2009 and I only stopped because I left my country to come to study at Berklee College of Music thanks to a scholarship I got. While in Berklee I studied with many drum teachers and I learned the many ways that teachers use to help students. While in NYC I taught lessons in two music academies, and now since I moved to Los Angeles last year I already teach at four different music academies as well as private lessons online through Lessonface. I love teaching and helping either beginner students to start their love for music and drums or to help more advance drummers to become the best drummers they can be.
I use many different drum books including Basic Drumming, Syncopation, Benny Greb, and many more.
Reviews of lessons with Pepe Ramos