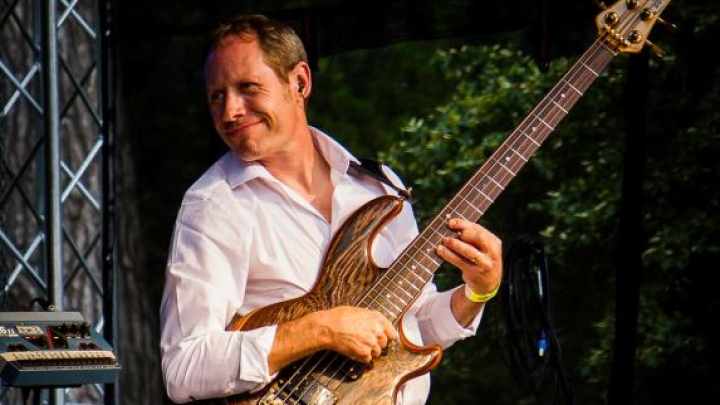 Lesson Fees
Promotions Available
Book 5+ lessons for 5% off
Book 10+ lessons for 10% off
Book 20+ lessons for 20% off
About
Pete began playing electric bass in 1988, self-taught for the first two years, he learned to play by ear on a fretless 4 string bass. It was not long afterwards that he progressed to 5 and 6 string fretted and fretless basses as well as double bass.
Pete studied music at Bass-Tech Acton with Rob Burns (BBC session player – Red Dwarf, Black Adder etc.), Musician's Institute Wapping with Rufus Philpot and finally orchestral double bass with Dominic Black (L.S.O.) at Goldsmiths University of London, where Pete studied for his music degree (BMus, Honours).
During his time at Goldsmiths, Pete also studied composition with internationally renowned composers such as Sadie Harrison and Rodger Redgate - learning much from their craft, and applying it to his own compositions, including a string quartet performed by the Kreutzer quartet.
Pete stayed on at Goldsmiths to study for his PGCE, achieving fully qualified teacher status in 2004, leading to various music teaching positions in secondary schools across London and Hampshire, up to GCSE and A level.
Learn bass guitar fast with a fully qualified expert teacher with over 25 years' experience
My mission is to inspire a passion for music in students and to help them grow as a person, as a musician, and as a bass player.
Whether you are a beginner, or a more advanced student, I am able to offer you online bass lessons that are Individually tailored to fit you as an individual.
These lessons will help you find the motivation to discover your own personal vision for music, reach your goals and potential quickly with accelerated learning techniques that will Improve your musical skills with rapid results.
As a fully qualified music teacher with a PGCE, I use classroom proven focus, learning and memory techniques that will allow you to learn how to learn by understanding, and using your own biology to your own advantage. Teaching you to teach yourself in fact.
Sep 2003 - Jun 2004 Goldsmiths University, London: PGCE Secondary Music
Sep 2000 - Jun 2003 Goldsmiths University, London: Bachelors (honours) degree in Music, 2:1
Sep 1999 - Jun 2000 Richmond Adult College: Music A level student
I encourage my students to enjoy playing music by relaxing and engaging them in informative, highly structured lesson formats, using a step-by-step approach to learning which leads to a Growth Mindset that encourages students to reach their full potential.
This in turn leads to developing musical fluency in all styles and genres of music.
Above all, I strive to help my students to find purpose and new abilities in their playing, as well as to develop their own voice and creativity as a bass player, by being able to compose and create their own bass-lines, or to read music, learn new parts, or improvise, and feel securely confident in any given musical situation.
Reviews of lessons with Peter Lindemere