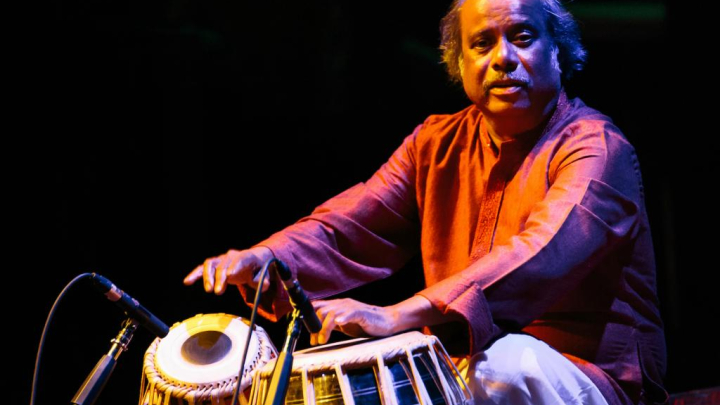 About
Award winning tabla player, composer and teacher Ritesh Das was born  in Kolkata, India to parents Nrityacharya Prohlad Das and Smt. Nilima Das. He is the brother of the late kathak dancer, Pandit Chitresh Das. His parents had a music and dance academy, Nritya Bharati, the first of its kind in Kolkata after the Independence of India. Growing up in this environment allowed him immediate exposure to music and tabla at a young age. His musical studies began in 1972, studying vocals with T.L. Rana, sitar with M.D. Mullick, and finally settling on tabla with Pandit Shankar Ghosh.
When Das was 22-years-old, he moved to Los Angeles, CA to perform as a musician in the AMAN Folk Ensemble. In 1985, Das moved to Toronto where he began teaching tabla on a full-time basis.
In 1991, he formed the TORONTO TABLA ENSEMBLE,  made up of his students at the time.
Along with the ensemble, he has toured Canada many times as well as touring Australia and Europe. Das along with TTE have performed at numerous jazz and folk festivals, and have also appeared on CBC and other News Network and Much Music. His album, Firedance, received a nomination for the JUNO Award for Best Global Album and received two awards for Composing/Composition from the GLOBAL MUSIC AWARDS.
Along with the Ensemble, Das has released seven CDs and is currently composing music for the eighth. He has composed pieces for documentaries, commercials and dance choreography. In 2016 he was awarded the Roy Thomson Hall Award of Recognition through Toronto Arts Foundation.
Das is the director of the Toronto Tabla Ensemble School of Tabla, with teaching locations in the Greater Toronto and London Ontario Area where he now resides.
 
Ritesh Das' classes are designed to produce professional tabla players, as many of his students have become. Das recently launched the first Toronto Tabla Youth Ensemble featuring young artists between 8 and 15 years of age who he continues to train.
Reviews of lessons with Ritesh Das