Acoustic Guitar, Bass Guitar, DADGAD Guitar, Electric Guitar, Guitar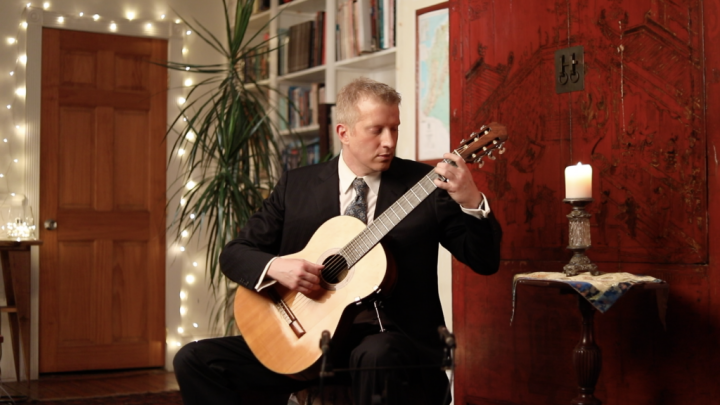 Lesson Fees
Promotions Available
Book 5+ lessons for 5% off
Book 10+ lessons for 10% off
About
With over 30 years of playing and performing experience, and nearly 25 years of teaching and mentoring to nearly 1,000 students of all ages and skill levels in a variety of styles, Roger is a truly versatile player and teacher. 
Roger's formal education includes a Master's Degree in Classical Guitar Performance from the Peabody Institute of the Johns Hopkins University, as well as jazz studies with the great Paul Wingo. Roger has performed across much of the United States, as well as France and Brazil. He has also been a teacher and participant in numerous master classes.
Roger's passion lies with helping people to develop their talents and passions, which are often hidden and unrealized. Whether it's in helping someone to further their study of the guitar or in providing music for an event, Roger's blend of curiosity, patience, enthusiasm, and profressionalism, has helped many others to uncover their potential.
Allowing others to discover who they are as musicians, by giving them the space to explore what sparks their curiosity and enthusiasm: this is what gives me the greatest joy as a teacher. In this way, I tailor my approach to each person, giving individual attention rather than the "one-size-fits-all" scheme that teachers often adopt. In this way, students discover that every aspect of developing musicianship--whether it's learning tunes or learning to improvise, working on technique or acquiring theory knowledge--can be fun and inspiring. Whether or not someone eventually becomes a professional musician, such an approach can filter into every area of a person's life and the pursuit of learning an instrument has the potential to be transformative.
Master of Music: Peabody Institute of the Johns Hopkins University
Bachelor of Arts: University of Maryland at Baltimore County
I work with each student, and parents where appropriate, to craft a method that will best serve them. I recommend texts based on the needs of the student; however, I emphasize playing first and view texts as an important supplement to the learning process.