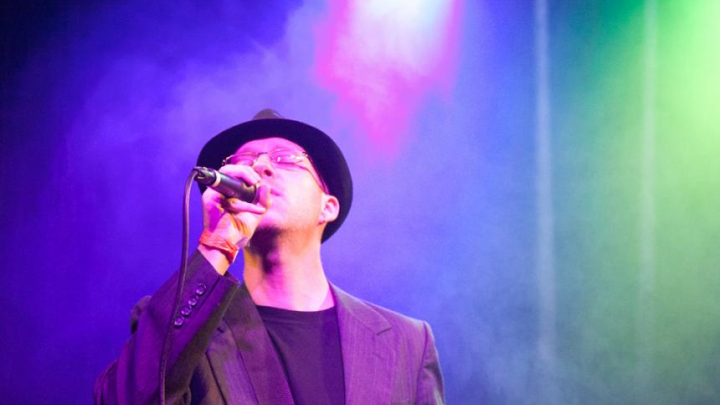 Lesson Fees
Promotions Available
10% off with 5 lesson package
About
Sam Rogers is an international award-winning solo a cappella performer, finalist in the American Beatboxing Championships, professional educator/facilitator, experienced CircleSong leader, and Certified TaKeTiNa Rhythm Teacher. He is called "The One Mouth Band" for good reason: he makes all the sounds of a band -- bass, guitar, synthesizers, horns, mouth-defying drums/percussion, and more -- using only his mouth with the precision of a seasoned musician.



As the One Mouth Band, Sam forged new ground in a cappella music by becoming the first solo a cappella act to compete against groups, winning two Ward Swingle Awards in the process for his Jazz and Pop performances at the Vokal Total International A Cappella Competition in Graz, Austria. This solo vocal act led to performing and teaching at festivals in the US & Canada, Europe, Asia, and Australia. His first live solo a cappella CD One Mouth Band was nominated for Best Vocal Jazz Album by JPF Independent Music Awards, he was nominated for a CARA award as Best Solo Vocalist for his 2013 solo a cappella album Could Love, and featured in the award-winning documentary film American Beatboxer.
Sam grew up in a musical family, spending time backstage in smokey blues clubs or recordings studios where his father, Roy Rogers (the slide guitar player, not the cowboy), played the blues with the legendary John Lee Hooker, also producing Grammy-winning albums like The Healer.  His mother exposed him to folk, world, and experimental music through her new age gift shop where Sam often worked as a child. All the while he eagerly devoured every scratchy old rock 'n roll and doo-wop record he could get his hands on, and built puppets and toy characters with hopes of one day working on TV with The Muppets. Upon learning of Jim Henson's untimely death and hearing the voice of Bobby McFerrin for the first time, the voice characters morphed into vocal instruments and a love for a cappella singing. Sam went on to found the successful teen a cappella group 'Til Dawn, tour the US & Canada as the vocal percussionist for collegiate a cappella group Audio Radiance, pioneer the use of live looping technology in a cappella settings, perform with dozens a cappella groups (including the spin-off of Bobby McFerrin's Voicestra, SoVoSo), and become a founding member of The Vowel Movement Beatbox Salon, Return of the Cypher, The International Body Music Festival, and dozens of other music/theater/performance communities. Sam's performance and recording credits include work with artists as diverse as Joe Satriani, Ramblin' Jack Elliot, and DJ Qbert. He is also a writer, director, producer, and composer for stage and screen.
Sam learned voice with Bobby McFerrin and many members of Voicestra, studied music with vocal jazz arranger Phil Mattson, trained as a bodyworker at The Acupressure Institute, apprenticed as a healer with Phyllis Moline Laursen, studied ancient chant & sacred sounding with Pat Moffit Cook, and trained with Reinhard Flatischler for several years to become a Certified TaKeTiNa Rhythm Leader.
Sam is not only deep in the world of voice/performance, he is also a professional learning strategy consultant who serves clients such as Google, Deloitte, CapitalOne, and speaks frequently at international training conferences. He is fanatically curious and fantastically experienced. You're in good hands. Book your session now.
Your body is your instrument. Your emotion is your power. Your mind is your tool.
Let's work together to align these elements and speed you along on your path. We'll develop your strong vision, create a safe container to explore what you are drawn to, embrace whatever techniques you need, and get you making the music you were born to make...yours!



I teach singing, extended vocalization, beatboxing, stage performance, improvisation, songwriting, rhythm, and live-looping. I also have an artillery of real-world solutions for your musical issues, and love helping people be more creatively on target with their lives
You tell me what you're curious about, and we take it from there. At this point, I have enough experience teaching that I don't have a pre-set lesson plan. Everyone's needs are different, and I'm happy go with what you're most excited about and help unstick whatever is stuck. No matter what direction you go, chances are I've been there before and helped others through that same spot and to the other side. Let's discover together!
That said, I do have some basic guiding principles:

1) safety first, don't hurt yourself

2) our presence and vulnerability make us worth hearing

3) always listen louder than you sing/speak
Reviews of lessons with Sam Rogers