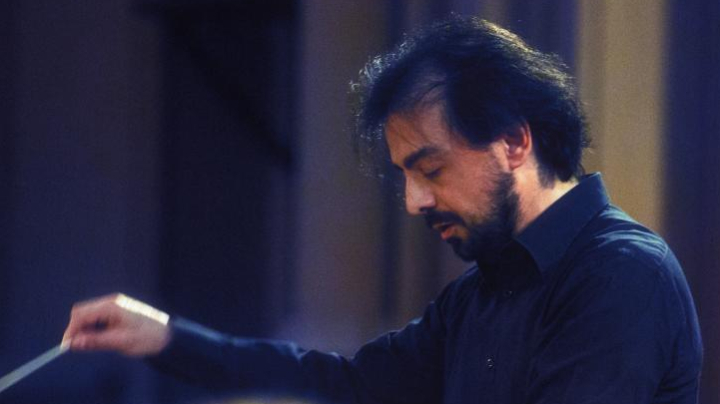 About
   Sandro Naglia, born in Italy, earned a Master in Vocal Performance Degree from the Music Conservatoire of Pescara and a Master of Arts Degree from Rome University. After many years of international career as a singer, since 2007 conducting has been becoming his main activity. He has conducted orchestras in Italy, France, Russia, Ukraine, Hungary, Romania, Bulgaria, Australia, having great experience in working with choirs and vocal ensembles as well.
   As a tenor, he made his debut at Teatro Carcano in Milan singing Falla's El retablo de Maese Pedro, and two years later he distinguished himself in Monteverdi's Vespers of the Blessed Virgin conducted by Sir J. E. Gardiner in London, Venice and Bath Festival, recorded by DG-Archiv, starting then an international career. 
   In 2000 he started to study conducting, and later on he attended advanced study classes with N. Samale, D. Rouits, L. Shambadal, I. Karabtchevsky and, mostly, with D. Pavlov in Bulgaria. After his debut in 2001, conducting has been developing as his main activity: he has been on the podium of such orchestras as I Pomeriggi Musicali of Milan, "T. Schipa" Symphony Orchestra of Lecce (Italy),  I Solisti Aquilani (Italy), Orquesta del Reino de Aragón (Spain), Plovdiv State Philharmonic Orchestra (Bulgaria), Debrecen Philharmonic Orchestra (Hungary), Filarmonica Banatul Timişoara (Romania), Orchestra of the Opera and Ballet National Theatre "O. Danovsky" of Constanţa (Romania), "B. Lyatoshins'kij" Chamber Orchestra of Kiev (Ukraine) etc. in a repertoire ranging from XVIIth to XXth century music, with special focus on late-Romantic. 
   In his singing career, which is still ongoing, he has performed throughout the world (Accademia di S. Cecilia in Rome, Concertgebouw Amsterdam, Wiener Musikverein, Wiener Konzerthaus, Konzerthaus Berlin, Edinburgh Festival, Flanders Festival, S. Petersbourg Philharmonic, New York Lincoln Centre,  Frick Collection Concert Series, Opera houses of Rome, Bologna, Venice, Palermo, Monte-Carlo) under such conductors as Sir J. E. Gardiner, G. Gelmetti, G. Ferro, S. Bedford, M. de Bernart, R. Alessandrini. Over the years, his repertoire has ranged from Renaissance and Baroque music (often performed with Early Music groups, as Concerto Italiano and La Venexiana) to Classic and Romantic operas, oratorios and symphonic works; from German Lied to XXI century music, including many world creations. He has recorded more than fourty CDs for DG-Archiv, Naive-Opus 111, Glossa and other labels. 
   He regularly teaches in courses and seminars, and was invited to give Master Classes by such institutions as University of Southern California Los Angeles, University of Oregon, University of Melbourne, Academy of Music and Opera House of Tashkent etc.  
He is currently Adjunct Faculty in Music Appreciation at the Union College in Cranford, NJ.
According to students' individual needs and experience, I would firstly focus on conducting technique: use of the body (wrist, forearm, left and right arms etc.; relaxation and coordination exercises) and basic conventions (rhythmic patterns, cues, fermatas etc.). The following steps would be score reading and structure analysis of the pieces. Choir conducting will imply vocal-related matters.
Relationship with orchestra musicians and/or singers, performance practice, psychology of sound perception will be covered topics as well.  
Reviews from Group Classes
⭐️⭐️⭐️⭐️⭐️
Basics of Conducting
Michelle on February 18, 2021
AWESOME LESSON great teacher important for all musician within an orchestra!!!
Master in Vocal Performance Degree from the Music Conservatoire of Pescara, Italy. Master of Arts Degree from Rome University. Advanced Training Course in Orchestra and Opera Conducting (teacher: Nicola Samale), "G. Rossini" Association of Roseto degli Abruzzi, Italy. Advanced conducting workshops with Deyan Pavlov, Dominique Rouits, Lior Shambadal, Isaac Karabtchevsky. Teacher in courses, seminars, master classes (Voice; Orchestra and Choir conducting) in such institutions as Music Conservatoires of Pescara, and L'Aquila (Italy); University of Southern California Los Angeles, University of Oregon, University of Michigan Ann Arbor, University at Buffalo; State Conservatoire and State Opera House of Tashkent (Uzbekistan). Visiting Professor (Knowledge Transfer Scholar) at the Faculty of Music of the University of Melbourne, Australia. Currently, Adjunct Faculty in Music Appreciation at Union College, Cranford, NJ.
Reviews of lessons with Sandro Naglia