Electric Guitar, Acoustic Guitar, Guitar, Lead Guitar, Audition Prep,
Bass Guitar, Classical Guitar, Fingerstyle Guitar, Rock Guitar
600+ lessons
booked on Lessonface
Featured Teacher
on Lessonface
Since September 2012
Lesson Fees
Base Fee:
$65.00 / 45 Minutes
Promotions Available
Book 5+ lessons for 5% off
About
** Hi! Thank you for visiting my page!  
I am currently touring and working on some projects. Please join the waitlist if you'd like to! I'll be back in touch in late May.
I've been a professional guitar and music teacher for 20 years.  I specialize in adults (both young and older) interested in learning an instrument for the first time.  Students ages 15+ are welcome. 
Sara Landeau is a guitarist, multi-instrumentalist, educator, writer, composer, and sound artist. She is currently the touring guitarist with Bikini Kill.  She has received an MFA in Sonic Arts from CUNY Brooklyn College, where she is an adjunct professor, and has worked across a broad spectrum of music mediums. She is a founding member, co-songwriter, and lead guitarist of The Julie Ruin (Hardly Art/SubPop), achieved top 10 chart hits, has performed on Jimmy Fallon, Seth Meyers, and Jimmy Kimmel Live, and has songs featured in films and commercials. She has written for Adorama, Earthquaker Pedals, and She Shreds Magazine. Follow her on Instagram @saralandeau
"My students are both one-on-one and group classes.  I find learning music theory fun, but won't force it on you (well, just a bit). I believe learning the fundamentals and ideas behind WHY songs work will help you teach yourself and build a foundation to build on. Learning from several angles early on is essential - songs, patterns, a little theory, creative accidents -it all adds up to you becoming a musician.  If you have gaps in your knowledge, we can fill them.  I have a large library of educational resources and cross-reference from several books and study materials. We will aim toward any style(s)  you are most interested in. "
- Sara
GUITAR LESSONS:  learn sight reading, tablature, rhythms & strums, fretboard theory,  song structures,  fingerpicking,  extended chord theory,  harmony,  inversions,  scales,  modes, lead playing, textures, soloing, music theory, time signatures, ergonomics aand proper hand technique.  Beginners and all ages are welcome!
---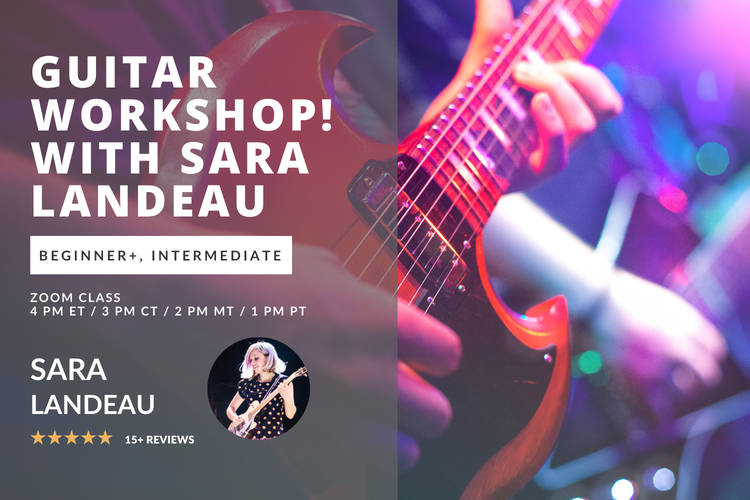 Group Class Now Enrolling
In addition to the one-on-one lessons that can be booked from this page, Sara Landeau is offering a group class titled Guitar Workshop!. The class meets for 4 sessions on Sundays. Learn more and sign up here.
---
Reviews from Group Classes
⭐⭐⭐⭐⭐
Guitar Workshop! - January 2022
Verified Student on January 9, 2022
So much to learn from. Makes you move foward. Thanks.
---
⭐⭐⭐⭐⭐
Guitar Workshop!
Donald L.
on January 9, 2022
Really a good format for me as it was pick and choose, lets me integrated what I was trying to achieve but still learn new ideas, the Triads have been a great daily exercise for soloing and hammer on off practice, will be doing these programs moving forward better format for me than one on one lessons.
---
⭐⭐⭐⭐⭐
Guitar Workshop!
Verified Student
on January 9, 2022
Amazing. The best. So much to chew on. Sara is hands down the best guitar teacher in the known universe.
---
⭐⭐⭐⭐⭐
Guitar Workshop!
Dlee
on March 6, 2022
Great class if I am able to attend or just use the tools to improve or extend my skill set. Really like the ability to be around others with similar skill sets that have chosen to use this format.
---
⭐⭐⭐⭐⭐
Guitar Workshop!
Verified Student
on March 6, 2022
Amazing. Sara is the best music teacher I've ever had. She sets the bar high and then seems to have infinite patience and encouragement. I learn so much in each class.
---
⭐⭐⭐⭐⭐
Guitar Workshop!
Verified Student
on April 1, 2022
YEAH!
---
⭐⭐⭐⭐⭐
Guitar Workshop!
Verified Student
on March 6, 2022
---
⭐⭐⭐⭐⭐
Guitar Workshop!
Verified Student
on May 8, 2022
---
⭐⭐⭐⭐⭐
Guitar Workshop!
D L.
on May 8, 2022
Sara does a great job enjoy her classes and the wide range of styles she was made to be an educator/instructor comes very naturally to her. This is my third class with her and at times the material repeats from prior classes, but that being said I will be back.
---
⭐⭐⭐⭐⭐
Guitar Workshop!
Verified Student
on May 29, 2022
---
⭐⭐⭐⭐⭐
Guitar Workshop!
Verified Student
on May 8, 2022
Genius! Learned a lot and had a lot of inspiration from other students.
All texts and study materials will be provided via PDF.
Reviews of lessons with Sara Landeau