Drum Rudiments, Drums, Percussion, Snare Drum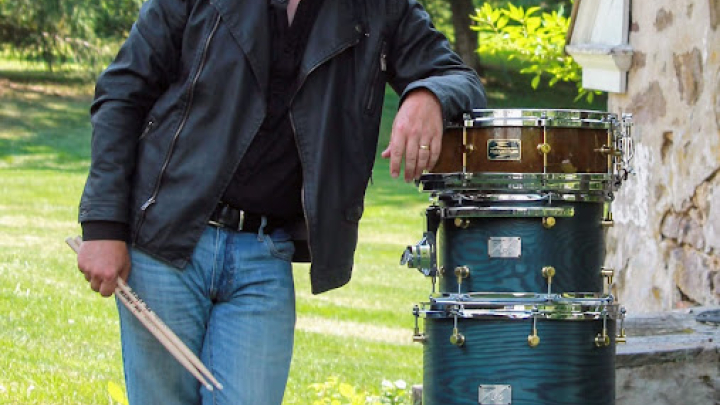 About
American Drum Set and Percussion artist Sean J. Kennedy is the drummer for The Gardyn Jazz Orchestra and The Doc Severinsen Tribute Band, featuring Jay Webb and has been principal percussionist with the Philadelphia Boys Choir & Chorale since 2004.   He is a multi-faceted musician who is equally accomplished on the stage, in the recording studio, and in the classroom. He has performed on drumset and percussion receiving standing ovations at sold-out venues such as Radio City Music Hall and Carnegie Hall with world renowned acts like  Il Volo,  Roger Daltry and The Who, Evanescence, Lindsey Stirling, The Philly POPS! Orchestra, The Atlanta Symphony Orchestra, The Jacksonville Symphony, The Strauss Symphony of America, The Allentown Band, The Allentown Symphony Orchestra, and The Lancaster Symphony Orchestra. Kennedy was appointed to the Percussive Arts Society Drum Set Committee in 2021, is the author of numerous drum set, percussion and improv books and in 2018 was invited to present a TEDx Talk about the history of the drumset, titled: Happy Accidents: Drumming Up Serendipity.  Jazz legend Dave Brubeck stated that Sean's drumming, "… sounds like it should—it swings!"
Kennedy earned a master's degree in Percussion Performance and a bachelor's degree in Music Education from West Chester University, and is an Artist Endorser for Canopus Drums, Zildjian Cymbals, Vic Firth Drumsticks, Ludwig-Musser Percussion, Casio Keyboards, One Beat Better, Grover Pro Percussion, The Drum Wallet and Evans Drumheads. He is also a member of the American Federation of Musicians, is a registered composer, songwriter, and publisher with Broadcast Music, Inc. (BMI), and is a voting member of the Recording Academy (NARAS).
Bringing real-world experience into the classroom and onto the rehearsal stages is what makes me different. 
Throughout my career I've been able to successfully meld many aspects of the music world into my teaching;
-performing on some of the world's biggest stages
-performing and recording with world-renowned entertainers
-producing a music industry-themed podcast
-authoring numerous drum set and jazz method books
-presenting a TedX Talk about the history of the drum set. 
I believe that leading by example, that is teaching, performing and producing meaningful content, has been able to help guide and inspire hundreds of my young student musicians over the past three decades.  Many of my students have gone on to fulfilling careers in the music industry.  My students have carried the many real-life lessons that I passed along to them of always being prepared, flexible and courteous, and are now forging their own unique paths in the music industry.   
West Chester University of Pennsylvania • West Chester, PA (2001)
Master of Music, Instrumental Performance (Percussion) with Dr. Christopher Hanning
Inducted into Pi Kappa Lambda National Music Honor Society
Laubach Scholarship Recipient
Participated in master classes with Alan Abel, Ney Rosauro, and Michael Burritt
*********
West Chester University of Pennsylvania • West Chester, PA (1995)
Bachelor of Science, Music Education - magna cum laude
Brokenshire Scholarship recipient
Liebig Memorial Grant recipient
*********
DRUMMIES, DRUM! Magazine's Annual Readers Poll Award
Sixty Second Solos, by Sean J. Kennedy , Publisher: Alfred Music
2nd Runner-up, Educational Publication of the Year
*********
Modern Drummer Magazine, Dom Famularo's Teacher List
Sean J. Kennedy, named one of the top drum teachers in the world
*********
Paul Revere Awards for Graphic Excellence, 3rd Place Award
I Used to Play Drums, by Sean J. Kennedy and Liberty DeVitto, Publisher: Carl Fishcer
*********
Modern Drummer Magazine Readers Poll
Camp Jam: Rock Solid Drums, by Sean J. Kennedy and Liberty DeVitto Publisher: Carl Fishcer
Nominated as Educational Drum Book of the Year
*********
Guinness World Records
Guinness World Records inductee with Legacy 150 Celebrations Society
"Most People Performing a Drum Roll Online Simultaneously" with 581 drummers
*********
PROFESSIONAL AFFILIATIONS
American Federation of Musicians
National Academy of Recording Arts and Sciences
Percussive Arts Society
Pennsylvania State Education Association
*********
ARTIST ENDORSEMENTS
Canopus Drums
Zildjian Cymbals
Vic Firth Drumsticks
Evans Drumheads
Grover Pro Percussion
The Drum Wallet
Casio Music Gear
One Beat Better
Some of my recommended books include:
Alfred Snare Drum Method Book 1, by Dave Black 
Stick Control, by George Lawrence Stone
Portraits in Rhythm, by Anthony J. Cirone
Advanced Techniques for the Modern Drummer, by Jim Chapin 
The Art of Bop Drumming, John Reilly
Brushworks, by Clayton Cameron
The Wilcoxon-All-American Drummer, Charles Wilcoxon
Sixty Second Solos, by Sean J. Kennedy
Camp Jam: Rock Solid Drums, by Liberty DeVitto and Sean J. Kennedy
I Used to Play Drums, by Liberty DeVitto and Sean J. Kennedy
Advanced Funk Studies, Rick Latham