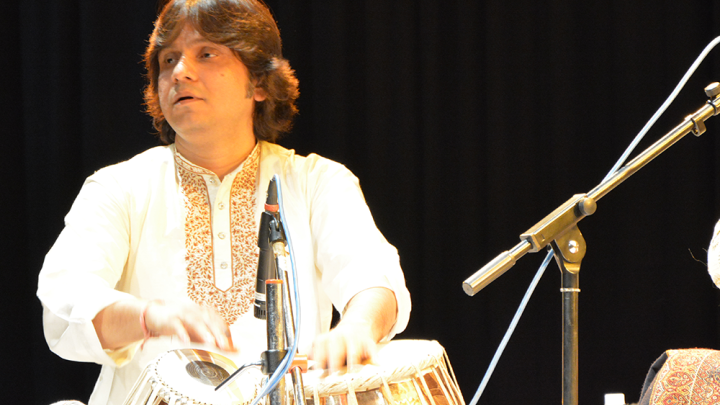 About
A tabla player of note on the Indian classical music scene, Subrata is amazingly talented and his accomplishments and achievements in the field of percussion music have earned him name and enviable fame. Subrata is one of the leading tabla players in India today.
As an accompanist of choice of some of the most renowned classical exponents, he exhibits his command over the tabla and his comprehension of the intricacies of the notes and sounds of classical music. He has to his credit numerous performances at some of the most prestigious venues in India and abroad. Subrata has impressed audiences in the USA, the Middle East, and Europe. Audiences at the Dover Lane Music Conference (periodical), ITC Sangeet Sammelan Calcutta, Gunidas Sangeet Sammelan, Salt Lake Music Festival, Bhawanipur Sangeet Sammelan, Dakhini Sangeet Sammelan, Golpark Rama Krishna Mission Annual Music Conference, Calcutta, A.I.R.Concerts and Radio FM Music Concert, to name a few, have had the opportunity to see this immensely talented musician perform. He has also performed in Sparsh in Lucknow, and at the National Center for Performing Arts, Mumbai, and India International Center, Delhi.
The next milestone of his creativity and innovation is "Naad- The Everlasting Sound," a group he has formed to experiment with fusion music. It seems the next inevitable step in Subrata's career is a mingling and merging of eastern, middle eastern, and western styles of music; this is the current trend among makers and lovers of music. He has been a part of the Chicago based Indo-jazz band Flat Earth Ensemble since its inception.
Subrata was a visiting professor at the Universty of Urbana Champaign, IL.
He has received his taalim under Shri Tamal Krishna Chatterjee, Shri Nripen Karmakar and Shri Tapan Kr. Banerjee before he was finally accepted as a pupil of tabla maestro Pt. Shankar Ghosh, all of whom honed his talent to the level of refinement now witnessed by audiences everywhere. He has since proved himself a worthy exponent of the Farukhabad Gharana. Recognition of his talent has come in the form of such awards as the Sangeet Prabhankar and the Gold Medal and the Saangeet Praveen from Prayag Sangeet Samiti, Allahadad, and Sangeet Bhushan from the Bhatkhande College, Lucknow.
Being an accompanist is an essential aspect of any tabla player's expertise, and here too Subrata has made his mark. Renowned artists whom he has accompanied in the past few years are Pt. Vishwa Mohan Bhatt, Dr. L. Subramaniam, Dr.N.Rajam, Pt. Buddhaditya Mukherjee, Ustad Shahid Parvez Khan, Ustad Ali Ahmed Hussain, Pt. Tarun Bhattacharya, Pt. Ronu Majumdar, Chitraveena Ravikiran, and Pt. Tejendra Narayan Majumdar, Pt. Samaresh Chaudhury.