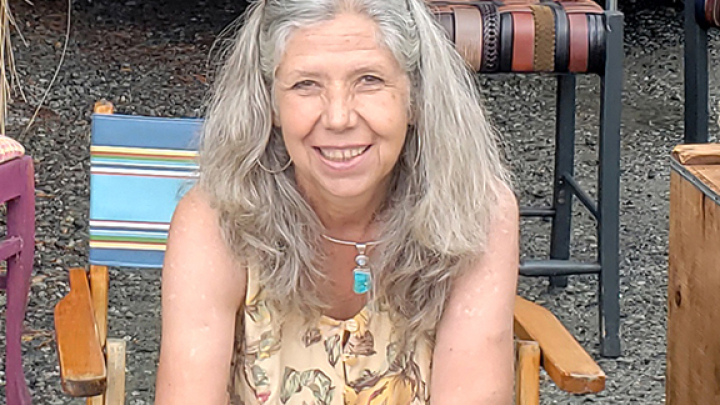 About
Sue Muldoon will be teaching Backpack Weaving Basics.
Sue divides her time between 3-dimensional and 2-dimensional work. She bounces back and forth between photography, web design and graphic design to seatweaving (chair caning, wicker repair, rush, splint, etc.) and basket weaving.
Basketry started as an add-on to seat weaving because there was material begging to be used in more than one format. She is a seatweaver by trade and a basketmaker by passion.
Sue's career has always been creative, from wallpaper hanging and interior painting to a lengthy career in the floral industry as designer and merchandiser. Wood carving, furniture refinishing and upcycling furniture in novel ways using unique materials like leather belts, ties and alpaca wool set her apart from traditional seatweaving methods.
Color is rampant and unapologetic.
A frequent instructor at various sheep, wool and fiber festivals, furniture schools art retreats and farmers markets, she enjoys sharing seatweaving and basketmaking to new crafters and artisans. Virtual teaching has become part of her skills out of neccessity and adventure.
---
Backpack Weaving Basics
Online group class with Sue Muldoon
Starts February 4 - Learn more and sign up
Sue is the webmaster of The Seatweavers Guild, Inc, a member-at large and coordinator of the 2023 Northeast Basketmakers' Guild, a business member of the National Basketry Organization and member of Coventry Arts Guild. She has taught at North Bennet Street School, CT Valley School of Woodworking, MidAtlantic Fiber Festival, New York State Sheep and Wool Festival, The Seatweavers' Guild, Northeast Basketmakers Guild,Snow Farm, in-person and virtually from her own studio and at farmers markets and art fairs.
I will be teaching using hands-on techniques accompanied by full-color step-by-step printed instructions. I will also include a PowerPoint that has details and suggestions for further projects. I have 3 views to work with (front, overhead and side views) and will move around from each for the best experience.
Students may also choose to select which view works for them.
Printed materials will arrive with the kit .