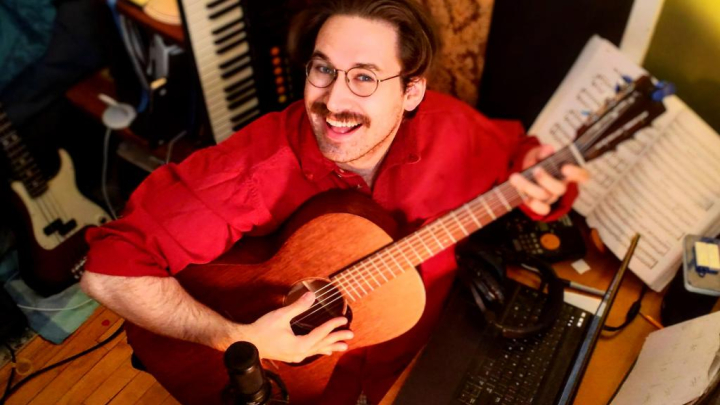 Lesson Fees
Promotions Available
Book 20+ lessons for 20% off
Book 5+ lessons for 5% off
Book 10+ lessons for 10% off
About
Hey There!
     Taylor Donskey is a music educator and multi-instrumentalist. He's been playing tunes and teaching kids, from 1 to 92, starting in 2013 and hasn't stopped since! Taylor graduated in 2013 with a Bachelors of Music from the University of Minnesota School of Music and a minor in Business Management from the Carlson School of Business. In that time he worked extensively with the UofMSoM Jazz program on bass. He also worked with the choral programs and even the premier A Cappella group 7 Days. He currently teaches appropriately distanced, in person lessons (outside!) and many others through online learning in the Minneapolis and St. Paul metro area.
    Taylor is also a veteran performer! Starting in 2009, he has had the great privilege to play upright, electric bass, and even sing backup(!) behind some of Twin Cities great emerging songwriters. Folks like Lena Elizabeth, The Lowland Lakers, The Gentlemans Anti-Temperance League, The Dives and I Like You have all provided musical growth and countless experiences from all sides of the spectrum! On the low end, Taylor has been party to Jazz and Folk stylings. Whether its a ii-V-I or a I-IV-V,  you're sure to hear the root note. He's also a singer with a knack for vocal blending and high falsetto harmonies. In recent years Taylor has take a step into the world of solo music production with his adventurous projects, Darling Lily Gave and as himself Taylor James Donskey. 
      Lessons with Taylor begin with fundamentals and motivation. We'll search for what makes us want to pick up our instrument again and again, all while learning the pathways to understanding the language of music and how it relates to our chosen instrument. That formula can be a bit tricky, but never fear! Taylor can bring an immense amount of wild energy to each lesson, as he's a bit impatient, and wishes to rock fortuitously as soon as possible, BUT, he's no stranger to finding the groove and settling in for focused and diligent work in such fields as music theory, lick acquisition, and beyond. It is certainly a balance, and ultimately, it is the goal! Having the tools we need to build the wings and the runway to take off. With Taylor's multifaceted musical approach, nearly anything is possible. Dream big! From the highest register to the lowest frequency, there is a band in there somewhere, and you can begin to build your future in music. 
    Taylor's been at this awhile and has relished all he has learned from his students! His favorite lessons are the ones where that spark, that was once lost, is found. 
BA of Music from the University of Minnesota's School of Music
Individual and Group Lesson Instructor with Twin Town Guitars in Minneapolis MN since 2013
Alfreds Kids Ukulele Course Complete 
The Daily Ukulele Songbook: Jumpin Jim
Alfreds Basic Piano 1,2,3,4,5
John Thompson's Modern Graded Course for the Piano Book 1, 2, 3
Alfreds Adult All in One Piano Method
Hal Leonard Books:    Guitar Method 1,2,3      Bass Method 1,2,3
Essential Elements for Trumpet 1 & 2
Arbans Complete Conservatory Method for Trumpet
Evolving Bassist by Rufus Reid
Real Book Volume 6 Bass Clef
The Improvisor's Bass Method 
The Jazz Theory Book by Mark Levine
Knowledge and Basic fluency in online resources such as UkeTabs, Ultimate Guitar, and other online Lead Sheet and Chord Chart repositories. 
Reviews of lessons with Taylor Donskey