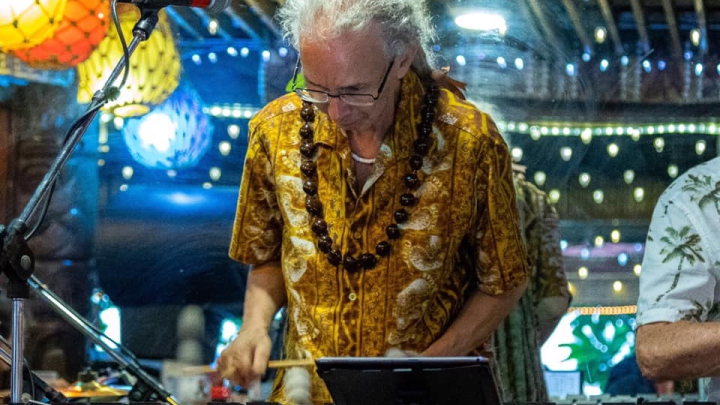 Lesson Fees
Promotions Available
Free 15 minute trial lessons
About
Thomas Mackay - Vibraphonist, Drummer Composer, Educator
" Thomas owes an obvious debt to the great Bobby Hutcherson. With a clear tone, strong chops and good ideas he is also reminiscent of modern vibes masters Bryan Carrott and Joe Locke.A fine debut from a fellow Oregonian." - 
- Rob Scheps, NYC Jazz icon, independent review of " Jackson" (May 15, 2013)
 Born in 1967 in Oakland, Nebraska, Thomas started his musical studies at the early age of five in piano and percussion.  Mr. Mackay has mentored under Mike Blake, Gordon Stout and Bill Molenhof.  He studied jazz and classical percussion at The Birch Creek Music Academy, The University of North Dakota, and Casper College. He has performance experience in many genres, from sharing the stage as a mallet percussionist with jazz artists such as Clark Terry, David Valdez, and Rob Schepps, to the psychedelic genre of Martin Fierro (Grateful Dead and Quicksilver Messenger Service), Terry Haggerty (Sons of Champlin), Merle Saunders (Jerry Garcia Band) as well as the world renowned 3 Leg Torso.  He is currently serving as adjunct faculty with the Hawaii Youth Percussion Ensemble.  Mr. Mackay is an endorsed Artist/ Clinician for Malletech  mallets, omega vibraphone and pickup system. 
Thomas took an 8 year break from touring and recording as a vibist.  He subsequently was diagnosed with Celiac Disease in April of 2012. By June of 2012 he experienced a remarkable recovery being "gluten-free"and went on to form "The Mackay Project" an ensemble that featured his original compositions and focused on the modern side of jazz. The Mackay Project leaned more towards groove oriented tunes (break-beat, hip hop, reggae as well as straight ahead jazz). In June of 2013 Mr. Mackay  released his first CD of The Mackay Project "Jackson", under the Hammondbeat Records label. While recording Jackson, there were two weeks of studio down time which was used to record yet another session of jazz standards. "Here's That Rainy Day" was released under the Hammondbeat  Records label in the fall of 2013.  "The Thomas Mackay Quintet" features tenor sax player Bud Berlingeri, formerly of the Louie Prima band from 1952 to 1954. "Here's That Rainy Day" is a departure from Mr. Mackay's four mallet style and concentrates on the two mallet style of vibraphone greats Milt Jackson and Coleman Hawkins.
 
Thomas is also an active reggae keyboardist and drummer. He has played and recorded with Studio One reggae legend Norma Fraser. He also toured and recorded with Northern California reggae favorite, Synrgy. 
Check out his Press release section ....
Discography:
David Greenberger/3 Leg Torso, ( whims, whispers and bloodloss), 2004 released under Duplex Plant publishing.   ( Vibes, Xylophone, doumbek, sound effects, composer)
Norma Fraser, ( One More Chance) 2006  Gyfft records.  ( keyboardist, programming)
Jubal,  self title,  1999,  cofounder, ( vibes, B3, rhoades)
Jupiter Hollow ( the veneta sessions)  vibes b3 rhoades).  2001
Tryptic Trio,,,  From the Pen and Beyond, 20001,  ( never released)
Synrgy, self titled . 2011 ( keys and organ)
The Mackay Project  " Jackson"  2013 released on Hammondbeat records
The Thomas Mackay Quintet " Here's that rainy day"  2013 Hammondbeat records
Past performances
2000 Eugene Celebration … with Norma Fraser and Tryptic trio
1987, Winnapeg Jazz Festival ..   Thomas Mackay Trio
2004  Holly wood bowl, Event… 3 Leg Torso
Folk life festival 2002- 2004 3 Leg Torso
Bumbershoot  2002- 2004 3 Leg Torso
Williammette Folk Festival … Norma fraser and 3 Leg Torso
My teaching approach varies from student to student depending on how they digest the tools that I present to them in each lesson.  Over the many years of teaching all ages, not one student is alike.  My goal as a mentor is to give them the tools to be able to practice with a clear perspective on their own so that when we meet for lessons we are discovering music together 
Education and further studies:
1. Casper College 1985 to 1987. Percussion performance
2. Birch creek music academy (summer session )
Percussion / jazz vibraphone
3. University of North Dakota : percussion and composition ( 1987 til 94 )
3. Private study on jazz vibraphone with Mike Mainieri, Ed saindon and Bill molenhof
4. Endorsered artist / master clinician with
Malletech Llc 2014 til present
5 Endorsed artist with Malletkat ( alternatemode)
2016 til present
Drums:  the stone stick control book. 
Vibraphone : dampening and pedaling by David Friedman 
Reviews of lessons with Thomas Mackay