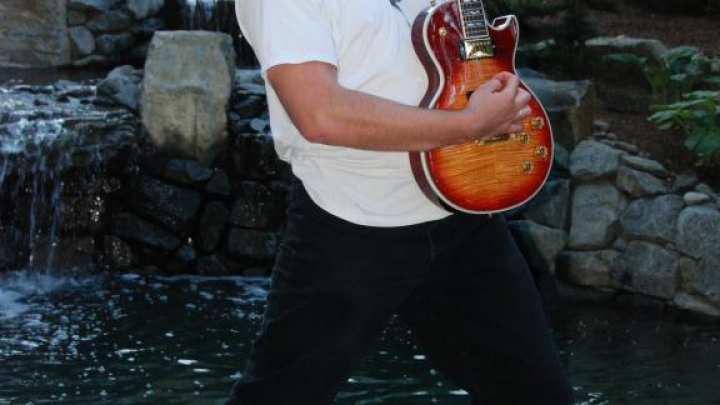 Lesson Fees
Promotions Available
Free 15 minute trial lessons
Book 5+ lessons for 5% off
Book 10+ lessons for 10% off
Book 20+ lessons for 20% off
About
Tim Bischof's mission is to help anyone who has been told they're not able to play guitar, or have quit out of frustration, or been told they're too old or too young to play. 
Tim Bischof loves introducing young beginners to their first songs, helping adult students find their voice  in music & guiding players in advanced or specialized study.  He currently accompanies his band Dont Give Up in the Pacific North West area in the United States. He also has a pay for monthly subscription lesson service.
Tim Bischof a native of Portland, Oregon (USA), studied harmony & theory with musicians institute coursework.
His virtuoso Ron Zabrocki guitar teacher a sight reader at age 6 who is a contributing columnist at Guitar World in New York and sponsored by Line 6 a Studio Guitarist Shredder & Jazz Savante and now scoring films.
Rex Carroll from Atlantic Records signed band Fierce Heart, also in Whitecross, King James.
Steve Krenz a college professor that has his Bachelor's in Blues music with a special focus in Jazz study. I have done months of Jazz standards submitting to Steve to get his expert advice & pinpoint precision accuracy.
Shawn Gette who is in the band Forbidden Symphony, who in his words once took over a gig for Steve Vai and the American Guitar Academy.
He continually attends workshops whether it's John Standefer's , (winner of the 2002 National Fingerstyle Guitar Contest and open division winner of the 2004 International Home of the Legends Competition.also columnist of Acoustic Guitar magazine), or Britt Festival advanced workshop where they had Helmet's lead guitarist Page Hamilton teaching Jazz & multiple genres of music.  He performed extensively as a singer songwriter and has since made performing guitar and teaching online guitar lessons his two primary passionate pursuits. He has over 20+ years experience playing lead, rhythm on both electric and acoustic guitars & being in multiple bands, worship bands.
He has also played alongside bands like the Illuminatics and the Dan Seymour Band & The Ben Rice Band. He has been on several recorded CD projects including his latest release Dont Give Up. 
Tim Bischof went to Portland Community College to get his Associate's Degree in Business Administration, and then went to Portland State University to get his Bachelors in Management and Human Resources Management Degree. 
Genres include Rock, Pop, Blues, Country, R&B, Latin, Jazz, Funk and more. 
 
Tim Bischof's teaching style is geared towards the individual. He tries to find the strengths and needs of each student  as each lesson is customized to their learning style and different for each one depending on what they want to learn. He makes sure they are having fun & progressing. He has the Gibson Steve Krenz Learn and Master guitar platinum award winning program he uses as well to cover everything for those that want to learn it all. He will have you learn songs, scales and exercises to help develop each player. He incorporates music theory with learning songs and introduces different practice routines. All ages and styles are welcome.  
Tim Bischof loves to play as a band too. When you are ready, he loves to bring out the drum or backing tracks to your favorite artists songs and he can drop the key to make it fit your guitar tuning, while you play guitar and he'll play what your not, giving you the feel that your in a live group situation that can make learning at your lesson more fun. 
Lessons with Tim Bischof are positive and productive, and he adapts his teaching to give each individual the kind of instruction they need to enjoy the guitar and develop musically.  He has been teaching guitar for over twenty years and gives careful thought and attention to his students' needs and interests when planning their curriculums. 
A sample curriculum within the first 3 lessons for someone with no experience might include learning basic guitar fundamentals, basic G to C to D, 1-4-5 song progressions (the stuff that 85% of all music we listen to is made up of), left hand / right hand coordination, picking techniques, how to strum, mute, & play notes on the guitar. 
Tim Bischof specializes in electric and acoustic guitar and loves working with students of all levels, absolute beginner to advanced.  Having 3 children of his own amongst working with hundreds of children he relates well and adapts his teaching  differently to each student realizing everyone is different, and what works for someone else may not work for another so each student can learn at their best.  He moves patiently and thoroughly through the fundamentals and lays out very clear goals both within the lessons and for practice time between lessons.  Along with learning the essentials, he mixes in plenty of fun songs and games to keep music fun and interesting.   For older students, he arranges a flexible curriculum that follows the student's interests. He typically dedicates half the lesson to topics of technique and theory that apply to student's interests, and the other half to learning songs of their choice.
Reviews of lessons with Tim Bischof