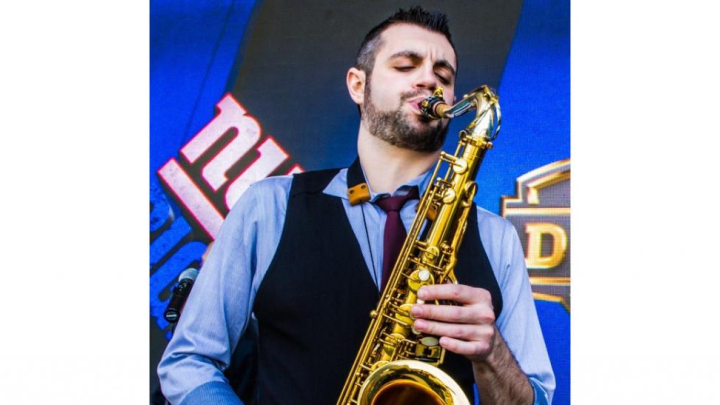 Lesson Fees
Promotions Available
Book 5+ lessons for 5% off
About
Tim Veeder is a professional saxophonist, clarinetist, flautist, composer, arranger and educator based in the New York, NY area.
Born and raised in the small upstate NY town of Gloversville, Tim Veeder picked up his first saxophone at the age of 11.  During his high school years Tim played his first professional gigs in the local horn-rock band 'Cleen Street and the OverEasy Horns', alongside his band teacher, mentor and cousin John Savage.
In 1999 Tim moved to Albany, NY to attend The College of Saint Rose where he studied music education and saxophone under Paul Evoskevich and Mark Vinci. Tim earned his Bachelor of Science degree in Music Education (cum laude) in 2003 and his Master of Science degree also in Music Education in 2007. 
Tim was a staple of the Albany, NY music scene through 2007 playing at numerous clubs, concert halls and regional events with many well-known local bands. The most notable of these being The Burners UK, with whom he played throughout the United States and abroad in places such as Washington DC, Atlanta, GA, Lake Placid (the Olympic Arena), Miami, FL (the Versace Mansion), Mexico, Montreal, and at The Atlantis Resort in Bahamas, as well as at many national political events.  Tim's saxophone playing was also featured on many local and regional television shows, including a national TV broadcast of the Mike & the Mad Dog sports talk show on the YES Network. 
In 2007 Tim decided to take his saxophone playing and teaching to New York City. Since then Tim has shared the stage with many world-renowned musicians such as guitarist Bucky Pizzarelli, saxophonist Richie Cannata (Billy Joel), Grammy nominated guitarist Jay Azzolina (Spyro Gyra, Jaco Pastorius), drummer Richie Morales (Stevie Wonder, the Brecker Brothers),  pianist Sullivan Fortner, trumpeter Cindy Bradley (2010's American Smooth Jazz Awards 'Best New Artist' winner), Peter Stroud (Sheryl Crow), Marc Ford (Black Crowes), Harvie S (Tony Bennett, Stan Getz), Enrique Haneine (Ricky Martin, Jerry Bergonzi), Victor Jones (Dizzy Gillespie, Chaka Khan), Gayle Scott (Richard Elliot), Jake Hertzog (Nickelodeon's 'The Naked Bros Band' TV show) and Sullivan Fortner. Tim also plays frequently with actor Danny Aiello as a featured soloist, including a December 2010 appearance on the Mike Huckabee Show for the FOX News Network, and has worked with Grammy Award winning producer Michael Broening (George Benson).
Tim currently plays extensively throughout the New York City area and around the nation with a number of different groups. His recent national performances include appearances at the NY Giants Draft Day Party at MetLife Stadium, the Balcones Heights Jazz Festival in San Antonio, April 2011's Highlights In Jazz Concert in NYC, The Catalina Island JazzTrax Festival in California, the Seabreeze Jazz Festival in Florida, and the Newport Beach and Thornton Winery Jazz Festivals in California. He also teaches middle school band and jazz ensemble at White Plains Public Schools, ranked nationally as one of the "Top 100 Schools in Music Education" by the NAMM Organization and is a "National Blue Ribbon School of Excellence". 
Tim's recorded works include "Live at Freedom Park" and "APB" with the Alan Payette Band, "Through It All" by John Savage, "Live" with The Burners UK, and "Five Gorillas Walk Into A Bar…" with the Gas House Gorillas. Tim is also featured on Cindy Bradley's 2011 release "Unscripted", including the first single off of that album, "Massive Transit", which was #1 on Billboard's Smooth Jazz Chart for 4 weeks during September of 2011. Tim is also featured on John Savage's 2011 release "Life Stories".
Having taught for the past 13 years, I've come to realize that every student is different and I try my best to adjust my teaching style based on what I find works best for that particular student. However no matter the style that they gravitate towards I'm always warm, energetic, nurturing and honest.
Reviews of lessons with Timothy Veeder