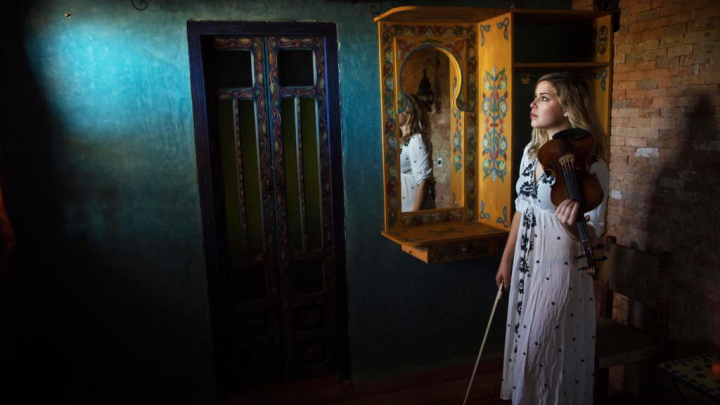 Lesson Fees
Promotions Available
Free 15 minute trial lessons
About
Originally from Belgrade, Vera moved to Chicago at the age of two and started her first violin lessons at age of seven with the renowned pedagogue, Dr. Milton Goldberg.  Thereafter, she rapidly evolved into an active performer travelling all over Europe, the Americas, Asia, and Africa participating in international music festivals, competitions, master classes, teaching, and performing.  She has performed in several major concert halls around the world and under the baton of notable conductors such as Riccardo Muti, Peter Oundjian, Markus Stenz, and David Robertson, to name a few. Vera was honored to be invited twice by the Crown Prince Alexander and Princess Katherine of former Yugoslavia to give solo performances at the LifeTime gala that took place in the Chicago Cultural Center.
Teaching for over 20 years, it has always been Vera's undying ambition to devote herself to helping students become fine musicians. She has successfully prepared them for auditions, conservatory entrance exams, and competitions.  Her students have always exhibited consistent progress, discipline, confidence, musical sensitivity, fearless stage performance, and most of all, love and inspiration for their instrument.  This has been recognized by directors of music schools in Chicago, Florence, Vienna, Berlin, and New York City who have offered her permanent positions as a violin instructor and ensemble coach. While also having lived in Berlin, she was on the board of directors for the Suzuki Method Institution.
Vera received her Master's in a double concentration in Violin Performance and Pedagogy at Northwestern University where she studied with Gerardo Ribeiro.  At Illinois Wesleyan University, she earned her Bachelor's degree in Violin Performance where she performed Tchaikovsky's violin concerto with the symphony orchestra after winning the concerto competition.  She graduated with honors and was granted numerous scholarships and awards at both institutions.
In December 2019, Vera completed a second Master's degree in Viola performance and pedagogy with the highest honors at the conservatory of Florence in Italy.  She continues to teach, perform, and collaborate with musicians while broadening her stylistic palette by exploring different genres and experimenting with music production using Cubase and Logic Pro.
Being able to create music is an integral part of the human condition as it helps us express and understand an exceedingly wide range of human emotion.  Teaching how to do it has therefore always been my greatest passion and having been privileged with the guidance of great pedagogues in the past, it is my ambition to pass that invaluable knowledge and skill on to aspiring musicians. I am certain that every person (no matter what age) has vast potential and it is my duty as a teacher to extract those talents and nurture creativity.  Guiding students to find a deeper understanding of themselves and their relationship to music will encourage them to not only be exceptional artists, but also human beings. It is essential to cater to each student individually helping each one find the right practice strategies, technical studies, repertoire, and most importantly, their own musical identity. My goal is not simply to develop skill, but to teach students how to teach themselves, find their voice, and awaken their own desire for growth and exploration. 
Everyone learns and absorbs information in a different way which is why I use different methods of teaching with different students and cater to their needs. Some of these methods include the Suzuki Method,  the traditional Russian school, and the Viennese style.
I want to share my knowledge with you on the violin, viola, chamber music, and orchestral playing. I will prepare you for concerts, festivals, competitions, entrance exams, and also help you explore different genres and mediums.
I have a BM and MM in violin performance and pedagogy from IWU and Northwestern University and an MM in viola performance and pedagogy from the Conservatory of Florence "Luigi Cherubini". I have held teaching positions in music schools in Chicago, NYC, Vienna, Berlin, and Florence while being a 1st violinist in the Orchstra Camerata Fiorentina as well as being an active performer travelling constantly around the world. I also do music production on the side creating compositions combining acoustic and electronic sounds.
Reviews of lessons with Vera Stefanovic