Lesson Fees
Promotions Available
Free 15 minute trial lessons
Subscriptions discounted up to 13% off
Book 10+ lessons for 10% off
Book 5+ lessons for 5% off
About
Students who enjoy lessons practice more, accomplish more, and have more fun! Interactive lessons with on-screen: sheet music, games, exercises, theory and more -- that both teacher and student can draw/write on.
I often make video recordings for students right in the lesson!  Imagine having a full recording of the song you're working on, or a recording of the theory that we talked about -- these videos get attached to the lesson and you can view them at any time after the lesson
My main areas are:  Classical, Pop, Rock, Metal, Indie, New Age, Easy Listening   
A Little about me:  I'm at the piano listening to and writing music daily; I love arranging and teaching pop, rock, indie & metal music for piano.  For many years I gave private in-home lessons. I  have also taught for The Royal Academy of Music.   I have studied classical piano from the age of 10 until I graduated college at 25.  I earned a Bachelor's of Fine Arts from Mount Holyoke College in 2003.   My focus was performance, theory  and composition.  
- teaching piano since 1999
⭐️ I really enjoy helping others reach their musical goals.  I try to bring energy, enthusiasm, and positivity to every  lesson.  
I will provide a combination of learning styles custom tailored to the students ability to learn easily.  This means that there is some focus on: reading music, learning by ear, learning by rote and also by listening/watching and repeating. 
Something I really love about giving online lessons is that I can use technology to make the lesson informative, interesting, and interactive for the student.  I have an overhead camera paired up with a virtual piano so that students can easily see what I am playing.   On the same screen,  I also display a digital copy of the student's music where we can write on it, highlight notes, use a spotlight over the notes as I play/demonstrate, and much more.  This is a great interactive tool for both adults and children.  I love how hosting online lessons has changed how I have been able to give lessons. 
I like to teach a combination of lesson book songs along with popular music that the student likes to listen to.  I feel that if the students enjoys a particular song, they will be much more likely to practice and have a nice "feel" and "flow" to their performance.
❤️I'm always friendly and encouraging, and I always want to help my student to advance and reach their goals while loving their lesson experience. 
---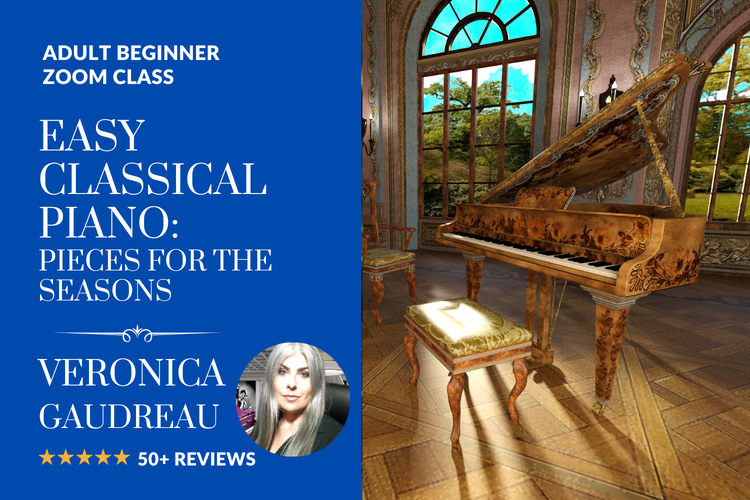 Group Class Now Enrolling
In addition to the private lessons that can be booked from this page, Veronica Gaudreau is offering a group class titled Easy Classical Piano: Pieces for the Seasons. The class will meet weekly on Mondays. Learn more and sign up here.
---
Reviews from Group Classes
⭐️⭐️⭐️⭐️⭐️
Easy Classical Pieces: Where to Start With Classical Piano!
Mandy C. on December 30, 2020
Bachelor's of Fine Arts from Mount Holyoke College 2003
Associate's in Music from Holyoke Community College 1999
My favorite series of basic piano method books are Piano Adventures.  I do not use that series exclusively;  if you already own some of these books, I will certainly work with what you have as well as providing some new material for you.
I do teach scales, primary chords, and music theory related to the piece that we are working on.    I also like to have a student work on an exercise for better movement, agility, control, evenness, etc.
What I also like to include is music that the student enjoys.  If the student really loves a particular band or movie, we may learn several songs/pieces that are familiar to the student.  I have found this to be very helpful to the student's "fun factor."  This means that each lessons is custom tailored to the individual and that student's musical interests.
Reviews of lessons with Veronica Gaudreau