Electric Guitar, Ableton, Metal Guitar, Audition Prep from Berklee Alumni,
Lead Guitar, Acoustic Guitar, Improvisation, Rock Guitar, Music Theory, Composition, Audio Recording and Music Production
500+ lessons
booked on Lessonface
Featured Teacher
on Lessonface
Since April 2017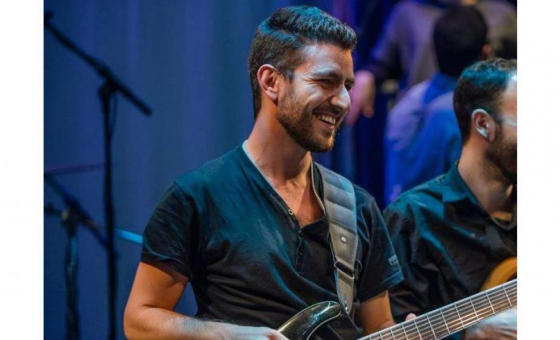 Lesson Fees
Base Fee:
$35.00 / 30 Minutes
Promotions Available
Free 15 minute trial lessons
Book 5+ lessons for 5% off
About
Electric guitar player, composer and producer (Shwesmo, HAGO, Distorted Harmony), Berklee graduate Yoel Genin AKA Shwesmo is known for blending musical styles such as Jazz, Fusion, Progressive Metal, Electronic and Middle Eastern music.
Born and raised in Israel, Yoel started his musical endeavors through learning the piano, drums, and then guitar. As a young musician he already conquered the big stages of his home country in various festivals and also performed in Europe. He recorded albums with Progresive Metal band Soul Enema, and Rock band Between Falls.
Yoel's hunger to expand his knowledge and led him to the famous Berklee College of Music, where he won the Tad Dameron and Alex Ulanowski awards in composition, and studied music towards the challenging and prestigious Bachelor Degree in Jazz Composition.
Since then Yoel has performed with, and arranged for world-class artists like Tigran Hamasyan, Antonio Serrano, Idan Raichel and Carmen Lundy. As part of the Berklee Indian ensemble, he arranged for, and performed with some of the biggest Indian artists such as Raghu Dixit, Vijay Parkash and Shankar Mahadevan, in the US and India.
Yoel has also been a music educator for over 13 years, as he taught guitar and music theory to hundreds of students.
Nowadays Yoel is the official guitarist of Prog-Metal band Distorted Harmony, and leading his own group HAGO -  their debut self titled album has gained a lot of attention and amazing reviews in the Prog-Metal world. He has lately started his solo project "Shwesmo" incorporating his past influences such as Metal and Middle Eastern music into an electronic music context. He is also performing and recording with various artists worldwide, such as the Berklee Indian Touring Ensemble, Dashina, ARP and Anakdota, and endorsed by the unique OD guitars.
Every music student has different needs, every student has different goals. Yoel's teaching envolves a deep understanding of these  in order to customize the lessons, make each student reach their goals, in a personal and unique learning experience.
With 13 years of experience teaching guitar, music theory and production, Yoel has lesson plans for students at any level, and any age. From beginner to professional, from 5 to 105!
Reviews of lessons with Yoel Genin
Frank DeMaria, Verified Student
May 25th, 2020
Yoel was patient, kind, knowledgeable and has a diverse skill set
Verified Student
May 9th, 2020
Excellent lesson! Excited to be working with Yoel again!
Alvaro Atienza, Verified Student
May 7th, 2020
Frank DeMaria, Verified Student
April 12th, 2020
Frank DeMaria, Verified Student
March 29th, 2020
Learning new things a little at a time. Yoel goes at a good pace for me and is interested in my success.
Chris Bruso, Verified Student
February 23rd, 2020
I can already see improvement in my playing after just a couple of lessons. :)
Chris Bruso, Verified Student
February 10th, 2020
Awesome. Yoel is patient and knows his stuff.
Chris Bruso, Verified Student
January 31st, 2020
Alvaro Atienza, Verified Student
August 24th, 2019
Yoel rocks!!! Each time I learn a ton!
Alvaro Atienza, Verified Student
August 17th, 2019
View All Reviews