Electric Guitar, Alto Sax, Bass Guitar, Blues Guitar, Clarinet, Flute, Guitar,
Piano, Rock Arranging, Rock Guitar, Songwriting, Trombone, Trumpet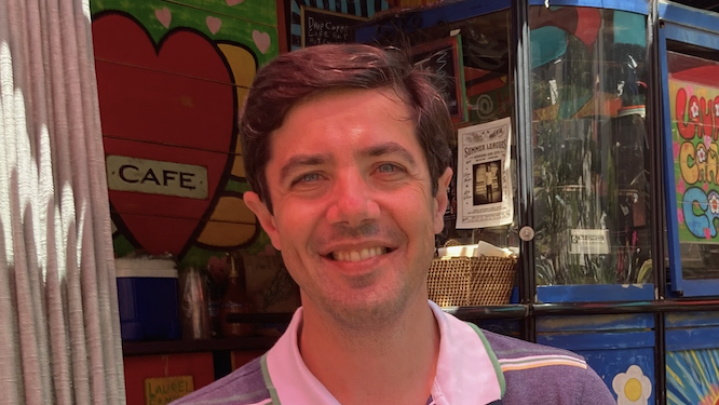 About
Hi! My name is Tim Ressler and I am a guitarist, singer, songwriter, band and choral director, and general music teacher.  I have been a licensed public school music teacher in Massachusetts for over 18 years.  I have taught general music (K-4), instrumental music (band/orchestra), chorus, in addition to private guitar and piano lessons.  
I received a teacher of the year (Reflection Award) plaque from graduating Harwich High School students two years in a row (2015 and 2016).  3rd and 4th grade recorder students performed with the Cape Cod Symphony in 2017.  3rd and 4th grade  chorus performed at the Providence Bruins halftime show three times 2016-2018.   Several of my chorus students participated in the Massachusetts All State Treble Chorus in 2020.
In 2005 I graduated Summa Cum Laude from Berklee College of Music (Boston, MA) with a bachelor's degree (B.M.) in Music Education.  My principal instrument at Berklee was the guitar and I had the chance to study with great musicians like Kenwood Dennard (Jimi Hendrix Ensemble), Bruce Katz (Jazz Harmony), Mike Williams (Private Guitar Instruction), and Jim Kelly (Private Guitar Instruction)
In 2014 I earned a master's degree (M.M.) in Songwriting from Bath Spa University (Bath, England) and had the opportunity to study one on one with Davey Ray Moor of the band Cousteau.  I released my first album of original music "Wilderness" on iTunes and other streaming platforms in 2014: https://music.apple.com/mk/album/wilderness/934204109.     
My specialties include lead guitar (blues, rock, jazz), singing, and songwriting.  I can teach any level of guitar (beginning to advanced).  I have many years of experience as a beginning band and choral instructor so I am happy to teach young beginners on the following: bass, ukulele, piano, voice, flute, clarinet, alto sax, trumpet, trombone, violin, percussion (snare drum and bells)
As a music teacher, my teaching style is tailored to each individual student.  When it comes to learning an instrument, one size does not fit all, therefore, I try to focus on the unique strengths, interests, and goals of my students.  Every student is capable of learning an instrument, the key to success lies in an engaging personalized approach from the teacher.   
* Custom Lesson Plans - Each plan caters to each student's level of proficiency and musical goals.  This helps to keep the learning process fun and relevant.  
* Holistic Approach - I emphasize a well-rounded foundation in music theory, technique, and ear training.  I believe in learning how to play by ear before delving into reading written notation, however, both are crucial in order to become a versatile musician.  I want my students to not only know how to play their favorite songs but also to understand the underlying musical concepts that apply to all songs.  
* Encouragement and Motivation - I strive to create a supportive and motivating environment where students feel comfortable asking questions, making mistakes, and experimenting with their own musical ideas.
* Real-life Applications - I will encourage students to take advantage of solo and ensemble performance opportunities.  I think that open-mic's (in person or over Zoom) are a great way to reinforce the skills of stage presence, collaboration, and listening.
* Lifelong learning - I aim to instill a genuine love for music that transcends the confines of our lessons, inspiring students to continue learning and growing as musicians throughout their lives
With my passion for teaching and commitment to each student's success, I am confident that together we can unlock your full potential as a musician.  Let's embark on a musical journey that is both rewarding and enjoyable.
Graduated Summa Cum Laude in May of 2005 from Berklee College of Music with a Bachelor of Music in Music Education Graduated Pass With Merit in November of 2014 from Bath Spa University with a Master of Music in Songwriting Member of National Association for Music Educators and Massachusetts Music Educators Association Professional Teaching License: State of Massachusetts
MusicPlayOnline.  SmartMusic.  Sammy Foster's Bucket Drumming.net.
I am a member of all three and so my students have access to all the interactive music lessons that those websites offer.  
For beginning band students I use the Standard of Excellence Band Book by Bruce Pearson which can be accessed through SmartMusic.
For guitar students I typically use the Berklee Basic Guitar by William Leavitt to teach sight reading unless they are middle school or younger, in that case I will use Guitar For the Small Fry by Dick Bennett, I have also used the Suzuki guitar method (not certified Suzuki)
I am well versed in the Orff, Kodaly, and Feierabend methods of music instruction