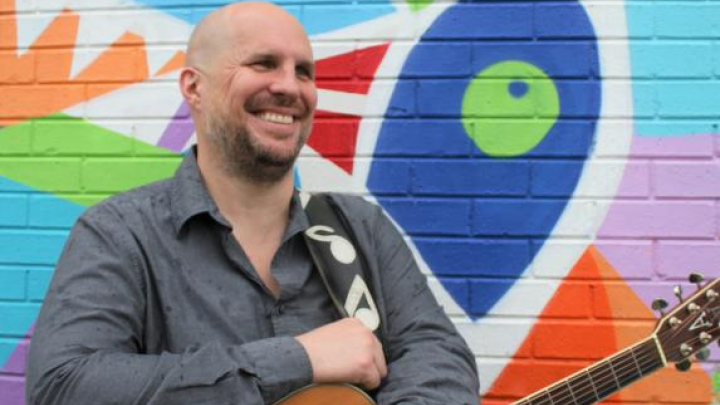 Lesson Fees
Promotions Available
Free 15 minute trial lessons
Book 4 or more lessons, get 5% off - that's basically a free lesson every 20 lessons! Discount will automatically show on the total owed after you've scheduled up to four lessons on checkout page before you check out.
Subscriptions discounted up to 10% off
About
Hi, my name is Tyson Farmer and I'm an online guitar, vocal, ukulele, banjo, and music theory teacher who teaches students of all skill levels. I love traveling the world, hiking & camping in nature with my fiancee and our dog Kaya, learning new ideas and philosophies, and laughing until my face hurts.
Click the arrows on my profile pic ➡ 
to see video examples of my teaching, playing, and singing style.
(If you subscribe to my lessons, you pay 10% off my normal lesson rate - that's basically a free lesson every 10 lessons!)
I have been teaching music, singing, and playing the guitar professionally for over 30 years, and can confidently lead you to your music goals faster. I teach guitar and a wide variety of other instruments to students age 13 and up, including rock, jazz, metal, classical, country, 80s rock, classic rock, funk, and many more. I also teach a wide variety of specialized playing techniques, like fingerpicking, improvisation, developing speed in scales and chords, singing while playing an instrument, playing and learning music by ear, songwriting, understanding music theory on a practical level, and much more. I start by teaching my students the important concepts they need to get them playing quickly by using the music that THEY are familiar with, like to listen to, and want to play- no "Mary Had a Little Lamb" or boring exercises! I work at each student's pace and try to personalize my teaching style to their individual way of learning. 
    I can teach anyone from the absolute "square one" beginner who has never played a guitar or other instrument before, to a musician of any skill level who wants to take it to the next level or get back on track with their playing. I can also provide students help with specific goals- preparing any student for a musical college music major placement or auditions, high school senior projects, skills for playing in a school jazz or rock band program or church praise and worship group, and tutoring for better grades in music theory class (high school or college level).
TO SIGN UP FOR REGULAR LESSONS OR A FREE 1/2 HOUR DEMO LESSON:
1. Click on the "Preview Instructor Availability" icon below my profile pic to browse my available teaching times.
2. Click on the "BOOK A LESSON" icon below my profile pic (you'll have to create a login with an email address and password if you haven't done this yet).
3. Under "Lesson Categories", choose the instrument or category from the dropdown menu.
4. Make sure the correct lesson length is highlighted under "Length of Lesson". For the FREE 1/2 HOUR LESSON, choose "15 MIN" and you will see the fee per lesson show as $0.00 (This is just a classification for their website, but I teach the full 1/2 hour during the lesson). One free lesson per student, please.
5. Click "NEXT".
6. Decide which payment option you prefer (I give a 5% discount for 4 or more lessons - that's like getting a free lesson every 20 lessons. The 5, 10, or 20 lesson options are there as shortcuts so you can pay and schedule in bundles if you prefer. The discount will automatically show on the total owed after you've scheduled up to four lessons on the checkout page before you check out):
*For booking anything UP TO 4 LESSONS (and to qualify for the 5% "4 or more lessons" discount), you'll need to click on "1 LESSON" 4 times, and schedule each lesson one at a time. The fastest way to do this for 4 lessons: Follow steps 1-4 listed above, click on any part of the page outside the shopping cart slide-out so it disappears, and repeat steps 1-4 for the next 3 lessons (you should see the 5% discount applied once you're done). then when you're finished, go back and schedule each lesson individually by clicking on "SCHEDULE" for each lesson (click on the shopping cart icon at the top of my profile screen if you get lost).
    
*If you are ready to SUBSCRIBE for lessons, it will set you up on auto-pay for 4 or 5 lessons at a time depending on how many lesson days are in that next month, charged three days before the end of each month, on an automatically repeating schedule so you only have to set the schedule once (don't worry, we can always reschedule or cancel individual lessons as needed), and you will get a 10% per lesson discount - that's like getting a free lesson every 10 lessons. Just make sure you click on "SCHEDULE" first and set up the repeating lesson time BEFORE you click the "subscribe" option or it will complain and you'll have to reset it by clicking on "1 lesson", setting the first lesson schedule, then clicking "SUBSCRIBE".
To cancel a subscription and get a full refund for lessons not taught, just go to https://www.lessonface.com/subscriptions once you're logged in. Refunds are only valid if you cancel 24 hours before the next scheduled lesson.
7. Click on "CHECKOUT" to make your payment.
That's it! You'll receive email notifications each week when your next lesson is coming up. For more detailed info on the booking process, follow this link:
https://www.lessonface.com/content/booking-options-lessonface
Please don't hesitate to message me on my profile if you have any questions!
I have been playing guitar for over 40 years, and have been performing and teaching professionally for over 30 years. Currently I sing and play guitar at weddings, corporate events, birthday parties and other events as a "One Man Band" - a completely self-sufficient musician who plays to background tracks through a sound system. I also play in a top-rated wedding band, Emerald Empire Band. I studied classical guitar at Kennesaw State University, and jazz guitar at Georgia State University. In addition to taking 6 years of vocal lessons through middle and high school, I attended choir classes from 7th grade through my college years, and attended the Governor's Honors program in my junior year for voice (where I minored in an advanced theory class). In addition, I have picked up skills in other instruments along the way to supplement and diversify my professional portfolio. My performance experience includes numerous restaurants, weddings, corporate events, parties, and working with various celebrity impersonators.
I use a "music comes first" approach in my lessons.  This means that as soon as possible after we've covered the basics (basic mechanics of how to make notes and chords, how to use your hands on your instrument, how to read chord grids and/ or basic tablature, etc), I will start right into using songs and styles that the student likes as examples and excuses to start practicing and using these basics in a rewarding way. This also means that since every student is different, with unique tastes and learning styles, I will provide and custom-create the tablatures, chord charts, and lesson materials as the student progresses, allowing the student to compile their own customized "lesson book" that gets more robust as they grow in the lessons and on their own. 
Reviews of lessons with Tyson Farmer